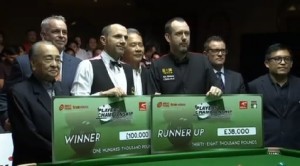 It has been a long wait for Joe Perry, but tonight he defeated Mark Williams 4-3 to win the 2015 Players Championship event in Thailand, his first full-ranking event title and the £100,000 top prize…
Click here to view all of the results from Thailand
Click here to view the latest projected seedings
Having both made it through to the final earlier in the day with wins against Judd Trump and Stuart Bingham, it was to be a final between two players who are good friends on the tour, Williams tweeting a photo of him and Joe together after their victories earlier in the day.
An hour or so into the final however it looked as though it would be Mark who would be smiling after the match, racing into a 3-0 lead with breaks of 64, 57 and 103 in fine style to move just a frame away from his 19th ranking event success.
To his credit however, Joe never gave in and continued to play the positive shots, taking a scrappy fourth frame to get off the mark, before adding the next with a break of 50 to close to 2-3.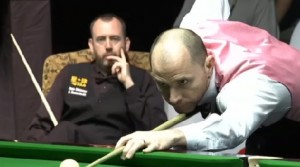 Perhaps the defining moment of the match was to come in the sixth frame, when Joe was unfortunate enough to double a safety on the black only to see it glance off the blue and plant a red into the right-middle pocket.
From there however Williams was to put Joe back in given the difficulty of the shot on offer, only for Joe to pot a terrific red to left-centre and go on to make an hard earned break of 56, that would effectively win him the frame.
In the decider it was again Perry who got in first, potting a red from Williams' break-off and despite a miss on 54, he was able to get another chance an eventually seal the biggest title of his career to date.
As he said after the match, it was a dream come true for him to have finally made the breakthrough and win his first major piece of silverware (although curiously there did not seem to be a trophy presented). In terms of the rankings, he moves up to a career-best position of 9th with the chance to climb higher still in China next week.
It will no doubt be a popular victory on tour and who knows, perhaps will give him the confidence to go on and win more titles now.
For Williams, a disappointing end to what has been a positive week for him, but as he showed after the match he has not lost his humour and will now just move on to the next event in Beijing.
With the £35,000 earned for finishing as runner-up, the Welshman is now mathematically certain to appear at the Crucible stages of the World Championship next month, something that has been a goal of his throughout the season and has remained in some doubt right up to this week. so it is still mission accomplished for him to a large degree.
All things considered it has been an interesting week, with playing conditions at times a big talking point (as ever), while as ever at this time of year, there has been a lot of attention on the battle for ranking points and Crucible places.
This of course will continue in China next week and is something that I will look at in another blog post before the action resumes on Monday…