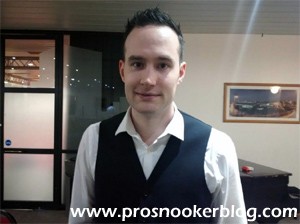 Amidst the World Championship drama last night as the final places at the Crucible were being decided at Ponds Forge, there was another key story unfolding as Martin O'Donnell secured a return to the main tour through the EBSA play-offs event, with a 4-3 victory against fellow amateur Jamie Clarke.
Having already come through a marathon match against the experienced Paul Davison earlier in the day, that was well underway during the morning session of the World Championship matches and still in progress when I returned for the evening session, Martin then added the scalp of Clarke to secure a priceless return to the main tour.
"Well, I tell you. The emotions were so up and down in that game and I felt like I was out of it quite a few times," O'Donnell said. "I was never in front until the last game, he went 1-0, 1-1, 2-1 so it was nip and tuck the whole way but just delighted to get over the line.
Having previously qualified for the main tour via Q School in 2012, Martin was unfortunate to drop off the circuit at the end of the season, missing out by just one place on the European Order of Merit and so was thrilled to secure his return to the professional ranks last night.
"I can't tell you how much it means to get on. I have literally had the worst year of my life as a snooker player. Dropping off the tour hurt badly, I only just missed out and the amateur game just aint there, you have only got six PTCs to go at and you are just in limbo for the season, watching everyone else on tour, playing, winning. It was been the worst year of my life in snooker but thankfully I have put my head down, worked hard and come out of the other side.
Martin was also full of praise for his opponent, who having pushed Ryan Day close in the World Championship earlier in the week will now be eyeing up a tour place through Q School next month.
"Jamie is a tough, tough player. I have played him twice before and I have had two absolute fliers against him and I knew it was going to be tough today. I saw him in his other games and he was hitting the ball well, he pushed Ryan Day close in the Worlds so I knew he was in good nick.
"I was a bit tired after the Paul Davison game to be honest. I only had 25 minutes break and we played for over four and a half hours, so at the start of the match I was still on a bit of a comedown from the previous match. It was hard to get myself bang up for it, even though I was up for it, it was about 2-1 before I felt a bit settled.
"But I said to Jamie at the end that if he keeps playing like that I am 100% sure he is going to get through Q School. I just really hope he keeps his chin up tonight and has a couple of days off and then regroups for Q School because he is definitely good enough to be on tour.
Martin of course won the inaugural Snookerbacker Classic tournament back in 2012 and explained how his run in this year's tournament had helped him in the build-up for his matches this week in Sheffield.
"They have grown and grown, the Snookerbacker stuff is great. I was a bit lucky with that because I qualified in the second event that I played in so I didn't play in any other events whereas actually he puts on a good tournament about eight times I think so there is stuff there.
"But because I qualified early I didn't have much. I went to the Grand Finals and I tell you what I played well, me and Brett Miller had a mammoth game in the semi-final and he got the better of me and went on to win it. But that tournament gave me the confidence and the match sharpness before I came here.
Now back on two for at least another two years, Martin is hoping that the lessons learned from his first spell on the tour will pay off and help him to climb up the rankings.
"It's a big learning curve. The first year, the first three or four months I felt like I played well on the tour. I lost first round 4-3 in the first four PTCs so I lost a lot of tight games and towards the end of the year I got a little bit down really.
"I'm hoping that this time whatever happens I will keep the chin up because there is a long way to go in that game over two years. It's only one good tournament and I have got to trust myself, believe in myself, keeping working hard and my chance will come."
The EBSA play-offs continue today at the Star Academy, with one of Adam Duffy, Thomas Dowling or Sanderson Lam set to earn the second main tour place from the competition for next season.