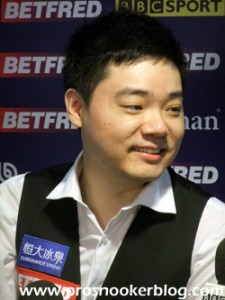 While all eyes at the Crucible were on the World Championship final between Stuart Bingham and Shaun Murphy a week ago, World Snooker also announced via Twitter that Ding Junhui will work with former world champion and renowned coach Terry Griffiths from the start of next season.
I had recently speculated as to who Terry might forge a relationship with next season but Ding was not a name that I had considered and it will now be very interesting to see how the pair get on. For many years, both fans and experts have commented that Ding would benefit from working with 'someone like Terry Griffiths' so for the former world number one to secure the services of the man himself is an intriguing prospect.
While Terry may be able to give Ding a few pointers on the technical side, the Welshman is well-known for helping players with the mental side of the game, with the likes of Barry Hawkins and Mark Davis in particular having benefited from working with him in recent seasons.
Though Ding has come a long way since that defeat to Ronnie O'Sullivan at the Masters back in 2007, most would still point to this area as one of relative weakness for Ding (certainly few would question his technique), particularly at the Crucible Theatre despite an improved showing this year.
Time will tell and it will be interesting to see whether there are any further announcements to come, with Ding and Mark Allen now confirmed to be working with Terry from next season.