A week on at Burton and we know know the identities of the first four players to have come through this year's Q School event, as Daniel Wells, Rhys Clark, Eden Sharav and Sydney Wilson all won their quarter-finals today.
Click here to view the updated 2015/16 tour roll call, or continue reading for my round-up of the action from event one…
The first man to earn a two-year tour card this morning was Southend amateur Sydney Wilson, who defeated China's Chen Zhe 4-1 at the Meadowside Leisure Centre. Perhaps understandably given the pressure and what was at stake today, it was not to be a match of big breaks, but having dropped the opening frame it was Wilson who was able to win the next four with a top run of 49.
An established amateur, who entered the majority of professional events last season thanks to his position on the Q School Order of Merit, Sydney had entered Q School every year since its inception back in 2011 and now joins the tour for the first time in his career.
He will be joined by Scottish duo Eden Sharav and Rhys Clark, who will also be making their first appearances on the main tour as professionals this season.
Coming through first was Clark, who took an early 3-0 lead against Irish veteran Leo Fernandez with breaks of 63 and 59, eventually securing victory in frame five with a clearance of 31.
Readers may remember Clark having played against Ronnie O'Sullivan in the opening round of the 2013 UK Championship in York, while he also edged out Pankaj Advani on a deciding-frame re-spot at the recent Indian Open back in March. He also defeated a fatigued Mike Dunn at last season's World Championship, before taking six frames from Matt Selt in the second round.
For Sharav meanwhile, his journey was far more tense as he came through an epic match with former professional Adam Duffy to earn a tour spot for the first time. The first two frames were shared, an opening frame 103 from Eden bettered by a run of 107 from Adam, before Eden added 83 and won a scrappy fourth frame to move one away at 3-1.
Back came Duffy, with breaks of 93 and 70, but Sharav was not to be denied and won a tense decider to seal his place on tour. Again, Eden should be a familiar face to those who have followed the tour during the last few years and qualifies having reached the quarter-finals of both Q School events a year ago, without having been able to get over the line.
Back in June 2011 he won three matches at one of the early-season PTC events to reach the last 16, before losing out to countryman Marcus Campbell.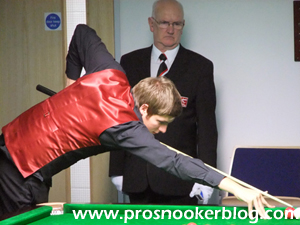 Finally, Welshman Daniel Wells was able to repeat his Q School qualification from 2012 to secure a professional place for a third spell, having also been on tour between 2008-2010. Today he saw off Alexander Ursenbacher with a 4-1 victory, despite the loss of frame four on a re-spotted black.
Perhaps even now Daniel is best remembered for his run to the final qualifying round of the 2009 World Championship qualifiers, but like Rhys Clark above by some strange coincident, more recently he was in action as an amateur against Ronnie O'Sullivan at the UK Championship, while he also qualified for the China Open with a 5-3 win against Robbie Williams.
The action resumes tomorrow with the start of event two and there remain a number of notable names in the draw, including Chinese talent Zhao Xintong, a player tipped by many to progress from event one prior to his 4-3 loss to Alexander Ursenbacher yesterday. Add to the mix the likes of experienced players such as Marcus Campbell and Andy Hicks, as well as those who lost today and many, many more, and it promises to be another intriguing week in Burton…