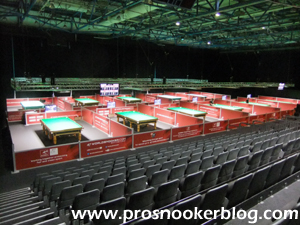 Today saw five days of qualifying for the final stages of the Australian Goldfields Open played to a conclusion at the K2 in Crawley, with a mix of seeded qualifiers and lower ranked players making it through to Bendigo.
Indeed there were to be a few eye-opening results, in particular defeat for Welshman Dominic Dale, who suffered a 5-3 defeat at the hands of Iran's Hossein Vafaei Ayouri, competing in just his second full-ranking event this week.
It is a remarkable story for the 20-year-old, who for those perhaps not so familiar with his story, first earned a professional place following his victory at the IBSF World Championship back in 2011.
On tour from 2012 however, he was prevented from utilising his card as he failed to obtain a UK visa for almost three years, before finally succeeding earlier this year, entering the World Championship at the end of last season.
Now at the start of a fresh two-year card however (due to his victory at last year's World U-21 Championship), he has started the new season in perfect style with wins against Charlie Walters, Zak Surety, Lee Walker and today Dominic Dale to qualify for the venue stages in Bendigo.
While he no doubt is not yet the finished article, clearly he is a player of some potential and it is encouraging to see him make such a strong start to his first real season as a professional.
Joining him will be Michael Georgiou, who hit two breaks of 82 on his way to a 5-4 victory against David Gilbert this evening, to follow up previous wins against Aditya Mehta and Ross Muir to reach the last 32 of the tournament. He will now meet Scotland's John Higgins as he looks to reach the last 16 of a full-ranking event for only the second time in his career.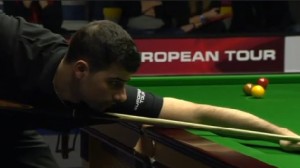 Showing improved form following a tricky end to last season was Jack Lisowski, who saw off Sydney Wilson, Rory McLeod and today an out of sorts Jimmy Robertson to set up an opening round match with old flatmate and defending champion Judd Trump at the venue.
It was also to be a successful day for Ian Burns, who came through a marathon encounter with Rod Lawler 5-4 to seal his last 32 place. In a match reminiscent of his 4-3 win against Rod three years ago in the final round of Q School, Ian hit a top break of 101 and will now meet 2014 semi-finalist Xiao Guodong.
Elsewhere, both Mark Joyce and Joel Walker were also able to come through against higher-ranked opposition, Walker having already come through a local derby against fellow Sheffield cueman Adam Duffy earlier in the week.
Jamie Burnett too won in dramatic circumstances late this evening, 5-4 on the black against former Australian Goldfields Open runner-up Peter Ebdon.
Of course, it was not all bad for the seeded players as the likes of Martin Gould, Gerard Greene and Jamie Jones were also able to qualify for the venue stages of the event today. So too was Mark King, who withstood a fightback from Allan Taylor to edge through in a deciding frame. A word though for Allan, who previously won two deciders himself on his way to a career-best last 48 run at the K2.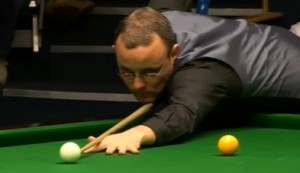 It was to be a successful day for Matt Selt also, who qualified for the final stages in Bendigo for the first time in three years, having previously reached two quarter-finals at the event. Today he came through a comfortable winner against Zhang Anda and will now meet home favourite Neil Robertson at the venue.
For Ali Carter it was to be a positive evening as he was a convincing winner against Kyren Wilson, while Ben Woollaston too secured his Bendigo place, a 5-2 victor over China's Zhou Yuelong.
There had been some debate earlier in the week as to the 34 top up players in the draw taken from the Q School Order of Merit, but after two qualifying rounds just Adam Duffy and Zhao Xintong remained, both losing at the last 64 stage.
You can draw the full draw and qualifying results over at snookerorg, while the next snooker action comes from Wuxi with the start of the World Cup on 15th June 2015.