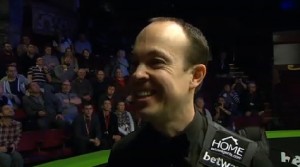 One day down in Bendigo and already we have seen a couple of surprising results with world champion Stuart Bingham unable to finish off Fergal O'Brien, while Ben Woollaston became the first player to fall victim to a wildcard this season, losing out to Adrian Ridley.
The 2015 Australian Goldfields Open began earlier today at midnight UK time with the two wildcard matches and there were to be contrasting fortunes for the two professional players involved.
For Matt Selt, a convincing 5-0 victory against former professional Ben Judge sees him through to the first round proper, where he will be hoping to upset two-time finalist Neil Robertson tomorrow evening.
He won't though be joined by Welsh Open runner-up Ben Woollaston, after the Leicester man fell victim to former Adrian Ridley, losing four of the last five frames in a 5-3 loss.
Having come out of the interval level at 2-2, it was perhaps the fifth frame that would ultimately prove significant as having needed snookers, Ben was able to extract 16 penalty points and close to within striking distance on the brown before Ridley came back to the table and potted brown, blue and pink to regain the lead.
Of the course the topic of wildcards is one that will continue to be debated for as long as they remain a part of professional events and certainly from a fan perspective, it is frustrating to see unfortunate professional players fall foul of the additional hurdle placed before them.
Take nothing away from Adrian though, it is a good win for a player who most notably reached the quarter-finals of one of the 2012 Q School events and he will now go on to meet Robert Milkins tomorrow.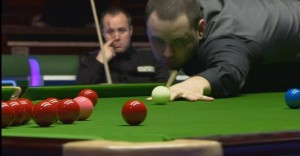 It was to be a good day for Scottish duo John Higgins and Stephen Maguire, who fresh from their run to the final of the World Cup together were convincing winners against Michael Georgiou and Joel Walker.
Awaiting Maguire in the next round will be a clash with Ricky Walden, a 5-3 winner against Andrew Higginson, while Higgins will play Irish number one Fergal O'Brien, after he hit breaks of 128, 66, 50 and 88 from 4-2 down to upset 2011 champion Stuart Bingham in his first ranking event match as world champion.
The evening session saw the return of the defending champion as Judd Trump took on Jack Lisowski, but it was not to prove much of a contest as Trump easily saw off an out of sorts Lisowski, who was successful with just 63% of  his attempted pots in a 5-0 defeat.
Far closer was the match between 2014 semi-finalist Xiao Guodong and qualifier Ian Burns, with the match seeeing two re-spotted blacks, something that I cannot recall having happened in a best of nine frame match before, though I'm sure that it will have done at some point.
Though Xiao was to take the second of those re-spots to close to 3-4, it was Burns who was able to clinch the match in the following frame with breaks of 33 and 21 to reach the last 16 of a ranking event for only the second time, following last season's International Championship.
The action continues tomorrow…