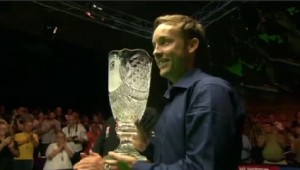 Ali Carter has this evening defeated Shaun Murphy 4-3 to win the 2015 Paul Hunter Classic, a popular victory for a player who has of course gone through so much in recent seasons.
His reward is a cheque for £18,750, in addition to places at the upcoming Champion of Champions and Players Championship events, not to mention the nice new Waterford Crystal trophy that he is pictured with above.
Click below for the World Snooker story on his triumph, on this occasion I would like to take a little more time before posting my own reflections on the tournament…
Ali Carter won his first professional tournament since successfully battling cancer, beating Shaun Murphy 4-3 in the final of the Paul Hunter Classic.
Carter won a Kreativ Dental Clinic European Tour event for the first time with triumph over Murphy in an exciting final in Fürth, Germany.
The victory is worth 25,000 Euros, but far more significant for Carter is the knowledge that he still has the game and temperament to win titles at the top level.
The 36-year-old from Chelmsford beat testicular cancer in 2013, as well as a tumour on his lung last year which required several cycles of chemotherapy to overcome.
Carter, who also suffers from Crohn's disease, missed a series of tournaments last season and saw his world ranking drop to 29th as a result. But he is now on the right path on and off the table and the three-time ranking event winner will believe he can regain a place among snooker's elite.
Fittingly, his return to the winner's podium came at a tournament named after Paul Hunter, who died of cancer in 2006.
Carter built a 3-1 lead in the final with top breaks of 61 and 54, Murphy's only response coming with a run of 72 in the second frame. Masters champion Murphy took the fifth with an 83 then came from 56-7 down to nick the next, sealing it with a green-to-black clearance.
But two-time World finalist Carter was not to be denied as he won the deciding frame with a superb break of 95 to win his first pro title since the 2013 German Masters.
Earlier in the semi-finals, Carter beat Michael Holt 4-2 while Murphy edged out Mark King 4-3.
The Kreativ Dental Clinic European Tour is a series of six events across the continent, with the top 24 on the final Order of Merit to qualify for the Players Championship. The next event is the Ruhr Open in Mülheim, Germany from October 7-11.