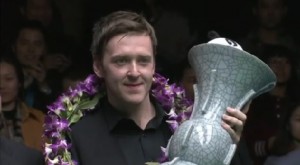 It was not without its complications but the draw for the 2015 International Championship has now been made by World Snooker and be accessed at their website here.
Broadcast live on their YouTube channel, the draw itself appeared to run relatively smoothly, but it was noted by some watching that the seeding did not look to be quite right, with some top 16 players scheduled to meet in the second round which should not have happened under the seeding criteria.
Following a period of uncertainty and much discussion on Twitter, World Snooker have now published the revised draw, explaining that while the first round matches would stand, the match order in the draw had been altered to reflect the correct seeding structure.
In terms of the draw itself, Ronnie O'Sullivan is again absent from the field but otherwise there is a full compliment of top 64 players in the tournament.
More analysis will follow ahead of the qualifiers for the event which get underway from 30 September 2015 at the Barnsley Metrodome.