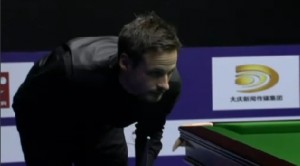 David Gilbert today became the latest 'lower ranked' player to make it through to the final of a full-ranking event, but just how many surprise finalists have we had in recent years and why?
Click below for a few of my thoughts, not to mention some very interesting statistics…
As I watched the match this morning between David Gilbert and Thepchaiya Un-Nooh at the International Championship, both of course ranked outside of the world's top 32, I thought to myself how common it now is to see the 'lower ranked' players perform so strongly at full-ranking events.
Indeed Sunday's final in Daqing is set to be the third successive event in China that has seen a player ranked outside of the top 32 which seems surprising, but do the statistics back up this perception or have such runs always been relatively commonplace?
Whilst statistics can always be interpreted in different ways, in fact a quick look at ranking event finals during the last decade or so is in this case very telling.
2013-Present
Since the start of the 2013/14 season, the following players ranked outside of the world's top 32 have made it through to the final of a full-ranking event:
Xiao Guodong (2013 Shanghai Masters – F)
Aditya Mehta (2013 Indian Open – F)
Gerard Greene (2013 Players Championship Grand Finals – F)
Ben Woollaston (2014 Welsh Open – F)
Gary Wilson (2014 China Open – F)
Kyren Wilson (2015 Shanghai Masters – W)
David Gilbert (2015 International Championship – tbc)
So there have been seven finalists in little over two years from further down the rankings, not including European Tour events which of course have seen many more.
It is interesting for me to note that almost all of the players are those who have been well regarded for a number of years without being able to make a push up the rankings, before being able to make a big breakthrough.
Also that only Kyren Wilson of those players has so far been able to win their first final just underlines how big an achievement his success was, particularly against a player as strong as Judd Trump in the final.
But how does that number compare to previous years? How far apart were the previous seven first-time finalists from outside of the top 32?
2005-2013
In contrast to the last couple of years, there was not one such lower ranked finalist during either the 2011/12 or 2012/13 season and in fact for the last seven we have to go all the way back to 2005:
Ding Junhui (2005 UK Championship – W)
Jamie Cope (2006 Grand Prix – F)
Andrew Higginson (2007 Welsh Open – F)
Jamie Cope (2007 China Open – F)
Fergal O'Brien (2007 Northern Ireland Trophy – F)
Ricky Walden (2008 Shanghai Masters – W)
Jamie Burnett (2010 Shanghai Masters – F)
So from seven in just over two years, to seven in seven and a half years, clearly there has been a shift in recent seasons.
It is a reminder of course of how strong Jamie Cope was as he burst onto the scene in 2007, while again few of those finalists were able to convert their run to silverware, making it three winners from the past 13 finalists outside of the top 32.
Why?
So why is this the case? Of course one obvious point to mention is that there are more full-ranking events now than during some of the years towards the end of the last decade.
Instead of now having six or seven full-ranking events during the season, there are now generally 10-11, meaning that there are more opportunities for all of the tour players to make it through to a major final.
Perhaps the bigger and most obvious factor however has been the introduction of European Tour events and more recently flatter draws at full-ranking event tournaments. These changes have led to those lower down the rankings being able to play the very best in the world week-in, week-out, as opposed to perhaps a couple of times a season if they were lucky enough to make it through multiple rounds of qualifiers to get to a venue.
This has without doubt removed some of the fear factor of those at the top of the game and resulted in a tour that is as unpredictable as it has ever been. Many a player will tell you now that anybody and beat anyone these days and to a large extent that is now probably true.
It might also be argued that with the decline and/or absence of the likes of Ronnie O'Sullivan and Stephen Hendry has resulted in a more open tour, although that probably does those currently at the top of the game and playing to a high standard something of a disservice. Certainly in terms of strength in depth, the field has never been stronger.
Whatever the reason though, right now it feels as though the only thing predictable about snooker is the unpredictability as David Gilbert now looks to join the select group of first-time ranking event winners from outside of the world's top 32 on Sunday.