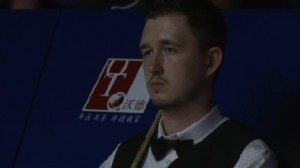 World number 22 Kyren Wilson is the first man through to the semi-finals of the Champion of Champions in Coventry on a day that saw group favourites Judd Trump and Stuart Bingham fall by the conclusion of the first session.
Kyren came into the opening day of the Champion of Champions as third favourite to progress with most neutral observers, but despite making his debut at the big money event in Coventry, looked to be immediately comfortable in his surroundings.
This evening he saw off young Chinese talent Zhou Yuelong 6-3 and despite having dropped the opening frame, looked to be in command for the majority of the match.
His young opponent battled hard to close to 2-3 and 3-4, but perhaps understandably given his age showed signs of fatigue as the evening wore on and Kyren was able to win the last two frames to book his place in the semi-finals on Saturday.
I was particularly impressed with him as it is often the case with young players after a career-high triumph that they can struggle for a period afterwards before subsequently coming again, but Kyren looks to have brought his confidence from Shanghai to the Ricoh Arena.
That is not to say that he will not have to improve if he is to win the title at the weekend, but nonetheless he was impressive today and showed why it will not be long before he will be up into the world's top 16.
Earlier in the day, Kyren's opening match saw him come up against Judd Trump in a repeat of their final at the Shanghai Masters back in September.
Despite recent surprising defeats at the International Championship qualifiers and the Ruhr Open, Trump came into the match as a warm favourite and hit an impressive break of 104 to draw level at 2-2 in the middle part of the match.
That century aside however, it was Kyren who looked to be the more comfortable of the two and a big turning point in the match would come during the following frame. Having potted a good long red, Trump attempted to roll up behind the brown with the cue ball, only to fall short and ultimately played a wild shot to escape from the self-imposed snooker.
Left in amongst the reds, Wilson duly punished Trump for his moment of frustration with a frame-winning 78 and would go on to claim a 4-2 victory in the next frame.
His final opponent Zhou Yuelong meanwhile had already seen off reigning world champion Stuart Bingham, who was unable to kick start his season following recent close defeats.
From an early stage he looked to be struggling and almost fell 2-0 behind, before an impressive clearance saw him draw level and looked to have turned the match in his favour as he added the next two for 3-1.
Although he had chances to get over the line however, Zhou showed impressive resolve to fight back to force a decider, before eventually clinching the match with a break of 62.
While the 17-year-old's shot selection looked to be questionable and his missed more shots than he can afford with the rest during both matches, there were nonetheless a number of flashes of the talent that has helped him up into the top 64 of the world rankings.
The experience in Coventry will no doubt prove invaluable (not least of wearing a tie) and he can take a lot of positives from his day at the Champion of Champions.
But what of Stuart Bingham? There was much talk of his 'poor' start to the new season during today's coverage, but until now I had felt that such criticism was harsh at such an early stage of the season, particularly as he reached the semi-finals of the Shanghai Masters in September.
While I do not think that he should be overly concerned at this stage, clearly his recent narrow defeats are playing on his mind at the moment (he admitted as much post-match) and he will be hoping to re-establish himself at the UK Championship in a couple of weeks, having reached the semi-finals in York during each of the last two seasons.
Next up in Coventry though we will see John Higgins and Joe Perry look to fight back for the seeds tomorrow, with Ali Carter and Michael White providing their opposition respectively.