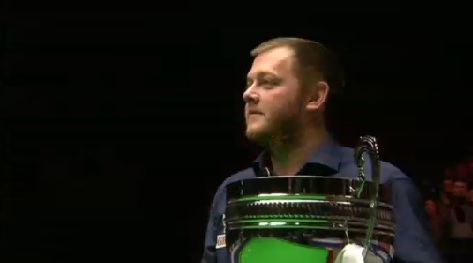 Having qualified to play at the 2015 Champion of Champions at the final opportunity last week in Sofia, Mark Allen is now through to the final in Coventry, following a 6-3 victory against Kyren Wilson in tonight's second semi-final.
He will now play Australia's Neil Robertson in tomorrow's two session final, after the world number three saw off friend and practice partner Joe Perry 6-4 earlier on this afternoon.
Without going into full match report territory today (not least as I missed a couple of frames of each match), despite having dropped the opening frame, Allen generally looked good and took control of the match with a four-frame streak to lead 4-1.
Kyren did battle back to 3-4, but a protracted eighth frame which saw the reds pushed to the left-hand side of the table eventually went Mark's way and from then on there was only going to be one winner.
Robertson meanwhile looked as impressive as he ever has in terms of his long game, but despite a flawless total clearance of 144, a few unexpected misses perhaps took the edge off his performance.
What today leaves us is an intriguing final in prospect between a player looking to kick start his season after a quiet start and another looking to win an overdue big event on UK soil for the first time.
They have had close matches before at the Masters, but the past meeting that stands out the most for me would be their last 16 clash at the 2014 World Championship. During the first two sessions of that match I felt that it was Allen who had the upper hand, but a number of incredible clearances kept Robertson ahead at 9-7 and his performance during the third session was as good as you could ever hope to see.
On paper, Robertson will start as favourite and justifiably so given his track record, but taking into account Allen's current ten match winning streak over the past week and his more impressive form in Coventry so far this week, there is little to choose between the two.
Both are players that I particularly enjoy watching of the current generation and hopefully they will provide a classic final tomorrow, to conclude what has been an interesting week, if perhaps not the best in terms of the overall standard.