Name: Alfie Burden
DOB: 14th December 1976
Nationality: English
Turned Pro: 1994
Highest Ranking: #38 (2001-2003)
Highest Break: 143 (1997 Grand Prix, 2005 Welsh Open, 2011 ET6)
Career Highlights: 2009 IBSF World Champion, 1997 Grand Prix Last 16, 2013 PTC Grand Finals last 16, 1998 World Championship Last 32, 2012 UKPTC2 semi-finalist, 1993 English Under-17 Champion, 1993 English Under-19 runner-up, 1998/9 UK Tour Winner
In Short
But for a badly broken leg as a youngster it could have been a very different story for Alfie Burden who was a young footballer on the books of Arsenal and then Glenn Hoddle's  Swindon as a teenager. That said, football's loss has been snooker's gain as the 2009 IBSF champion is back for another crack at the main tour.
Early Career
Alfie first graduated to the main tour back in 1994 but it was not until the 1997/8 season when he was to really make a mark, defeating Graeme Dott, Gary Wilkinson and Nigel Bond to reach the last 16 of the Grand Prix. Although his run was ended by Scotland's Chris Small, he continued to perform well and finished the season by qualifying for the Crucible for the first and so far only time. There he was to meet Malta's world number 11 Tony Drago, running him close before eventually losing out 10-8.
He had though done enough to move up to 77th in the rankings, a rise that continued until he reached a peak position of #38, one that he would hold for two seasons from 2001-3.
Photo courtesy of Janie Watkins
Tour Relegation
From there however Alfie was to struggle, dropping out of the top 48 in 2003/4 before falling out of the top 64 at the end of the following campaign. His results were to improve during a 2006/7 season in which he was to qualify for the China Open, but a disastrous 2007/8 campaign in which he won just a handful of matches saw him drop to 83rd place and lose his main tour status as a result.
2008/9 – PIOS Disappointment
Back amongst the amateurs, Alfie entered the PIOS for 2008/9 and performed well, reaching one final and one semi-final. Unfortunately however he could not do enough to secure one of the all-important top eight places and return to the main tour at the first time of asking.
On Q Promotions
Interestingly though he did record not one, but two 147 breaks during his Pro Ticket Tour campaign.
2009/10 – IBSF Champion
Alfie would not have much longer to wait to secure his main tour return however as in November 2009 he took victory in the IBSF World Championship with a 10-8 victory over Brazilian Igor Figueiredo in Hyderabad, India. This confirmed his return to the professional circuit for the 2010/11 season and he subsequently announced that he will be managed by On Q Promotions.
A further bonus was that yet another 147 break was to come his way during the Suphan Buri Cup, this time against former professional Noppadon Noppachorn.
2010/11
Alfie made a superb start to the 2010/11 season as he won matches in each of the first eight ranking events staged including both the Shanghai Masters and the World Open.
Although he was unfortunate not to qualify for Shanghai having won his first three matches before losing out to Andrew Higginson in a decider, his results were strong enough to see him rise into the top 64 at the first mid-season rankings cut-off.
Alfie during his 2011 World Championship qualifier
Further round one wins came during both the German Masters and the Welsh Open before victories against Zhang Anda and Matt Selt set up a final qualifying round match with Stephen Lee at the China Open. Unfortunately for Alfie though despite his opponent being docked a frame for returning late following the mid-session interval, Lee was to come through a 5-4 winner.
With the results described above Alfie would have been in contention for a top 48 place at the end of the season but for a couple of costly opening round defeats during the two biggest events of the season. The first came during the UK Championship qualifiers when he lost out 9-7 to Mark Joyce, while the second came at the World Championship when he suffered a 10-7 defeat at the hands of Sam Baird. As a result Alfie finished the season ranked 57th.
2011/12
Following his strong return to the tour a year previously, Alfie was to experience a tough start to the 2011/12 campaign, opening round defeats in qualifying for the first three full-ranking tournaments combined with just five wins during the Players Tour Championship events leaving him in need of a good second half of the season if he is to retain his tour status beyond the end of the season.
Alfie at the 2012 UKPTC1 event
Improvement was to come though as he won two matches at the Haikou World Open qualifiers, as well as his openers at the Welsh Open qualifiers against Jimmy Robertson.
His best run was to come at the World Championship qualifiers as he defeated David Grace and Jack Lisowski, before losing out 10-0 to Peter Ebdon in the final qualifying round to be denied a return to the Crucible. He has however accumulated enough ranking points to make sure of his tour place for 2012/13, finishing the season again ranked inside the top 64.
2012/13
After a slightly slow start to the season, Alfie made a real impact at the UKPTC2 event in Gloucester, as he won five matches to reach the semi-finals, before losing out to eventual winner Martin Gould.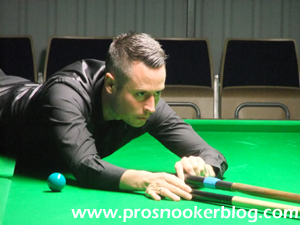 Alfie at the 2012 UKPTC1 event
Following that run, Alfie was to enjoy a consistent spell, which saw him win at least one match in ten of the year's eleven remaining events, the exception being a narrow defeat to Thai youngster Thanawat Tirapongpaiboon at the UK Championship qualifiers.
Following the turn of the year, Alfie's strongest events were to include the PTC Grand Finals, at which he shocked fourth seed Judd Trump with a 4-3 victory in the opening round, before losing to China's Xiao Guodong at the last 16 stage stage.
From there, Alfie was again to have a strong run at the season-ending World Championship qualifiers, surviving a nervy opening match against Paul Davison, before coming through a decider against veteran Dave Harold to reach the final qualifying round for a second successive year.
Unfortunately for Alfie however, a 10-5 defeat to Welshman Dominic Dale would there bring his season to an end.
2013/14
Alfie was to make a strong start to the 2013/14 season, successfully qualifying for both the Wuxi Classic and Australian Goldfields Open tournaments.
Though he was to lose out in China to Ali Carter, a 5-2 defeat of Michael Holt was to see him through to a rare last 16 appearance at a full-ranking event appearance in Bendigo.
From that point on his season was to prove solid, if not spectacular, with a quarter-final appearance at the Gdynia Open in February 2014 the highlight as he finished the season ranked in 50th place.
2014/15
The 2014/15 season was to be extremely difficult for Alfie as he struggled for wins in all competitions, with the exception of the AT3 event in China where he made it through to the quarter-finals.
As it would turn out, this run would prove to be crucial as he dropped out of the top 64 at the end of the season following an opening round defeat to Mitchell Mann at the World Championship qualifiers, but retained his tour place thanks to his position on the Asian Order of Merit.