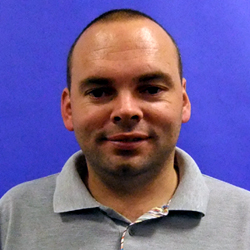 Name: Stuart Bingham
DOB: 21st May 1976
Nationality: English
Turned Pro: 1995
Highest Ranking: 2nd (2015)
Highest Break: 147×3
Career Highlights: 2015 World Champion, 2014 Shanghai Masters champion, 2011 Australian Goldfields Open champion, 2012 Premier League champion, 2015 Championship League winner, 2012 APTC1 & APTC3 champion, 2014 AT2 champion, 2012 Wuxi Classic finalist, 2013 Welsh Open finalist, 2005 & 2006 Masters Qualifying Event champion
Early career
A former English and World Amateur champion, Stuart turned professional back in 1995. While he struggled to make an impact initially however, when he did it was to be one to remember as at the World Championship in 2000 he caused a major shock by defeating the defending champion Stephen Hendry in the first round. Although he was to lose out 13-9 to Jimmy White in the last 16, this performance was enough to help him up to a then career high 43rd in the rankings.
The next few seasons were relatively quiet, always maintaining his place on the tour comfortably enough but without repeating his heroics of 2000. He did qualify for the Crucible again in 2002 by defeating Nigel Bond in the final qualifying round but this time it was to be a memorable occasion for all the wrong reasons. Not only did he lose his first round match to Ken Doherty but when looking set for a magical 147 break, he missed the final pink and lost out on the £147,000 bonus that would have gone with it.
Masters victories
Again the following years continued to be solid if not spectacular, Stuart maintaining a place around the top 40 mark in the rankings. Things were to change in 2005/6 however as his results began to improve significantly with quarter-final runs in the 2005 Grand Prix and UK Championship. In addition he won the Masters qualifying tournament for the first time and also managed to record his second career 147 along the way.
Stuart in action during the 2009 Championship League
His ranking up to 23rd, another solid season was to follow, the highlight being victory in the Masters qualifying tournament for the second successive season. Although Stuart will go down as being the only player to achieve this, of course it was not a ranking tournament so he remained in 23rd position for the following season.
2007/8
2007/8 was to be a stronger season for Stuart who managed to make the last 16 of a number of tournaments, including the World Championship where he won a tense first round match against six-times champion Steve Davis. Despite losing out to eventual semi-finalist Joe Perry in round two, he was able to move up two places to 21st in the rankings.
2008/9
Following his strong previous campaign, he entered the 2008/9 season ranked 15th provisionally and with a real chance of breaking into that elusive top 16 for the first time. Unfortunately however, barring an impressive run in the invitational Championship League to qualify for the winner's group, he could not find his best form and won just five ranking matches all season.  As a result he could not take advantage of his opportunity and would remain ranked 21st for a second successive season.
2009/10
Stuart made a good start to 2009/10 by taking victory in the Paul Hunter Open at the Northern Snooker Centre in Leeds. Along the way he defeated other professionals such as Peter Lines and Michael Holt before demolishing Simon Bedford 6-0 in the final.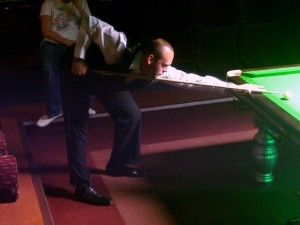 Stuart at the 2009 English Open
His ranking event season meanwhile proved to be solid if not spectacular as he won the majority of his qualifying matches but struggled to go any deeper in tournaments. Unfortunately his season was to end on a particularly disappointing note as he lost out in qualifying to Stuart Pettman by an emphatic 10-2 scoreline, a result which would see him drop eight places to 29th in the rankings.
2010/11
Stuart made a strong start to the 2010/11 season, reaching the quarter-finals of three Players Tour Championship events as well as reaching the last 16 of the Shanghai Masters before losing out to eventual champion Ali Carter.
His best performance however was to come at the UK Championship in Telford where having qualified with a 9-4 victory against Peter Lines, Stuart then defeated four-time event winner Ronnie O'Sullivan and 2008 finalist Marco Fu to reach the quarter-finals. Although he was to be edged out 9-7 by Mark Selby, the result was enough to lift Stuart into contention for a top 16 place.
Stuart during the 2011 World Championship qualifiers
As the season entered its climax at the World Championship in Sheffield, Stuart produced an excellent comeback from 8-6 down against former champion Peter Ebdon to win 10-8 and book his place in the last 16.
Following Stephen Hendry's defeat to Mark Selby, Stuart knew that victory against Ding Junhui in his next match would be enough for a top 16 place and leading 5-3, 9-7 and then 12-9 it appeared as though he was well set to do so. An excellent fightback from Ding however coupled with some unfortunate run of the ball for Stuart saw the man from China complete a 13-12 victory and deny Stuart both a first World Championship quarter-final and that elusive top 16 place.
2011/12
Following such a disappointing climax to the previous campaign, Stuart responded in spectacular style at the start of 2011/12 by capturing his maiden ranking event title at the inaugural Australian Goldfields Open in Bendigo.
Having qualified for the event with a 5-2 victory against Michael Holt, Stuart was given an immediate opportunity to gain his revenge against Crucible nemesis Ding and duly delivered, a 5-2 win seeing him through to a tie with SightRight stablemate Tom Ford which he won 5-0.
His quarter-final would prove to be a real grudge match with Mark Allen following pre-match quotes from the Northern Irishman suggesting that Stuart lacked something in the mental department. Stuart however was to deliver the perfect riposte, breaks of 66, 118, 112 and 96 securing a 5-3 victory and a place in a ranking event semi-final for the first time in his career.
There he would meet Shaun Murphy and again upset the odds, a 6-2 win setting up a showpiece final with world number one Mark Williams. For a while it looked as though this would be as far as he go as the Welshman opened up an 8-5 lead, but a tremendous comeback to win 9-8 was enough to see him at 35 become the oldest first-time winner of a ranking event for over 20 years. The result also saw him move up to 11th in the world rankings, a new career high.
Stuart's form following his maiden title was to be solid, if not spectacular, his best result being a run to the quarter-finals of PTC8 where he would eventually lose out to world number one Mark Selby in a deciding frame. Despite an opening round defeat to Marco Fu at the UK Championship in York, Stuart had done enough to remain ranked inside the top 16 following the second mid-season seedings revision in January.
The second half of Stuart's season saw him reach the last 16 stages of the German Masters, Welsh Open and China Open, but disappointment was to come at the Crucible as he lost out 10-4 to an inspired Stephen Hendry at the last 32 stage.
2012/13
Whilst a number of players took time to get up to speed for the new season, having put their cues away for a while at the end of the the previous campaign, Stuart experienced no such troubles as he immediately set about winning tournaments.
He opened 2012/13 by taking the Pink Ribbon pro-am tournament, hitting two century breaks in both his semi-final match against Mark Allen and then the final against Peter Lines. This was soon followed by his capture of the first APTC event in Zhangjiagang, China, his final defeat of Stephen Lee ensuring that he would appear at the PTC Grand Finals in 2013.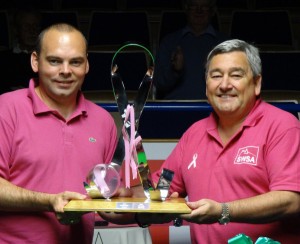 Stuart's strong form continued into the season's first full-ranking event, where he defeated Peter Ebdon, Ken Doherty, Mark Selby and Mark Davis to reach the final. Although he had little answer against Ricky Walden in the final, fatigue perhaps finally catching up with him, Stuart was able to record his third career maximum break to win the sixth frame in what would eventually become a 10-4 defeat.
Following that run, Stuart reached the quarter-finals of the Shanghai Masters, before capturing the APTC3 event title in Zhengzhou to secure another title.
His biggest moment in 2012, and indeed his career to date was still to come however, as he defeated John Higgins and Judd Trump in the play-off stages of the Premier League, to win the Sky Sports event during his début season in brilliant style.
Having previously whitewashed both Mark Selby and Neil Robertson during a single evening to qualify from his group, it was a thoroughly deserved and popular victory for the world number 10.
Stuart took that form into the UK Championship where he again performed well to reach the quarter-finals, before he lost out to a resurgent Ali Carter at the Barbican Centre, York.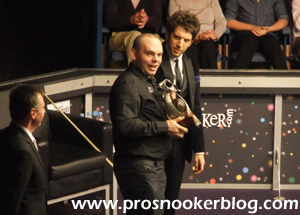 During the second half of the season, Stuart reached another ranking event final at the Welsh Open, where he defeated Craig Steadman, Neil Robertson, Ken Doherty and Ding Junhui in Newport. Up against Scotland's Stephen Maguire in the final, he recovered from 3-1 down to lead 7-5 in the evening session, before the former UK Championship winner turned the tables to snatch a 9-8 victory.
Stuart though was to keep fighting, a quarter-final run at the China Open in Beijing, preceding a career-best last eight run at the World Championship, where he defeated Sam Baird and friend Mark Davis to reach that stage. Once there however, he was to run into an unstoppable Ronnie O'Sullivan and losing the opening seven frames, eventually slipped to a 13-4 defeat.
Despite that defeat, Stuart was rewarded for his efforts over the past two years with a career-high world ranking of number six.
2013/14
A consistent match-winner during the season's European Tour events, two quarter-finals representing his best results, Stuart' best run at a televised event came at the inaugural Champion of Champions event in Coventry. Having qualified by virtue of his Premier League win during the previous season, Stuart defeated Ricky Walden, Judd Trump and Mark Selby in Coventry to set up a final appearance against old nemesis Ronnie O'Sullivan.
Though it was to prove a tight match in which neither player would produce their best snooker, it was to be O'Sullivan who would run out a 10-8 winner, while Stuart had to settle for second place and a cheque for £50,000.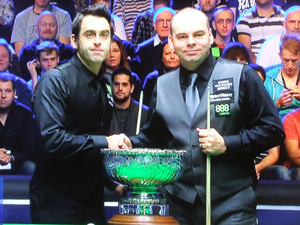 There was however to be a measure of revenge for Stuart shortly after that event, as he defeated O'Sullivan 6-4 on his way to the semi-finals of the UK Championship in York. Trailing 8-3 to Australia's Neil Robertson, it looked as though he would lose by some distance in the last four, only for him to produce a stunning performance to fight back and level at 8-8, before eventual champion Robertson won the decider.
During the second half of the season, Stuart's strongest performances were to come at the Asian Tour Four event, as he won seven matches to take the title, his third overall at that level. Another strong run was to come at the invitational Shoot Out in Blackpool, where he made it to the final before losing out to Welshman Dominic Dale.
In the majors however, there was to be disappointment, a 6-2 defeat to John Higgins at the opening round of the Masters, coupled with a surprise 10-5 reverse to Irish veteran Ken Doherty at the first round of the World Championship, seeing his season end on a low note.
As a result, Stuart would see his ranking drop six places from the start of the season to 12th, although he was not helped by the change from a points-based ranking list, under which he would have finished eighth.
2014/15
The 2014/15 season was to prove by a distance the strongest of Stuart's career as he achieved a dream, defeating Robbie Williams, Graeme Dott, Ronnie O'Sullivan, Judd Trump and finally Shaun Murphy to win the 2015 World Championship at the Crucible.
Few expected him to defeat O'Sullivan after their previous Crucible meeting two years earlier, but from 9-8 down he did not put a foot wrong before then coming through one of the all-time great Crucible semi-finals against Trump, 17-16 in a deciding frame.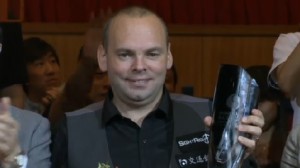 Even having defeated those two players, Bingham was regarded as the underdog by many when it came to the final and at 8-4 down such forecasts looked to be justified, but he was able to turn the tables and having won a crucial 31st frame after more than an hour, he was not to be stopped from adding the next two and running out an 18-15 winner.
While his Crucible victory was of course historic, it was far from the only highlight of his season however as he had already defeated Mark Allen to capture the Shanghai Masters earlier in the season, as well as won the AT2 event in China and the invitational Championship League for the first time.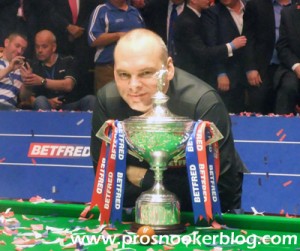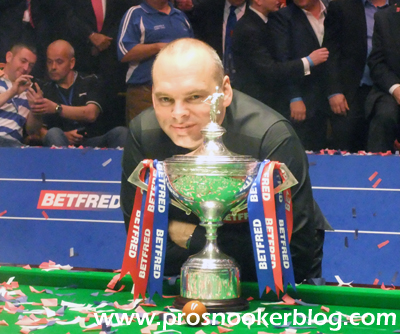 He was also able to reach the semi-finals of the UK Championship for a second successive season, losing out to Ronnie O'Sullivan in York.
It would be Stuart though who would have the last laugh at the end of the season and with his World Championship triumph, had done enough to rise to a career-high ranking of number two.
Ranking Event wins (3)
| | |
| --- | --- |
| Event | Year |
| Australian Goldfields Open | 2011 |
| Shanghai Masters | 2014 |
| World Championship | 2015 |
Minor Ranking Event wins (3)
| | |
| --- | --- |
| Event | Year |
| APTC1 | 2012 |
| APTC3 | 2012 |
| AT4 | 2013/14 |
| AT2 | 2014/15 |
Non-Ranking Event wins (4)
| | |
| --- | --- |
| Event | Year |
| Masters Qualifying Tournament | 2005-6 |
| Premier League | 2012 |
| CLS | 2015 |
Other wins (1)
| | |
| --- | --- |
| Event | Year |
| Paul Hunter English Open | 2009 |