Name: Dominic Dale
DOB: 29th December 1971
Nationality: Welsh
Turned Pro: 1992
Highest Ranking: 19th (1999-2000)
Highest Break: 145 (1999 UK Championship)
Career Highlights: 1997 Grand Prix Champion, 2007 Shanghai Masters Champion, 2014 Shoot Out champion, 2002 LG Cup semi-finalist, 2006 Northern Ireland Trophy semi-finalist, 2000 & 2014 World Championship quarter-finalist
Early career
The first notable success of Dominic's amateur career came when he won the Welsh National Champion in 1991, earning himself a place at the World Amateur Championships in Thailand in the same year. Although he did well, going all the way to the final, he just fell short of glory, losing 11-9 to local hero Noppadon Noppachorn.
Following this he turned professional in 1992/3 and finished his début season a creditable 164th, his best run being a last 64 appearance at the European Open. He improved to 99th following his second season, highlighted by a first appearance in the last 32 of an event and a couple more last 64 showings.
Things continued like this for the next few years, solid improvement without making a real breakthrough. This began to change in 1996/7 when he qualified for the final stages of four tournaments, including a last 16 run on his first visit to the Crucible.
Dominic in qualifying for the 2011 World Championship
Grand Prix winner
Dominic was to get off to an unbelievable start the following year however as he not only made his first ranking event final, but won it 9-6 against John Higgins to capture his first major title. This, along with some other solid results helped to launch him up inside the top 32 for the first time at number 23.
Since then though, Dominic could not quite maintain such progress, failing to crack the elusive top 16. He did though make further semi-final appearances at the LG Cup, Thailand Masters and Northern Ireland Trophy, whilst in 2000 he reached the World Championship quarter-finals where he lost out to Joe Swail.
Shanghai Master
Things were all to change in 2007 though when a newly blonde haired Dominic went on a remarkable run at the inaugural Shanghai Masters tournament. Having defeated Rory McLeod to make the last 32, he then added the scalps of Ken Doherty, Adrian Gunnell, Dave Harold and Mark Selby to reach his first final in ten years.
There he faced fellow Welshman Ryan Day and despite falling 6-2 behind early on, Dominic went on to win the next eight frames to clinch a 10-6 victory and a surprising second ranking crown. Memorably he celebrated this result with an interesting rendition of 'My Way' for the audience in the arena!
Although the rest of his season failed to hit these heights, he at least did just enough to cling on to a spot on the top 32 for 2008/9. Incidentally, after his success in Shanghai he became the only player to have won multiple ranking event titles who has not made it into the top 16 in the rankings.

2008/9
Unfortunately for Dominic, 2008/9 was to prove something of a struggle as he failed to win five of his opening eight qualifying matches and as a result lost his place in the top 32. His strongest showing was a run to the quarter-finals in Bahrain, though even this was aided by a second round bye due to the withdrawals of other players.
2009/10
Three last 64 victories, three last 48 defeats. That was the story of Dominic's start to the 2009/10 season as he consistently won his opening match but could not follow it up with another win to reach a venue stage.
This was until the Welsh Open when he managed to defeat both Matt Selt and six-times world champion Steve Davis to reach the venue at his home event. Unfortunately however his run was to end at the last 32 stage as he could not quite see off world number two Stephen Maguire during a dramatic match which came down to a final frame shoot-out.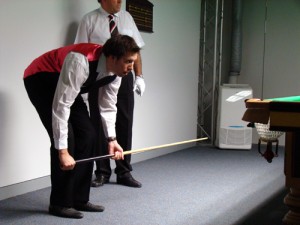 Dominic in action at the Academy in Sheffield (On Q Promotions)
Further defeats followed early at both the China Open and the World Championship as Dominic admitted that he had lost his cue action, though he had at least done enough to hang on to his top 48 spot at the end of the season.
2010/11
Although he did not record notable results during the first two full ranking events of the season, Dom excelled during the new Players Tour Championship as he reached the semi-finals of PTC4 and the quarters of PTC5 before taking a dramatic victory against Martin Gould in the final of PTC6 to take the title. At one point he needed three snookers in the deciding frame which he managed to get before clearing to take victory.
Dom told WorldSnooker.com:
"I had a chance to win 4-2 but twitched on an easy blue, so when it went 3-3 I felt under pressure,"
"It was a bizarre final frame, when he was in the balls I thought the match was over.
"It means a lot to me, to win another trophy after a couple of bad seasons. And I've done it playing fantastic snooker – I beat Neil Robertson 4-1 earlier in the tournament with two centuries and two eighties, which was one of the best matches I've ever played."
Unlike many of the season's PTC winners, Dominic managed to carry his good form through into the subsequent events, winning his opening match in the UK Championship qualifiers against Matt Selt before going on to win three matches to qualify for the German Masters and a further two to reach the venue stage of the Welsh Open.
Dominic in qualifying for the 2011 World Championship
He could not repeat the feat during the China Open qualifiers as he lost out to Jimmy White but an impressive fightback against Michael Holt in qualifying for the season-ending World Championship did ensure that he would finish the campaign ranked inside the world's top 32.
Unfortunately though Dominic could not impress on his first appearance at the Crucible in seven years as he lost 10-2 to three-time champion Ronnie O'Sullivan in the first round.
2011/12
Taking up residence in the Dominic Dale Suite at the On Q house back in the UK ahead of the 2011/12 campaign, Dale made a strong start to the season in Australia with a terrific run to the quarter-finals with victories against home favourites Steve Mifsud and Neil Robertson before just coming up short against Mark Williams in a deciding frame.
From there Dominic's season during the PTC events was to be relatively unremarkable, until at PTC10 in Sheffield he was able to make it through to the final before losing out to Michael Holt. The Welshman was however able to maintain a position comfortably inside the top 32 of the rankings thanks to his successful qualification for both the Shanghai Masters and UK Championship.
Click here to read my interview with Dominic following his qualification for the 2011 UK Championship
Having made it to York, Dominic came close to causing a real upset against Judd Trump, before losing 6-4 against the eventual tournament winner in the first round.
The second half of the season saw Dale continue to qualify for the venue stages of events, including the World Championship where he would again draw Judd Trump at the last 32 stage following a comfortable win against Ben Woollaston in qualifying.
As was the case at the UK Championship, their match was to be close as a visibly off-colour Trump struggled having suffered a bout of food poisoning the evening before his opening session. Though the 2011 finalist was far from at his best during the match however, Judd would eventually come through a 10-7 winner to end Dominic's Crucible bid for another year and bring his season to a close.
2012/13
Dominic was to make a solid, if not spectacular start to the 2012/13 season as now based in Berlin, he was able to successfully qualify for all of the full-ranking event venues in 2012, with his best result being a last 16 run at the International Championship.
His performances in the PTC events however were to be largely indifferent, with the exception of the UKPTC3 event in Gloucester, where he defeated world number one Mark Selby amongst others, before losing in the semi-finals to eventual champion Rod Lawler.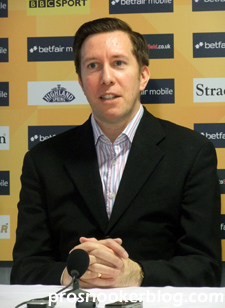 During the first half of 2013, Dominic was to struggle for results, winning just two matches in qualifying events, before subsequently losing to Judd Trump in both Newport and finally Sheffield at the World Championship for a second successive year.
2013/2014
Two quarter-final appearances were to represent Dominic's strongest results of the 2013/14 season, the first coming in Bendigo, as he defeated Mike Dunn and Fergal O'Brien at the Australian Goldfields Open, before losing out to eventual champion Marco Fu.
Disappointing opening round defeats at the International and UK Championship events were offset by last 16 runs at the Haikou World Open and German Masters tournaments, but it was the World Championship event that would prove to be the most memorable of the season for Dale.
There he overcame Andrew Higginson 10-6 to qualify, before adding the scalps of Mark Davis and surprise package Michael Wasley to reach the last eight at the Crucible for the first time in 14 years.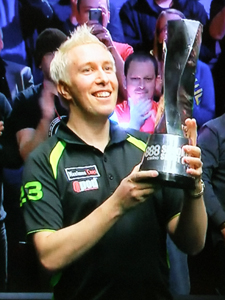 After two sessions of his quarter-final against 2013 runner-up Barry Hawkins, all looked to be lost as Dominic trailed 11-5 overnight, but what followed was a remarkable comeback from the Welshman, as he won seven frames in a row to lead 12-11.
Ultimately it was Hawkins who would prevail, taking the last two to deny Dale his first Crucible semi-final, but the result was enough to see him end the season ranked 24th.
Elsewhere, the other highlight from Dale's season would come at the invitational Shoot Out event, where he was able to come through the field to claim the title and a top prize of £32,000.
2014/15
Dominic was to find the going tougher during 2014/15 as he reached the last 16 of just one full-ranking event, the Shanghai Masters.
He did fare better at Asian Tour events as he reached the last 16 of two events, which combined with his other results was enough to see him sneak into the top 24 on the Order of Merit and qualify for the Players Championship in Thailand.
His season would though end on a disappointing note as he lost 10-9 to Joe Swail, having led 9-5 in the second round of the World Championship qualifiers. This meant that he would drop nine places to 33rd at the end of the season.
Tournament Victories:
Ranking Event wins (2)
| | |
| --- | --- |
| Event | Year |
| Grand Prix | 1997 |
| Shanghai Masters | 2007 |
Minor Ranking Event wins (1)
Invitational Event wins (1)
| | |
| --- | --- |
| Event | Year |
| Shoot Out | 2014 |