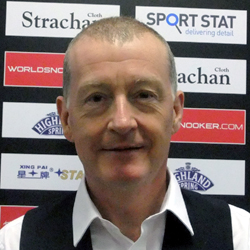 Name: Steve Davis
DOB: 22nd August 1957
Nationality: English
Turned Pro: 1978
Highest Ranking: #1 (1983-90)
Highest Break: 147 (1982 Lada Classic)
Career Highlights: Six times World Champion, Six times UK champion, Three times Masters champion, Three times Grand Prix champion, Eight times Irish Masters champion, Four times British Open champion, Six times Scottish Open champion, Six times Classic champion
Twitter: @SteveSnooker
In short
One of the all-time greats, Steve Davis was undoubtedly the man of the 1980's, winning six world titles and several other tournaments as he became the first dominant force in the modern era of the game. Although his glory days have now long gone, he seems to be enjoying the game as much as ever and continues to be a hard man to beat on the ranking event circuit.
As well as his playing career, Steve has also gone on to forge a successful television career with the BBC, as well as pursuing other interests such as professional poker and pool. When Steve does eventually hang up his cue, one thing that is for sure is that we won't have seen the last of him on our TV screens.
Early career
As a youngster it was clear to see where Steve's interest in the game came from as his father was himself a strong amateur player. Keen to develop his technical abilities, Steve used a copy of Joe Davis's book, How I Play Snooker, to hone his skills as a teenager and before long was recording high breaks including his first century break by the age of 17.
It was not just the playing side of his game that Steve had under control though as in Barry Hearn he had the perfect manager for him. Having spotted him at the Lucania club in Romford, Barry realised Steve's potential and soon had him signed up under a five year deal.
As far as his amateur career was concerned, his first success was actually to come in the sport of billiards as he captured the British Junior Billiards Championship in 1976. A number of snooker pro-ams followed, culminating in victory over Tony Meo in the final of the 1978 Pontin's Open.
Going pro
Despite failing to win the English amateur title, the time had come for Steve to turn professional, which he did in 1978. Without having a spectacular début season, he did at least do well enough to qualify for the 1979 World Championship at his first attempt, though he was to lose 13-11 in the first round to Dennis Taylor.
Improvement was to come during his second season however with a run to the quarter-finals of the UK Championship, before he really made a mark at the Crucible in defeating Terry Griffiths, the reigning world champion 13-10.
Title success
Steve has since said that this win was absolutely crucial, one that really gave him the confidence to compete at the top level and his results during the following 1980/81 season certainly back this up.
His first major title came at the UK Championship with a 16-6 victory over Alex Higgins in the final, having already beaten Griffiths 9-0 in the semi-final. He then went on to win the Wilson's Classic, Yamaha International Masters and the English Professional Championship in the same season as he began to look very much like the number one player.
Embassy elation
The ultimate test of this notion was to come at the season-ending World Championship however and it was to be one he passed with flying colours. Defeating Jimmy White, Alex Higgins and Terry Griffiths to reach his first semi-final, he then ground out a terrific victory over the reigning champion Cliff Thorburn to progress to his first final.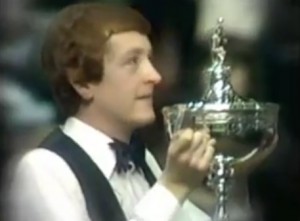 There he would meet Doug Mountjoy who although coming back from 6-0 down to be just two frames behind at 14-12, could not handle Davis who took the next four to secure a 18-12 win. With Barry Hearn famously running down and launching himself at Steve, it was the culmination of several years work as he cemented his status as without doubt the best player in the world.
Sustained success
This victory was to prove just the beginning for Steve as he took a further seven titles during the following season, most notably including the defence of his UK crown and the first of three victories in the B&H Masters at Wembley.
He also recorded the first ever televised 147 maximum break at the 1982 Lada Classic against John Spencer as he looked like taking every record set in the game.
One thing that Steve could not do however is defeat the 'Crucible Curse' and become the only first-time winner of the event to successfully defend his title. Indeed he did not just lose, but on the back of a long season he was absolutely destroyed, losing 10-1 to the unheralded Tony Knowles in the first round.
More world titles
This defeat only served to inspire him for the 1982/3 season however as he added another seven trophies to his collection. Most importantly these included a second world title, clinched with a dominant 18-6 victory over an exhausted Cliff Thorburn who had played 14 more hours of snooker than Davis en route to the final. This victory also moved him up to the top of the world rankings for the first time, though in truth he had been dominant ever since his UK Championship win in 1981.
Despite a surprising defeat to Alex Higgins in the UK final later that year having at one stage led 7-0, it was business as usual at the Crucible as he stormed to his third world title. Defeating Jimmy White in the final, he also became the first man to retain his title at the famous theatre and his dominance showed no signs of ending.
THAT final
Back at the Crucible in 1985 with another five titles already behind him, Steve was a huge favourite to take his fourth World Championship crown. Facing Dennis Taylor in the final, who he had beaten in eight of their nine previous meetings, this looked to be exactly what would happen as he won every frame of the first session to move into a seemingly unassailable 8-0 lead.
Amazingly though, Dennis hit back and perhaps feeling that he now had nothing to lose, began to play some of his very best snooker to close the gap to just two frames at 9-7 overnight.
The next day Taylor continued his fightback, levelling the match at 11-11 before Davis appeared to have regained his composure, moving into a 15-12 lead. Taylor again responded though and won the next three frames to make it 15-15 in a match that just did not seem to want to end. Davis again showed his class to move just one away from the match but typically Taylor came back once again to force a thrilling deciding frame.
It went on and on but finally at 12:23am, Taylor who had never led previously in the match, sunk the final black to win his first world championship and inflict a devastating defeat on Steve. He of course retained his position at the top of the rankings but this was a defeat that nobody saw coming.
Still, this did not seem to affect him during the following 1985/6 season as he again won both the UK and Grand Prix titles and once again entered the World Championship as the outstanding favourite. For a second successive year though, he was to be denied by an outsider, this time Bradford's Joe Johnson who was a total unknown to the public at large.
Back on the winning trail
Despite these defeats, Davis remained the clear number one player in the game and continued to win several tournaments a season. It was only a matter of time before he made it four world titles and this he managed to do in 1987 as he gained his revenge over Johnson with an 18-14 win. He managed to make it five in 1988 before taking his sixth and final world championship with a crushing 18-3 win over John Parrott. This was not only a superb achievement in its own right, but at the time elevated him up alongside Ray Reardon in terms of the total amount of world titles won.
Changing of the guard
Times were changing though and it was to be the man who would eventually take this record (and many others), away from Steve in the 1990's who was the primary cause of it.
Young Scot Stephen Hendry had been impressing for a number of years but it was his victories over Steve in the 1989/1990 UK Championships that really signified a changing of the guard. Steve's status as the world's best player was now seriously under threat and his defeat to Jimmy White in the semi-finals of the 1990 World Championship, combined with Hendry's victory in the final saw him slip down to number two in the official rankings.
Since then, try as he might Steve could never regain the aura of invincibility that had served him so well during the 1980's. He continued to win ranking event titles with his last coming at the 1995 Welsh Open, while his last major event of any sort was a superb victory at the 1997 B&H Masters against Ronnie O'Sullivan. Hendry though was dominating the game just as Davis had done before him and nobody, not even Steve could do a thing about it.
Recent years
Since then though Steve's results have declined, he still seems to be enjoying the game as much as ever. Despite slipping out of the top 16 after the 1999/2000 season, Davis seemed to relax and results picked up in 2002/3, moving him back into the elite group for the next season.
Now fully embracing his position as an underdog in many of his matches, Steve began to make an impression on a few tournaments, most notably the 2004 Welsh Open and 2005 UK Championship events where he reached both finals. Despite losing out to Ronnie O'Sullivan and Ding Junhui respectively, his performances were good enough to see him achieve one of his biggest ambitions, remaining inside the top 16 on his 50th birthday.
2008/9
Although he was to slip back out at the end of the 2007/8 season, Steve made a strong start to 2008/9 as he reached successive quarter-finals in the Shanghai Masters and Grand Prix, and while he was hammered 10-2 by Neil Robertson at the World Championship, managed to move up six places to 23rd in the rankings.
Of even greater significance perhaps is the fact that he ended the year ranked 13th on the one-year list and headed into 2009/10 with a genuine chance of moving back up into the top 16 once again.
2009/10
Steve's start to the 2009/10 season was not to be the best however as defeats to Matt Selt and his namesake Mark Davis in the opening two tournaments saw him slip down the provisional list. He was able to win his UK Championship qualifier against Michael Judge to set up yet another clash with fellow legend Stephen Hendry in the last 32 at least, but despite being well in the match at 6-6, his inability to win frames in one visit was to cost him as the Scot took the next three frames for victory.
Following defeats at the Welsh and China Open tournaments it looked like his season may peter out in an uneventful fashion but as things transpired, the World Championship proved to be as dramatic as any event in the past five years for Steve.
Having qualified for his 30th Crucible appearance with an excellent 10-4 victory over Lee Spick at the EISS, Steve was drawn against Mark King at the last 32 stage. Their match in Sheffield proved to be predictably tense and full of drama but eventually it was Steve who prevailed following a deciding frame and his celebration in the arena following the pot of the winning ball showed just how much it meant to him.
With defending champion and provisional world number one John Higgins looming in the next round however, the story surely had to end there? Incredibly not as in the first session of their match, Steve played brilliantly, not just by his current standards, but by anyone's standards and was able to stretch out a 6-2 lead. Although he was not quite as strong during the subsequent two sessions, John was not quite at his best and Steve eventually got over the line to complete a momentous 13-11 victory to make it through to the quarter-finals.
Although his run was to end in the next round, again to Australian Neil Robertson, Steve's victory over Higgins had really captured the imagination and showed that even at the age of 52, Steve could not be underestimated.
2010/11
Coming into the 2010/11 season ranked in 22nd place, Steve knew that a strong start would be required with the points from two quarter-finals early in 2008/9 set to be removed him his total. There was however to be little to show from his appearances in the new Players Tour Championship while he won just one match during the first six major tournaments to leave himself outside of the top 32 in the rankings for the first time in several years and in danger of falling outside of the top 48 heading into the World Championship qualifiers.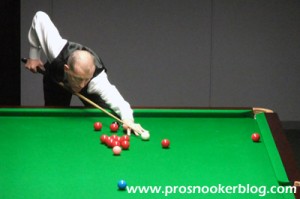 He was however to produce some of the old magic during his opening qualifying match against talented youngster Jack Lisowski, hitting two successive century breaks from 7-3 down en route to a 10-9 victory. There was to be no fairytale return to the Crucible however as a 10-2 defeat to Stephen Lee in the next round saw him miss out for the first time since 2002, though he did cling on to a place inside the top 48.
2011/12
Having struggled during the previous season, Steve initially found the going tough in 2011/12 as he lost his opening match at the Shanghai Masters qualifiers to Passakorn Suwannawat.
Improved performances were to come during the PTC events however, last 32 runs at PTC2, PTC4 and PTC5 preceding a memorable run to the semi-finals of PTC6 in Warsaw where he defeat the likes of Barry Hawkins, Alan McManus and Mark King before losing out in a decider to Ricky Walden.
Davis faces the press at the 2011 UK Championship
Following that match he continued to be consistent during the PTC events, a further four last 32 runs putting him into contention for a place in the top 24 who would qualify for the Grand Finals in Galway. Though Steve was eventually to miss out, his results combined with his successful qualification for the UK Championship with wins against Ian McCulloch and Andrew Higginson, were enough to see him retain his place in the top 48 at the second mid-season seedings revision.
Click here to read my interview with Steve following his qualification for the UK Championship
The highlight of Steve's season after Christmas was to come at the Welsh Open, as the six-time world champion not only qualified with victories against Lucky Vatnani and Ricky Walden, but then defeated Ali Carter 4-3 at the venue in Newport before losing to Shaun Murphy at the last 16 stage.
His campaign was however to end on a low note, as he lost out 10-7 to Leicester's Ben Woollaston in his opening match at the World Championship qualifiers. As a result, Steve was to lose his place in the world's top 48 at the end of the season.
2012/13
The first half of the 2012/13 was to prove solid for Steve Davis as he battled to regain a top 48 seeding, with a couple of last 16 runs proving to be his strongest results in the remaining PTC events played during 2012.
Davis experiments with a new white ferrule during the 2012/13 season
His first venue appearance was to come at the UK Championship in York, though at one stage it looked unlikely as he trailed India's Pankaj Advani 4-0 in qualifying, before mounting a superb comeback to edge through in a decider. He was however to go no further at the venue however as he was outclassed on the day by a resurgent Ali Carter.
The second half of the season was to be relatively unremarkable for Steve, as he played in just five matches in ranking event competition, losing out twice to Kurt Maflin, most notably at the season-ending World Championship qualifiers.
2013/14
The 2013/14 season was to be one of few highlights for Steve, as he found victories increasingly difficult to come by in ranking events.
With just six victories in full-ranking events, none coming following the turn of the year, Steve entered the season-ending World Championship knowing that he would have to win at least one match if he was to maintain his 36-year unbroken spell on the main tour.
Though he battled hard however, he was to go down 10-8 to Craig Steadman in his opener, confirming his relegation from the circuit as he finished 69th on the new prize money based ranking list.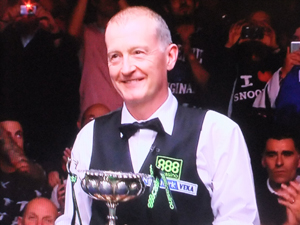 Shortly after the tournament however, changes to the tour were announced which meant that from 2014/15, Steve would receive a two-year invitation onto the circuit, in the event that there were extra spaces available in tournament draws.
Away from the ranking circuit, Steve was to appear on ITV's I'm a Celebrity Get Me Out Of Here! in November 2013, while he was also to enjoy success at the World Seniors Championship in Portsmouth, defeating Nigel Bond 2-1 to win the title for the first time in his career.
2014/15
Steve used his invitational tour card sparingly during the course of the 2014/15 season, but was to enjoy one magical moment at the World Championship qualifiers as he defeated Jamie Cope 10-9 on the black to progress to the second qualifying round.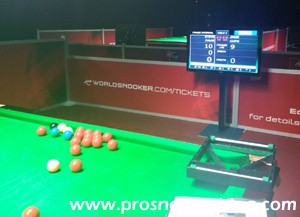 Although he could not compete against eventual qualifier Kurt Maflin, his victory against Cope was a memorable win for the 57-year-old and his supporters.
In April 2015 Steve also released his autobiography 'Interesting' and you can read my review here.
Tournament Victories:
Ranking Event wins (28)
| | |
| --- | --- |
| Event | Year |
| World Championship | 1981, 1983-4, 1987-9 |
| UK Championship | 1984-87 |
| Grand Prix | 1985, 1988-9 |
| British Open | 1986, 1993 |
| Asian Open | 1992 |
| Regal Welsh Open | 1994, 1995 |
| International Open | 1983-4, 1987-9 |
| Lada/Mercantile Credit Classic | 1984, 1987-8, 1992 |
| European Open | 1993 |
Non-Ranking Event wins (47)
Event
Year
UK Championship
1980-1
Jameson International
1981
Yamaha Masters
1981-2, 1984
Wembley Masters
1982, 1988, 1997
Scottish Masters
1982-4
Wilson's/Lada Classic
1981-3
Hong Kong Masters
1984, 1987
English Professional Championship
1981, 1985
Tolly Cobbold Classic
1982-4
European Challenge
1991
Pot Black
1982-83, 1991, 1993
Irish Masters
1983-4, 1987-8,
1990-1, 1993-4
Australian Masters
1986
Red Bull Super League
1998
Australian Masters
1986
Canadian Masters
1986
Premier League
1987-90
World Matchplay
1988
European Grand Prix
1989
Matchroom Professional
1989
Belgian Challenge
1992
World Series
1992
China International
1997
Other wins (14)
| | |
| --- | --- |
| Event | Year |
| World Cup | 1981, 1983, 1988-9 |
| World Doubles (with Tony Meo) | 1982-3, 1985-6 |
| World Trickshot Championship | 1994-5, 1997 |
| Mosconi Cup (pool) | 1995, 2002 |
| World Seniors Championship | 2013 |