Name: Tom Ford
DOB: 17th August 1983
Nationality: English
Turned Pro: 2000
Highest Ranking: 22nd (2013)
Highest Break: 147 (2007 Grand Prix & 2012 ET4)
Career Highlights: 2010 PTC3 winner, 2011 PTC11 winner, 2005 Malta Cup quarter finalist, 2007 Grand Prix last 16 & 147 against Steve Davis, 2007 Malta Cup last 16, 2012 APTC3 semi-finalist
Career summary
A national champion at both under-15 and under-18 level, Tom was regarded as one of the most promising young players in the game for a number of years and turned professional in 2000.
His first few years as a pro were largely without note as he dropped off the main tour in 2003, but he bounced back at the first attempt with a number of strong performances on the Challenge Tour.
Second time around however his performances would be much improved and he did enough to re-enter the rankings in 74th position for the 2004/5 season.
The highlight of that campaign came at the Malta Cup where he embarked on his best career run to date. Beginning in the first qualifying round he defeated Gary Wilson, Nick Walker, Dave Harold and Tony Drago to qualify for the TV stages in Malta.
Once there he beat local hope Joe Grech 5-1 in the qualifying round before seeing off Chris Small and 1997 World Champion Ken Doherty to reach his first quarter-final. Unfortunately once there he came up against an in-form Stephen Hendry who went on to win the event, but he had at least done enough to move up to 51st in the rankings.
Tom during his 2010 World Championship qualifier against Judd Trump
2009/10
During the following years however Tom struggled to match that sort of performance and despite a first career 147 at the 2007 Grand Prix against Steve Davis, had made no further impression on the rankings.
Tom's 2009/10 campaign got off to a bad start when he lost out to Matt Couch in his Shanghai Masters opener but from there he did not lose another opening round match, qualifying for his first venue of the season at the  UK Championship qualifiers by defeating David Hogan, Stuart Pettman and most impressively Barry Hawkins before also qualifying for the final stages of the Welsh Open.
Though he lost out to Neil Robertson and Mark Allen in those last 32 matches respectively, he continued to win matches and headed to the World Championship qualifiers with a real chance of reclaiming a place inside the top 48.
Tom during his 2010 World Championship qualifier against Judd Trump
His opening qualifier in Sheffield saw him pitted up against Irishman David Hogan and having started brightly with breaks of 132 and 82, Tom never really looked back as he eased to a 10-3 win. His second match however was far tougher and finding himself 6-3 down to Anthony Hamilton at the mid-session interval, some might have expected him to let his disappointment get the better of him during the evening session. In fact however, Tom was able to come out and not only level the match at 6-6, but then go on to add the next four to seal a 10-6 win.
On paper his toughest match was still to come however as he faced Judd Trump in the final qualifying round, but as he raced into an 8-1 lead at the end of the first session you would not have thought it! Tom duly returned to complete a 10-3 victory later in the day and book his place at the Crucible Theatre for the first time.
Unfortunately for Tom however, like many Crucible debutants he could not reproduce the form that he has displayed at the qualifiers and lost out 10-4 to Northern Ireland's Mark Allen.
2010/11
Not to be too disheartened from his Crucible humbling, Tom started the new season in fine form with a quarter-final appearance at the first event of the new Players Tour Championship.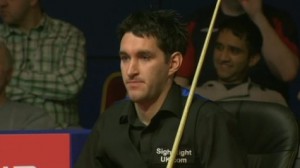 His fortunes were to improve further in the third event as Tom defeated Andy Hicks, Mark Davis and finally Jack Lisowski 4-0 to win his first professional title and ultimately move up into the top 32 for the first time at the season's second cut-off point following the UK Championship.
From there however the second half of Tom's season was to prove disappointing as he won just one further match in a ranking event to reach the final qualifying round of the China Open before losing out to Welshman Ryan Day. A 10-8 defeat to Chinese youngster Liu Chuang in his opening World Championship qualifier meant that Tom would finish the campaign ranked in 34th place.
2011/12
Tom made a solid start to the 2011/12 season, successfully qualifying for the season-opening Australian Goldfields Open as well as consistently winning matches during the PTC series without managing to break through into the latter stages.
His form improved towards the end of 2011 however as he defeated Xiao Guodong and Anthony Hamilton without the loss of a frame to qualify for both the UK Championship and German Masters tournaments, before he defeated a string of top names to win his second professional title at the PTC11 event in Sheffield. Tom's reward for these victories was that he would rise to a career high ranking of 26 at the second mid-season seedings revision in January 2012.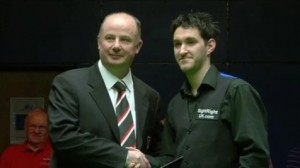 Tom continued to perform well during the remainder of the campaign, last 16 runs in the Welsh Open and Haikou World Open tournaments helping him climb the rankings further, while he also reached the semi-finals of the Snooker Shoot Out in Blackpool and was also able to qualify for the winner's group of the Championship League for the first time.
His season was though to end on a low note as he lost out in qualifying for the World Championship to Chinese youngster Cao Yupeng, losing 10-9 having crucially been docked a frame with the match poised at 2-2 in the first session.
2012/13
Tom made a solid start to the 2012/13 season to consolidate his place inside the top 32, consistently qualifying for the season's major tournaments, without managing to run deep into any particular tournament.
In the PTC events, his strongest run was to be his semi-final run at APTC3, while he also reached the last eight of the ET4 event in Sofia, losing out to Mark Davis.
His best result during the second-half of the season came at the PTC Grand Finals, where he defeated Martin Gould, Jack Lisowski and Marco Fu to reach his first major semi-final, before he lost 4-3 to Australia's Neil Robertson.
This run saw him up to a career-high ranking of 22, before he lost out to Alan McManus at the season-ending World Championship qualifiers.
2013/14
Tom was to make a strong start to the season at the Australian Goldfields Open tournament, wins against Ryan Day and Barry Hawkins seeing him through to the quarter-finals, before he lost out 5-3 to Robert Milkins.
Thereafter however, it was to prove a difficult season, a last 16 run at ET3, as well as a last 32 run at the Indian Open proving to be his strongest results, as he slipped out of the world's top 32 heading into the World Championship.
He was though to enjoy a strong run in Sheffield, defeating James Cahill, Luca Brecel and Matthew Stevens to qualify for the Crucible, for only the second time in his career. There he was to play 2011 runner-up Judd Trump, eventually losing 10-8 after coming back from 6-2 down following the opening session.
2014/15
The 2014/15 season was to be something of a nightmare for Tom as he struggled for wins in all competitions, a semi-final run at AT3 proving the clear highlight, while he also made it to the final qualifying round of the World Championship qualifiers to retain his top 64 place at the end of the season.
It was not though enough to prevent him from dropping 27 places to 59th in the world rankings at the end of the campaign.
Minor Ranking Event wins (2)
| | |
| --- | --- |
| Event | Year |
| Players Tour Championship | 2010 (Event Three) |
| Players Tour Championship | 2011 (Event Eleven) |