Name: Andrew Higginson
DOB: December 13th 1977
Nationality: English
Turned Pro: 1995
Highest Ranking: 18th (2012)
Highest Break: 147 (2007 Welsh Open)
Career Highlights: 2011/12 PTC5 Winner, 2007 Welsh Open Finalist, PTC Grand Finals semi-finalist, 2012 World Championship last 16, 2007 Malta Cup Last 16, 2009 World Championship last 32, 2008 Welsh Open, UK Championship Last 32, first career 147 in his 2007 Welsh Open quarter-final
Career summary
Andrew first picked up a cue at the age of 13 and soon began to make progress in the North-West junior leagues before turning professional in 1995. Having done so however it took him a few seasons on the Challenge Tour to qualify for the main tour itself, but by winning an event against Scott MacKenzie and finishing third on the UK order of merit as a result, he did so for the 2000/1 season.
His first spell on the tour was to prove a tough one as although he retained his place for five consecutive years, he could not make it higher than 68th (2003/4) in the rankings before he lost his place the following season.
His absence at least was not to be a prolonged one as he entered the PIOS in 2005/6 and bounced back at the first attempt by finishing second, defeating Jamie O'Neill in the final event of the season to make absolutely sure.
Back in the top flight there was to be a marked improvement with his results as in the 2006/7 season he broke new ground by firstly reaching the last 16 of the Malta Cup. In the qualifiers he defeated Jamie Jones, Shokat Ali, Jimmy White and David Gray before overcoming Simon Zammit and Steve Davis to earn a tie with defending champion Ken Doherty. Though the Irishman was to run out a 5-2 winner, Andrew had given his confidence a major boost ahead of the next ranking event…
Andrew at the 2010 EPTC4
Welsh winning run
Despite that defeat, his confidence had clearly been given a boost and he managed to go on an even better run at the next tournament, the 2007 Welsh Open. Having qualified by beating Passakorn Suwannawat, Scott MacKenzie and Drew Henry, he reached his first ranking quarter-final with wins against Marco Fu, John Higgins and Michael Judge.
Once there few would have predicted what was to come against Ali Carter. Not only did he win the match 5-1 to make it to the last four but he also fired home his first competitive maximum 147 break, earning himself a £22,000 bonus in the process. Now playing the best snooker of his career he then defeated Scotland's Stephen Maguire in his next match to reach his first final where he would meet Australian Neil Robertson.
Early on it looked like being a short match as he fell 6-2 behind but from there he incredibly took the next six frames to stand just one away from the match at 8-6. Unfortunately however it was Neil's turn to launch a comeback and he recovered to force a decider which he then won for a 9-8 success.
Still this was by far the best result of Andrew's career and although he failed to qualify for the season ending World Championship, he nevertheless ended the season ranked at a career high of 44th.

Andrew again at the 2010 EPTC4
2008/9
After a disappointing 2007/8 season where he failed to build on these successes and managed to qualify for just one venue, improvement was needed the following season if he was to hold on to a top 48 place.
This is exactly what came as he won the majority of his opening round matches, notably qualifying for the Grand Prix, UK Championship and World Championship to just about earn enough ranking points to cover those lost from reaching the Welsh final two years previously.
In particular he seemed to play well at the EIS in Sheffield during the World Championship qualifiers where he defeated both Jamie Jones and Michael Judge to qualify for the final stages for the very first time. As he told Snooker Scene Blog after the match:
"When I first started playing snooker, this is what it was all about. You can try to win tournaments but your goal is to play at the Crucible.
"It's taken me something like 14 attempts and I'm just ecstatic. To be able to walk through that curtain where all the greats have walked through is amazing.
"I'm just going to enjoy it no matter who I draw and no matter what happens.
"You won't see me with a sad face at the Crucible."
In the end though he did not receive the kindest of draws as he was paired with world number three Shaun Murphy and despite running him close, eventually succumbed to a 10-8 defeat in what was a low quality match. As a result he was to drop down five places in the rankings to 43.
2009/10
Andrew at the 2010 World Championship qualifiers
Andrew enjoyed a mixed start to his 2009/10 campaign, losing out to the in-form Robert Milkins first up in the Grand Prix qualifiers, but winning his opening match in the Shanghai and UK Championship qualifiers to keep the ranking points coming in.
Not for the first time however, his best performance was to come at the Welsh Open as he defeated David Gilbert and Stephen Lee to qualify for the venue, before also seeing off world number 8 Marco Fu at Newport. Though he suffered a 5-0 whitewash at the hands of home favourite Mark Williams at the last 16 stage, Andrew continued to perform well at Pontin's and also qualified for the subsequent China Open tournament.
In with a real shot of moving up into the top 32 for the first time, Andrew would face the unknown Chinese youngster Zhang Anda in his opening World Championship qualifier. Unfortunately for Andrew however, Zhang was to prove the surprise package of the tournament, starting with a 10-8 victory in this match.
Thankfully for Andrew though, results at the China Open were to go his way and he had done enough to move up into the top 32 for the first time in his career.
2010/11
Andrew began the 2010/11 season in good form, particularly during the two major events as he reached the last 16 of both the Shanghai Masters and World Open tournaments to consolidate his position inside the top 32 of the rankings following the season's first seedings revision.
Andrew at the 2010 EPTC4
Following this however Andrew's performances moved up another level as he reached the semi-finals of both the PTC5 and EPTC3 events before losing out to Chinese pair Ding Junhui and Liang Wenbo respectively. Andrew subsequently qualified for the UK Championship where he edged out Peter Ebdon at the last 32 stage to move up to a career high 23rd in the rankings.
Following that although he was able to qualify for the final stages of the German Masters with a 5-2 win against Tony Drago, that was to prove his last win of the season barring an opening round win against Jack Lisowski at the PTC Grand Finals as he finished the season with three qualifying defeats.
2011/12
Andrew made a steady start to the 2011/12 season as he was able to qualify for the venue stages of both the Australian Goldfields Open and the Shanghai Masters, though not without a scare in the former as Jamie Burnett came back from 4-0 down to force a decider before Andrew eventually made it through.
The best was still to come however as at PTC5 he was to claim his first professional title, defeating Ian McCulloch, Dave Harold, Jack Lisowski and then John Higgins on the final day to take victory.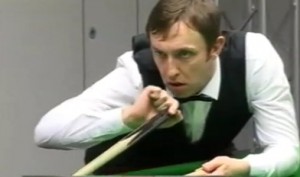 In action at PTC5
His subsequent results were to be solid if not spectacular as he maintained his push for a place inside the top 16, but defeat to Steve Davis at the UK Championship qualifiers was to prove costly in this context, though he still maintained a career high ranking of 19 at the season's second rankings revision.
Disappointment was to come for Andrew at the German Masters as having led Ronnie O'Sullivan 4-0 in his opening match in Berlin, he would eventually go on to lose the match in a deciding frame. This appeared to affect Higginson as he followed this by losing his openers at the subsequent Welsh Open and China Open qualifiers, before being whitewashed by Judd Trump at the Haikou World Open.
He was to bounce back however at the PTC Grand Finals, defeating Jamie Jones and Xiao Guodong to reach the semi-finals in Galway, before losing to eventual champion Stephen Lee.
He carried on this form at the World Championship qualifiers, a 10-4 win against Peter Lines seeing him qualify for the Crucible for the first time since 2009. Once at the venue he was again drawn with the much-fancied Stephen Lee, but this time was able to come through with a 10-6 to reach the last 16 at the tournament for the first time. Though he lost out there to Jamie Jones 13-10, he had done enough to end the season ranked at a career-high of 18th.
2012/13
Following such a strong finish to the previous campaign, Andrew was to struggle early on in 2012/13, losing his opening three matches in full-ranking events, though he was able to reach the semi-finals of the UKPTC1 event in Gloucester, before losing to eventual champion Stephen Maguire.
Andrew was able to qualify for the venue stages of the International Championship, though that success was tempered by a 6-0 defeat at the hands of Shaun Murphy once out in Chengdu.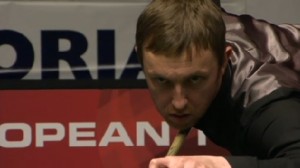 There were however signs that he was beginning to find his form again towards the end of the year, as he reached the last eight at the ET4 event in Sofia, before reaching another semi-finals of the ET5 event in Ravenscraig, before losing to another Scot in Anthony McGill.
Andrew's best run during the second half of the season was to come at the invitational Shoot Out event where he reached the quarter-finals, but his results in ranking events were to prove disappointing, as he lost his last five matches in full-ranking event competition.
2013/14
Andrew's poor form was to continue into the 2013/14 season, four last 32 runs representing his strongest results in full-ranking events, while he won just four matches during the eight European Tour events that he entered.
Perhaps his most impressive run was to come at the season-ending World Championship, where he produced his best snooker in some time to defeat Martin O'Donnell and Kurt Maflin and reach the final qualifying round, where he lost 10-6 to eventual quarter-finalist Dominic Dale.
This result was not enough to prevent him from slipping to 36th in the rankings at the end of the season however, his lowest position since the 2009/10 season.
2014/15
Andrew began his season with a 5-0 defeat at the Wuxi Classic qualifiers, having been docked three frames and unfortunately would struggle from there to record consistent results at ranking events.
His best run came at the Shanghai Masters as he made it through qualifying to the last 32 before losing to Mark Allen, but in 2015 he was to win just one match heading into the World Championship, where he improved to defeat Scott Donaldson and Luca Brecel, before losing a deciding frame against Robert Milkins.
Minor Ranking Event wins (1)
| | |
| --- | --- |
| Event | Year |
| Players Tour Championship | 2011/12 (Event Five) |