Name: Andy Hicks
DOB: 10th August 1973
Nationality: English
Turned Pro: 1991
Highest Ranking: #17 (1995/6)
Highest Break: 147×2 (1994 WSPBA Tour, 2012 UK Championship qualifiers)
Career Highlights: 1995 World Championship semi-finalist, 1995 UK Championship semi-finalist, 1996 Masters semi-finalist, 1994 Grand Prix Semi-finalist, 1997 B&H Championship winner, 2004 World Championship last 16, 2004 British Open quarter-finalist
Semi-success
A professional since 1991, Andy rose steadily up the rankings and in 1993 reached the first of his six major semi-finals at the European Open. Indeed the rest of his semi-finals were to come over the next couple of years as he made a real impression on the biggest events on the calendar.
At the Grand Prix in 1994 he defeated Mike Hallett, Terry Griffiths, Euan Henderson and notably Steve Davis in the quarter-finals, making breaks of 100, 115 and 109 in the process. The semi-final was one step too far however as he lost a tight match with Dave Harold 9-8, having at one stage led 8-6.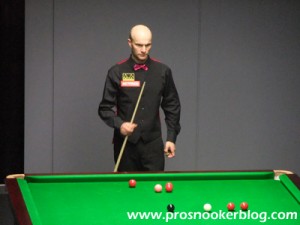 Andy during his 2011 World Championship qualifier
His next semi-final was to come on the biggest stage of all, at the World Championship in Sheffield where he again pulled off a shock against Steve Davis, before defeating Willie Thorne and Peter Ebdon in the quarters. Although he put up a valiant effort against Nigel Bond in the semis to fight back from 15-7 down, he ultimately lost the match 16-11. He had at least done enough to move up the rankings to a career high of 17, but falling just short of the top 16 this meant that he would still have to qualify for the final stages of events and he was never to come this close to elite status again.
Despite this, he reached three more semi-finals at the UK Championship, European Open and B&H Masters events during the next season, but did not come close to winning any of them, twice losing out to Ebdon. As a result he slipped down a place to 18th in the rankings and this proved to be the start of a dramatic loss of form for Devonshire's finest.
Loss of form
Despite winning the B&H Championship in 1997, Andy's form in the ranking events dipped dramatically and he dropped out of the top 32 at the end of the 1999/2000 season, before falling out of the top 48 two years later. Things were to reach an all-time low in 2002/3 when he continued to struggle for form and he found himself one frame away from losing his place on the tour as he trailed 9-8 to Craig Butler in his final qualifying match for the World Championship. He recovered to win the match however and just stayed in the top 64, ending the season ranked 62.
Revival
Having narrowly avoided losing his tour place, this seemed to breathe new life into Andy's career as he enjoyed a much better season in 2003/4, culminating in his first win at the Crucible in nine years. Although he lost to Ronnie O'Sullivan in the second match, he had at least improved his ranking to 51st place and another strong season the following year saw him up another 21 places and back into the top 32.
2008/9
Overall Andy enjoyed a successful 2008/9, losing just one opening round match and reaching the TV stages of two events. The first of these in the Shanghai Masters where he managed to reach the last 16 following an emphatic 5-1 victory over world number three Shaun Murphy. Though he lost against Marco Fu in his next match, he continued to perform well for the rest of the season and made it to the last 48 of the Welsh Open where he came up against local hero Matthew Stevens. Andy put up a strong showing, moving into a 4-2 lead at one point but Stevens came back well and took the last three frames to win.
The only disappointment for Andy was that having played a brilliant match to defeat Jimmy White 10-8 in his opening World Championship qualifier (including a terrific clearance to lead 7-6), he could not reproduce that form in the next round against Rory McLeod. As a result he ended the season ranked just outside the top 48 and would again have to win three qualifying matches to make it to the TV stages in 2009/10.
2009/10
After the impressive run of form shown during the previous campaign however, Andy got his 2009/10 season off to a poor start as he lost both of his two opening matches.
Although he did manage to steady the ship somewhat with victories during the next three tournaments, a 10-7 defeat to David Gray during his opening World Championship qualifier was to end his hopes of a return to the top 48 for another season.
Photo courtesy of Janie Watkins
Furthermore, as Andy finished the season having earned barely half of the amount of points that he did during the previous season, his results would have to improve during 2010/11 if he was to maintain his tour status beyond that season.
2010/11
Having struggled during the previous season, 2010/11 saw Andy's results improve somewhat as he won matches in the first four PTC events, a quarter-final in the third event proving to be his best result before he also won matches during the Shanghai Masters and World Open tournaments to get some more ranking points on the board.
His best run was to come at the Welsh Open where he defeated Igor Figueiredo and Barry Pinches to reach the final qualifying round before losing heavily to Barry Hawkins. Despite this result however, a series of other defeats meant that he would finish the season ranked down in 61st place.
2011/12
Andy was to experience a tough start to the 2011/12 season in the full ranking events as he lost his opening matches in the first three tournaments staged, his deciding frame defeat to Li Yan at the UK Championship qualifiers proving to be particularly disappointing.
Despite those defeats, Andy was able to reach the last 16 stage of PTC9, as well as the last 32 of a further two PTC events to get some more ranking points on the board. Furthermore he was able to win two matches during the German Masters qualifiers, before successfully qualifying for the venue stages of the Welsh Open with victories against Andrew Norman, Anthony Hamilton and Joe Perry.
Following defeat to Mark Williams in Newport, Andy's season ended with a 10-9 defeat to Welsh talent Jamie Jones at the World Championship qualifiers, though he had by this stage done enough to retain his main tour status as a top 64 player.
2012/13
The first half of Andy's 2012/13 season was to prove a struggle for Andy, as he lost his opening match in three of his first full ranking events, while he was able to reach the last 32 of just one PTC event, the UKPTC1 tournament in Gloucester.
He was able to reach the second qualifying round of the UK Championship, before losing out to Mark Joyce, who would eventually end the title defence of Judd Trump at the venue.
The second half of the season was to prove little better for Andy as he won just one match in 2013, against Michael Wasley at the China Open qualifiers before he lost to Dave Harold in the next round.
As a result, Andy would drop outside of the world's top 64 at the end of the season and as a result was relegated from snooker's professional circuit after 22 years.
Tournament Victories:
Non-Ranking Event wins (1)
| | |
| --- | --- |
| Event | Year |
| B&H Championship | 1997 |