Name: Anthony Hamilton
DOB: 29th June 1971
Nationality: English
Turned Pro: 1991
Highest Ranking: 10th (1999/2000)
Highest Break: 145 (1995 World Championship)
Career Highlights: 1999 British Open finalist, 2002 China Open finalist, Four Times World Championship quarter-finalist, 2006 and 2009 Welsh Open semi-finalist, 2012 UKPTC4 semi-finalist
In short
One of the finest break-builders the game has ever seen, Anthony has been a model professional for a number of years now and he is still capable of putting a good run together when the circumstances are right.
During the 2008 Shanghai Masters, Eurosport commentator Joe Johnson described him as the best player never to have won a ranking event tournament and it is hard to disagree with that assessment. Four times a world quarter-finalist and one of the very few players in the game to have made over 200 centuries, it is a shame that he has not been able to convert his talent into trophies. His cause was certainly not helped by the broken wrist that he suffered in 2000 when trying to help his friend who was being mugged.
Anthony at the Southwest Snooker Academy
Amateur career
Anthony was a strong junior, taking the Nottingham Amateur Championship aged 17, as well as making two maximum breaks at his local club around the same time. Having beaten Irishman Joe Swail in the final of the 1990 Pontin's Open, it was time to turn professional which he did in the summer of 1991.
Professional career
Considering the large size of the professional tour back in the early 1990's, to end his début season ranked at 85th was no mean feat for Anthony whose best result came at the Asian Open where he made the last 32. He continued his progress over the next couple of years, impressing in the 'minor' ranking events, as well as making four more appearances at the last 32 stage to move up to 35th in 1993/4.
He continued to improve in 1994/5 as he made the last 16 in the Grand Prix and the Welsh Open to move into the top 32 for the first time.
Top 16
Although his next two seasons did not produce a first quarter-final, he did make his World Championship début at the Crucible in 1996 where he lost 10-5 to eventual finalist Nigel Bond. He was also rewarded for his consistency by moving up into the elite top 16 for the first time in 14th position.
Anthony at the 2003 World Championship
1997/8 was where Anthony's performances moved up another level though as he not only made the quarter-finals of the German and Welsh Open tournaments, but went one better at the Thailand Masters when he reached his first semi-final. He also won on his début at the B&H Masters, defeating the best player in the world at that time, John Higgins, to reach the quarter-finals. All things told, these results were good enough to move Anthony up three places in the rankings to 11th.
First final
His best season was to come in 1998/9 however when he again reached the quarter-finals in Wales, before appearing in his first Masters semi-final, though this time it was Higgins who would come out on top. His best run was to come at the British Open however where he made his first ranking event final, though he ultimately lost out to Irishman Fergal O'Brien. Despite losing in the opening round of the World Championship 10-9 to Chris Small, Anthony had at least done enough to move up a place to 10th in the rankings, his highest position to date.
Broken wrist
Though the 1999/2000 season was to be solid enough as he reached a further four ranking event quarter-finals, including his first at the World Championship where he lost heavily, again to Higgins, he still dropped back to 11th in the rankings.
Much worse was to come in 2000/1 though as his season was wrecked before it had even started when he broke his wrist trying to help a friend who was being robbed in the summer. This forced him to miss the first two ranking events of the season and when he did come back, he struggled for form and lost his first three matches. Despite a late revival that saw him reach the last 16 of the final three events of the season, the damage had already been done and he slipped down to 19th in the rankings.
Anthony's form during the next season was to prove more inconsistent as he lost his opening match in no less than four ranking event matches. He did though reach his second career final where he lost 9-8 to Mark Williams despite having led 8-5 at one stage. He also made the quarter-finals of the World Championship for the second time with wins against Williams and Dave Harold before losing out 13-6 to eventual winner Peter Ebdon.
Unfortunately this good finish to the season was only enough to move Anthony up to 17th so he would still have to qualify for events in 2002/3, a situation that despite a third World quarter-final in 2004 would continue until the 2006/7 season. Here he just managed to sneak back into the top 16, despite losing 10-1 to Mark Williams in the first round of the 2006 World Championship.
His second spell in the top 16 was to last only a season though as barring quarter-final appearances in the 2007 Welsh Open and World Championship, his year was without success.
The following season was not to be much better, though he did manage to perform well in the non-ranking Championship League where he won the third group of the event with a 3-2 win over Ali Carter to progress to the final stage.
2008/9
Anthony continued to struggle during the first half of his 2008/9 campaign but after Christmas something seemed to click as he begun to consistently win matches and at the Welsh Open, defeated Peter Ebdon, Michael Judge and Mark Selby to reach his first semi-final since the same tournament back in 2006.
Ultimately though he lost out in a dramatic final frame shoot-out against eventual champion Ali Carter and due to losing his World Championship qualifier to the in-form Ricky Walden in Sheffield, dropped out of the top 32 at the end of the season.
2009/10
Hoping to follow in the footsteps of another man from Nottingham Michael Holt, Anthony looked to reclaim his top 32 place and started well with a 5-4 victory over the improving Robert Milkins during the Shanghai Masters qualifiers. Unfortunately however he was to then suffer a 5-0 whitewash at the hands of Jamie Cope in the final qualifying round, before again losing 5-0 against Dave Gilbert at his opening match of the 2009 Grand Prix.
Hamilton at the Academy (photo courtesy of Janie Watkins)
Better was to come at the UK Championship though as he defeated both Jimmy Robertson and Dave Harold to reach his first venue of the season, where he was defeated by Mark King.
Although another opening round victory was to follow at the Welsh Open, this was to prove Anthony's last victory of the season as he suffered disappointing early exits in both China and the World Championship. His defeat to Tom Ford in the latter was particularly demoralising as having taken the last three frames of the first session to lead 6-3 at the interval, he could do nothing to stop Tom from taking seven frames in succession to 10-6. This meant that Anthony would drop further down the rankings to his lowest position since the 1993/4 season.
2010/11
Having struggled for a while, Anthony was one of the players who benefited from the new Players Tour Championship in 2010/11, reaching one final and three further quarter-finals, as consistent a record as anyone on the circuit.
This combined with a victory during the qualifiers for the Shanghai Masters was enough to consolidate his position in the rankings at the first mid-season revision and leave him in with a real chance of moving back into the top 32 at the second following the UK Championship.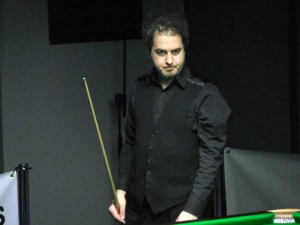 Anthony at the EPTC4 2010 event in Gloucester
Though he was able to qualify for the German Masters with victories against Kurt Maflin, Adam Wicheard and Stuart Bingham before toppling reigning world champion Neil Robertson in Berlin, defeats to Matthew Stevens in qualifying for both the Welsh Open and China Open were to end his realistic hopes of finishing the season inside the top 32.
He was able to defeat talented young Welshman Michael White in his opening World Championship qualifier but defeat to Barry Hawkins in the final qualifying round meant that he would finish the season ranked 36th.
2011/12
Anthony made a poor start to the season, not helped by continuing neck problems which forced him to miss out on the season-opening Australian Open. He told World Snooker:
"It's fine unless the muscles go into spasm, which happens about five times a year,"
"I just have to hope that doesn't co-incide with a tournament."
"It's better than it was before, because I have changed my stance progressively over the last three years. I'm not as good or as solid as I used to be, but at least I can still play."
"When it first started I went to a doctor in Harley Street and he said there was nothing I could do about it. I had to play through the pain. It's better now but there are certain things I can't do. Even on the plane coming over here I was talking to Fergal O'Brien for about half an hour then had to stop because I was twisting my neck to one side."
Nevertheless he was to enjoy an excellent run at the season's second major tournament in Shanghai as having qualified with victories against Alan McManus and Ken Doherty, he then ousted wildcard Li Hang before progressing to the quarter-finals with further wins against Stephen Maguire and Ronnie O'Sullivan. Compiling five centuries along the way, he reminded everyone just what a powerful scorer he can be and kept himself in the hunt for a top 32 place at the first seedings cut-off.
Though he could not quite pull that off, further consistent performances during the season's remaining PTC events as well as regular opening round victories during events such as the World and UK Championship qualifiers, meant that although he could not reach another venue, he would finish the season ranked back inside the world's top 32.
2012/13
Anthony's spell back inside the top 32 was to prove short-lived however, as he made a slow start to the 2012/13 season, losing his opening match in each of the first three full-ranking events.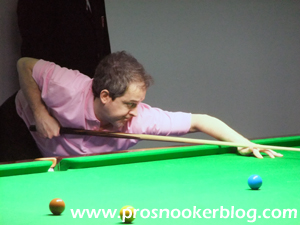 Anthony in action against Mark Selby during the 2012 UKPTC4 event
He was to fare little better in the PTC events, until at the UKPTC4 event he returned to form with a run to the semi-finals, defeating world number two Mark Selby along the way, before losing a deciding-frame battle with eventual champion John Higgins.
A last 32 run at the ET4 event in Sofia would follow, while Anthony was also able to qualify for the venue stage of the German Masters with victories against Ian Burns and Jamie Cope. Once there, he would defeat top seed Judd Trump 5-4 in the opening round, before losing 5-2 to eventual champion Ali Carter in the second round.
During the second half of the season Anthony was also able to qualify for the venue stages of the Welsh Open, losing to eventual champion Stephen Maguire, before his campaign was brought to an end by Thailand's Dechawat Poomjaeng at the World Championship qualifiers.
2013/14
Anthony was to make a strong start to the 2013/14 season, a last 16 appearance at the opening European Tour event of the season in Sofia, followed by a run to the quarter-finals of the Wuxi Classic, where he defeated the likes of Ryan Day, Stuart Bingham and Mark Williams, before losing out to Robert Milkins.
Further solid performances came at the European Tour events as he reached the last 16 in both Doncaster and Mulheim, as well as another three last 32 appearances to successfully qualify for the Grand Finals in Preston.
There was to be disappointment in Preston however, as having edged out Sam Baird in his opening match, he then lost a 3-0 lead against eventual finalist Gerard Greene in the next.
Though he was to finish 51st in the rankings at the end of the season, his results across the campaign had been stronger than during 2012/13 and he left himself well-placed to climb back higher if he can make a strong start to 2014/15.
2014/15
Anthony was able to reach the last 32 of the Wuxi Classic, but otherwise it was to prove a challenging season for him as he won just three further matches in full-ranking events.
As a result he was to drop seven places to 58th in the rankings after defeat to Zhang Anda at the World Championship qualifiers.