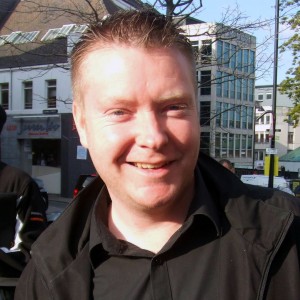 Name: Gerard Greene
DOB: 12th November 1973
Nationality: Northern Irish (born in England)
Turned Pro: 1993
Highest Ranking: 26th (2004/5)
Highest Break: 144 (2013 Ruhr Open)
Career Highlights: 2014 Players Championship Grand Finals runner-up, 2013 ET3 finalist, 2007 Grand Prix semi-finalist, Four time ranking event quarter-finalist, 1996 Polish Masters champion, 2005 World Games champion
Early career
Turning professional in 1993, Gerard's career was largely unremarkable in the 1990's, though he did have an amazing match where against Steve Davis at the 1996 Grand Prix where he went 'in-off' the final black to lose the frames on three occasions.
On a more positive note however he did win the non-ranking Polish Masters in the same year which helped to raise his profile within the snooker world somewhat. He also managed to make his first ranking event quarter-final at the Crucible in 1997 where he lost out to Ronnie O'Sullivan.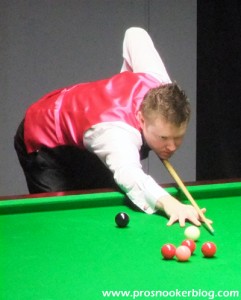 Gerard during the 2011 World Championship qualifiers
2000's
In 2003/4 he enjoyed a strong season, reaching his second ranking quarter-final, as well as making a couple of runs to the last 16. This ensured that he entered the top 32 of the rankings for the first time, becoming the Northern Irish number one by overtaking Joe Swail who was struggling at the time.
His next few seasons were up and down though as he dropped back out of the 32, moved back up again and then finally slipped out again following the 2007/8 season. This latest campaign proved to be bitter-sweet as he started the season in fine form, reaching his first ranking semi-final at the 2007 Grand Prix where he eventually lost out 6-5 to Marco Fu. Things continued to go well at his home tournament in Northern Ireland where he reached the quarter-finals with impressive wins over Liang Wenbo, Mark Williams and Ken Doherty, before losing out to Mark Allen.
In a strong position in the provisional rankings and looking to at least retain a spot in the top 32, it was a shame that at this point his form seemingly deserted him and his ranking suffered as a result. Losing 10-2 to Mark Davis in the final World Championship qualifying round, this ensured that Greene would end the season just short of his target in a disappointing 33rd place.
2008/9
Gerard's 2008/9 campaign can best be described as solid without being spectacular as although he won his opening match in six of the season's eight ranking events, he managed to go further on just two occasions. Importantly though, one of these times was at the World Championship where having defeated Liu Song 10-6 in a nervy match, he overcame the 1997 champion Ken Doherty to qualify for the Crucible stage.
Having lost his opening match there three times before, he was hoping to finally enjoy some success at snooker's most famous venue but unfortunately he slipped to a 10-5 defeat to world number seven Ali Carter.
He had at least done enough to move back up inside the top 32 of the rankings which meant that for 2009/10 he would have to negotiate only one qualifying round in order to reach the venue stage of events.
2009/10
The pattern continued into 2009/10 as at the halfway point he had again won his opening match in each of the three tournaments staged, but defeats at the hands of Chinese wildcard Li Yan, eventual Grand Prix winner Neil Robertson and defending UK champion Shaun Murphy saw him go no further.
He remained consistent until the end of the season, notably qualifying for the Crucible once again by winning the last match to finish at the English Institute for Sport, a gruelling 10-9 victory against Rory McLeod which left his father barely able to watch. Unfortunately at the Crucible however it was to be that man Murphy who ended his hopes again, although not without a fight as Gerard fought back in the second session before eventually succumbing 10-7.
2010/11
Gerard began the 2010/11 season strongly as he won matches in 10 of the first 11 events of the new Players Tour Championship, his best result coming in the PTC2 as he reached the semi-finals.
Unfortunately however, opening round defeats in both the Shanghai Masters and the World Open prevented him from taking full advantage of this consistent form and pushing for a top 16 place at the first rankings revision.
Gerard's poor form in the majors continued as he lost heavily to Tom Ford and Dominic Dale in qualifying for the UK Championship and German Masters tournaments, though a 4-0 victory against Ian McCulloch to qualify for the Welsh Open was enough to see him secure a top 32 seeding for the final two tournaments of the season.
Another qualifying win came at the China Open as he saw off Fergal O'Brien to reach the last 32 stage but he was not able to make it three appearances in a row at the Crucible as he lost a gruelling clash against Dave Harold in Sheffield in a deciding frame. He was at least just able to hang on to a place inside the top 32, eventually finishing the season in 32nd place.
2011/12
Gerard was to experience a tough start to the 2011/12 season, losing his opening qualifying round matches in both the Australian Goldfields Open and Shanghai Masters tournaments while struggling to make an impact during the PTC events. As a result Gerard would drop out of the top 32 at the season's first seedings revision and be required to win two matches to qualify for the televised stages of events.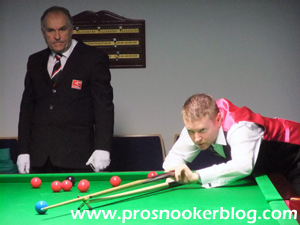 Gerard at the 2011 UK Championship qualifiers
At the UK Championship qualifiers Gerard was able to win his opening round match against Jimmy Robertson to set up a last 48 clash with Stephen Hendry, which the Scot would eventual come through a 6-2 winner.
The second half of Gerard's season was to be improved as he won his opening qualifiers in the Haikou World Open, Welsh Open and World Championship tournaments, but the fact that he was unable to qualify for another venue contributed to him finishing the season ranked ten places lower than he had started it in 42nd place.
2012/13
Gerard was to suffer a poor first half of the 2012/13 season, winning just five matches and failing to make it to another venue prior to the end of the year. As a result, Gerard's ranking was to fall slip outside of the top 48 for the first time in a decade.
His struggles were to continue into 2013, as he won just one further match in ranking event competition, finishing the season ranked 56th.
2013/14
There were early signs of improvement for Gerard in 2013/14, as he matched his match wins total of the previous season by the middle of June, but few could have predicted how he would turn things around at the Paul Hunter Classic in August.
At the popular European Tour event in Furth, Gerard was able to defeat Jack Lisowski, Dominic Dale, John Astley, Thanwat Tirapongpaiboon, Joe Swail and Ali Carter to reach a shock final, losing only to reigning world champion Ronnie O'Sullivan.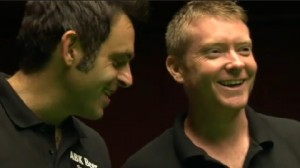 The result meant that although Gerard at the time found himself ranked outside of the top 64, he was virtually certain to remain on tour for the following season via the European Order of Merit, regardless of what else happened during the course of the season.
Better was still to come however, as at the Players Championship Grand Finals tournament in Preston, he defeated Ricky Walden, Anthony Hamilton, Mark Allen and Marco Fu to reach the first full ranking event final of his career.
While he could not see off friend and fellow On Q Promotions player Barry Hawkins in the final, the £38,000 earned from his run was enough to see him finish the season ranked 44th, following the transition to a prize money based ranking list.
2014/15
The 2014/15 season was to prove mixed for Gerard as he failed to win a match at a full-ranking event prior to the UK Championship, but from there he would win at least one match during the season's remaining six events including the World Championship.
His best run would come at the Indian Open as he defeated Ahmed Saif and Matthew Stevens to reach the last 32, while he also reached the last 32 of the ET3 event in Bulgaria.
Tournament Victories:
Non-Ranking Event wins (2)
| | |
| --- | --- |
| Polish Masters | 1996 |
| World Games | 2005 |