Name: Michael Holt
DOB: 7th August 1978
Nationality: English
Turned Pro: 1996
Highest Ranking: 20th (2013-14)
Highest Break: 145 (2005 UK Championship)
Career Highlights: 2013 Shanghai Masters semi-finalist, 2010 EPTC6 winner, 2011 PTC10 winner, 2013 AT2 finalist, 2014 AT1 finalist, seven time Ranking Event quarter-finalist, 2005 World Championship last 16, 2006 German Open Champion, 2013 Shoot Out semi-finalist
Early Career
Turning professional back in 1996, it took Michael a number of years to establish himself on the tour though he did have a few solid runs early on. The best of these came at the UK Championship where in 1998 he made the last 16, before going one better the following year when he reached the quarter-final.
His gradual improvement continued as he entered the top 48 for the first time for the 2001/2 season, a position he has maintained ever since. Although he reached the final qualifying round for the World Championship in 2001 and 2002, Michael unfortunately lost out both times, as he would again in 2004 when he lost 10-9 to Anthony Hamilton despite having led 9-5.
Crucible début
He was at least able to move up into the top 32 for the first time in 2004/5 and his consistent performances meant that it was surely only a matter of time until he made his début at the Crucible. This he did in 2005 when he defeated Stuart Bingham 10-8 in the final qualifying round to set up a first round match in Sheffield with Paul Hunter. Coming shortly after he was diagnosed with cancer, Paul was not at his best though Holt did play well to win the match 10-8.
Up against Steve Davis in the second round, Michael looked to be in great shape to progress to the quarter finals at 8-2 up, but as is so often the case, his concentration let him down a touch and he let Davis back into the match, eventually succumbing 13-10. Indeed the most memorable moment from this match was when Holt was clearing up in one frame and remarkably miscounted, leaving himself now needing snookers to win it. He did pull out a great clearance at the end of the second session to keep himself in contention, but the damage had already been done.
His next couple of seasons on the tour were solid if not spectacular, his best performance coming at the 2007 Malta Cup where he defeated Ronnie O'Sullivan for the first time to reach the last 16 where he lost out to Mark King. He did manage to qualify for the Crucible again in 2006 and 2007, but he lost out in the first round on both occasions to Peter Ebdon and eventual winner John Higgins.
2007/8
2007/8 was to be a poor season for Michael as he failed to make the last 16 of any ranking event and also failed to qualify for the World Championship, losing out to Michael Judge. As a result Michael was to lose the top 32 status that he had held for the past four years and would have to come through two qualifying matches to make the final stages of events in 2008/9.
2008/9
Michael's start to the following season was to be much improved as he began by winning matches at the first three events, notably at the Grand Prix where he defeated the likes of Jimmy White and Mark Allen to reach the last 16.

Michael in action against Xiao Guodong at the 2009 China Open
Despite an agonising 5-4 loss to Robert Milkins in Bahrain from 4-0 up, Michael continued to impress, not just with his snooker but with his mental strength as he finally started to shake off the reputation as someone weak under pressure that he had built up over the last few seasons.
The wins continued to come and by win two qualifying matches during the World Championship (his first being a 10-9 success over Mark Davis with a century in the deciding frame), he ensured that he would make an immediate return to the top 32.
2009/10
Michael picked up where he left off from the 2008/9 season at the Shanghai Masters qualifiers as he defeated Jamie Burnett in a deciding frame to win his ninth straight opening match. From there however he was powerless to stop the impressive Shaun Murphy from recording a 5-1 victory out in Shanghai before seeing his consistent run of early victories ended by Norwich veteran Barry Pinches at the Grand Prix qualifiers.
A 9-4 victory over Dominic Dale to qualify for the UK Championship got things back on track and recovering from 3-0 and 4-1 down against world number two Stephen Maguire in Telford it looked like he might have been capable of causing a shock on the tournament's opening day. Unfortunately it was not to be and a 9-6 defeat proved to be his last ranking event match of 2009.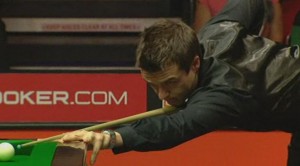 The new year got off to a bad start for Michael as he lost both his Welsh and China Open qualifiers to leave himself out of the race for a top 16 place heading into the World Championship. He did at least manage to make it back to the Crucible with victory over Irishman David Morris in the final qualifying round, following which he came out with the classic quote:
'It's a good omen if I draw Higgins. The last two times I've played him at the Crucible the winner's gone on to win the tournament'
As it would turn out, Michael drew a returning to form Joe Perry who showed his friend little mercy in Sheffield on the way to a 10-4 win. This result meant that Michael would end the season exactly where he started, 24th.
2010/11
The Players Tour Championship launched at the start of the 2010/11 season was designed to give players such as Michael an opportunity to shine, but for whatever reason the Hitman struggled badly for form early season as he lost his opening match in the first four PTC events as well as at both the Shanghai Masters and World Open tournaments.
His fortunes were to turn however at the EPTC6 event when Michael was able to defeat Liam Highfield, Joe Swail, Stephen Maguire, Jamie Cope, Mark Selby, Shaun Murphy and finally the returning to tour Scot John Higgins to capture his first professional title.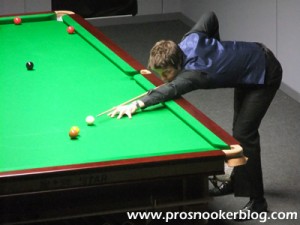 Michael in action at the 2011 World Championship
Despite that success however, Michael continued to struggle during the remainder of the season's events, though he was able to win two matches to qualify for the Welsh Open and in doing so secure a top 48 seeding for the final two tournaments of the season.
The second of these was the World Championship where in front of his ill father at the Badminton Halls in Sheffield, Michael came back from 7-3 down against James McBain to win 10-8 and progress through to the final qualifying round. Although he at one stage led Welshman Dominic Dale 6-3, the old mental frailties were once again to surface as he lost two close frames before Dale hit a break of 65 in frame 12 to draw level at 6-6 having seen Holt waste two golden opportunities to score.
From there Dominic was to win 10-6 which meant that Michael would finish the season ranked 45th.
2011/12
Michael made a positive start to the 2011/12 season by reaching the final of the invitational Pink Ribbon tournament, before he successfully qualified for the venue stage of the Shanghai Masters with wins against Cao Yupeng and Barry Hawkins. Once there he was able to overcome Cai Jianzhong and Graeme Dott before losing to Neil Robertson at the last 16 stage.
Holt on his way to victory at PTC10
Meanwhile his form during the PTC events was to be consistent, quarter-finals at PTC5 and PTC11 bettered by his victory at PTC10 where he saw off Mark Selby, John Higgins and Dominic Dale amongst others to take the title.
The second half of Michael's season was to be strong as he regularly made it to the venues, highlighted by a last 16 run at the Haikou World Open tournament. His campaign was to end on a disappointing note however as he lost out 10-9 to Belgian talent Luca Brecel at the last 64 stage of the World Championship.
2012/13
Michael continued to impress during the first half of his 2012/13 season as he qualified for the final stages of both the Wuxi Classic and Australian Goldfields Open tournaments, though he was unable to progress beyond the last 32 of either event.
His next venue appearance was to come at the UK Championship in York, where he lost a close encounter with John Higgins, while his best result in a PTC event was to come at the ET2 tournament in Gdynia, eventually losing to Scotland's Jamie Burnett in the semi-finals.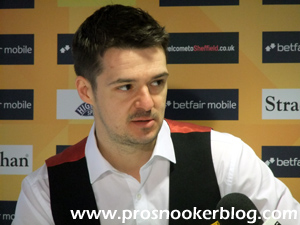 Moving into 2013, Michael's best result was to come at the 2013 German Masters, wins against Mark Williams and Kurt Maflin seeing him through to the quarter-finals, where he would lose 5-2 to eventual champion Ali Carter.
Michael was to finish the season by making it back to the Crucible Theatre for the first time since 2010 with a 10-7 victory against Mark Joyce, but once there would take just one frame against eventual semi-finalist Ricky Walden.
2013/14
Michael was to break new ground during the 2013/14 season, as he reached the first full-ranking event semi-final of his career at the 2013 Shanghai Masters in September.
Having qualified for the event with a narrow victory against Rory McLeod, he then defeated Judd Trump, Martin Gould and Kyren Wilson to reach the last four, losing out 6-3 to China's Xiao Guodong.
Up to a career-high ranking of 20, Holt would subsequently go on to reach the final of the Asian Tour 2 event, losing out to amateur Ju Reti, while he also reached another quarter-final at the German Masters early in 2014 before suffering a 5-0 whitewash at the hands of Judd Trump.
Once again, Holt's season would end at the Crucible Theatre, as having qualified for the venue stages with victory against Welshman Jamie Jones, he ultimately lost out 10-4 to Mark Allen in the opening round.
2014/15
Michael made a strong start to the 2014/15 season as he reached the final of the first Asian Tour event, losing to Ding Junhui, before he progressed to the last 16 of the Wuxi Classic and Shanghai Masters events in China.
From there however he began to struggle, until he reached the quarter-finals of the invitational Shoot Out event, before also reaching the last eight of a full-ranking event for the seventh time in his career at the Players Championship in Thailand, losing to eventual champion Joe Perry.
Wins against Sydney Wilson and Noppon Saengkham saw him reach the final qualifying round of the World Championship, but he could not find a way past Robbie Williams, losing the last six frames of the match.
Minor Ranking Event wins (2)
| | |
| --- | --- |
| Event | Year |
| European Players Tour Championship | 2010/11 (Event Six) |
| Players Tour Championship | 2011/12 (Event Ten) |