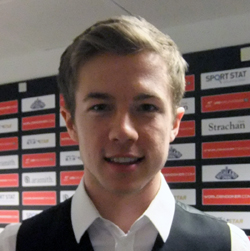 Name: Jack Lisowski
DOB: 25th June 1991
Birthplace: Cheltenham, England
Turned Pro: 2010
Highest Ranking: 34th (2013)
Highest Break: 147 (2012 UK Championship qualifiers)
Career Highlights: 2013 China Open quarter-finalist, 2012 PTC Grand Finals last 16, 2013 World Championship last 32, 2012 UK Championship last 32, 2014 Wuxi Classic last 32, 2014 Shanghai Masters last 32, 2014 Australian Goldfields Open last 32, 2010 PTC3 finalist, 2012 UKPTC1 finalist
Twitter: @JackLisowski
Early Career
One of 110sport's 'Class of 2006', England's Jack Lisowski has been touted as one of the most promising young players around for a number of years now and demonstrated his potential early by reaching the final of the 2007 Junior Pot Black competition.
His path to the top has however been tougher than most as at the age of 16, Jack was diagnosed with Hodgkin's Lymphoma, a form of cancer which required a total of 16 sessions of chemotherapy and understandably limited his ability to practice.
Jack is quoted at Global Snooker as saying:
"When I first found out I had cancer, I was petrified,"
"Then it sinks in and you realise you have to fight it. I was lucky to have my family around me. I had chemotherapy 16 times over an eight-month period. You've got to experience it to know what it's like. It knocked me down and I constantly felt sick.
"At the time I was diagnosed, I had just left school and was ready to start snooker as my main career. One of the first things I thought of was that I would have to quit snooker. Once the chemo was finished, I still had to go through radiotherapy, but I was able to start playing again, which felt brilliant."
"My game is back to where it was when I was diagnosed,"
"I am mentally stronger as a player now because whenever I get frustrated with my game, I remind myself that there's a lot more to life."
Return to the table
Thankfully Jack has been able to make a full recovery and eager to make up for lost time, he made an immediate impact on the table as he managed to defeat the likes of Tony Drago, Joe Jogia and Mitchell Mann to reach the final of Event Six of the 2008/9 PIOS.
Although fatigue was to understandably catch up with him in the final against China's Xiao Guodong, he had demonstrated that he could compete at that level and followed his performance up with a run to the semi-finals of the 2009 European Under-19's Championship, beaten only by a break of 135 from Belgian prodigy Luca Brecel in a deciding frame!
2009/10 – PIOS Record Breaker
With a summer of practice behind him, Jack began his 2009/10 campaign in style by taking victory in the opening event of the new PIOS season, defeating fellow prospect Liam Highfield in the final. Putting him well into contention to step up to the main tour, Jack took full advantage of the opportunity he had earned himself by adding a further two semi-finals before winning event 8 to finish the season as number one with a haul of 1,140 points, surpassing Kuldesh Johal's record set two years previously.
2010/11
Jack made an impressive start to his professional career as he recorded a series of consistent performances which saw him move up to 69th in the rankings at the season's first revision. His best run came at the PTC3 event in Sheffield where he shocked tournament favourite and PTC2 winner Mark Selby to reach the final before losing out to Leicester's Tom Ford.
As the full ranking events came along, Jack began with a defeat to Scotland's James McBain in qualifying for Shanghai but from there was to win at least one match during five of the following six events.
Jack during the 2011 World Championship qualifiers
His best performances were to come at the German Masters and Welsh Open tournaments as he qualified for the last 32 stage of both with victories over Mike Dunn, Marcus Campbell, Liam Highfield, Fergal O'Brien and most impressively Martin Gould. At the latter he was able to give eventual winner John Higgins a scare before eventually losing the match 4-3.
His season was to end at the World Championship where he was able to edge out Kuldesh Johal 10-8 following a predictably tense opener to set up an intriguing tie with six-times world champion Steve Davis in the next round. Of the two it was Jack who made the stronger start, advancing to a 6-3 lead following the first session before taking the opening frame of the evening to leave himself requiring just three more frames for a place in the final qualifying round.
Jack during the 2011 World Championship qualifiers
From there however Steve was to produce his best snooker of the season, recording back to back centuries for the first time in several years in front of a heavily pro-Davis crowd and despite Jack's best efforts, it was the great former champion who was able to complete the comeback and secure a 10-9 win.
Nevertheless despite the immediate disappointment, Jack had done enough to finish the season ranked at a career high of 52nd place.
2011/12
Jack made a strong start to the 2011/12 season, winning his opening match at the Australian Goldfields Open qualifiers before following this up with comprehensive victories against David Grace, Mike Dunn and Marco Fu qualify for the Shanghai Masters for the first time.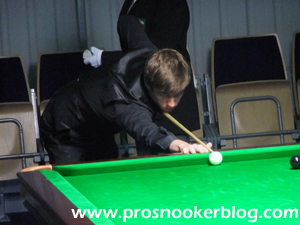 Click here to read Jack's blog for PSB in August 2011
Following defeat to Jamie Cope at the venue, consistent performances continued in the PTC events, a run to the semi-finals of the fifth event representing his best result and despite his defeat to Li Yan at the 2011 UK Championship qualifiers, he was able to move into the top 40 of the world rankings for the first time at the year's end.
The second half of Jack's season was to prove a struggle, though a 4-3 victory against Barry Hawkins at the PTC Grand Finals was to give him a lift. His campaign was to end in disappointing fashion however as he lost 10-3 to Alfie Burden in his opening World Championship qualifier.
2012/13
Jack was to make a strong start to 2012/13 season, successfully qualifying for the venue stages of the Australian Goldfields Open, before defeating former flat-mate and world number two Judd Trump on his way to the final of the UKPTC1 event. He had looked set to win the event in a deciding-frame finish against Scotland's Stephen Maguire, however having left himself short on the final yellow, he missed it to allow Maguire in to steal it.
Jack shakes hands with Stephen Maguire ahead of the 2012 UKPTC1 final
The defeat seemed to knock Jack's confidence as he lost his next four matches, however he was soon back on form in October, eight victories during three successive PTC events, helping to consolidate his top 48 ranking.
These were to be followed by his successful qualification for the UK Championship, which included a first career 147 break during his opening match against China's Chen Zhe.
Click here to read Jack's thoughts on his 147 and successful UK Championship qualification
Though he was to lose 6-2 to Stuart Bingham in York, Jack was to continue to perform well, defeating Mark Selby at the PTC Grand Finals in Galway, before then reaching the quarter-finals of the China Open with wins against Judd Trump and Mark Davis.
Despite losing a decider to Shaun Murphy in Beijing, Jack was to take this form into the World Championship qualifiers, where he defeated James Wattana and Fergal O'Brien 10-4, to qualify for the Crucible for the first time in his career. There he lost out 10-3 to eventual finalist Barry Hawkins, his run ensuring that he would finish the season at a career-high ranking of 35.
Click here to read Jack's thoughts ahead of his World Championship début
2013/14
Following what was in many ways his breakthrough season, the 2013/14 campaign was to prove more of a struggle for Jack as he failed to make an impact on the venue stages of the year's biggest events, notably losing his opening matches at both the UK and World Championship.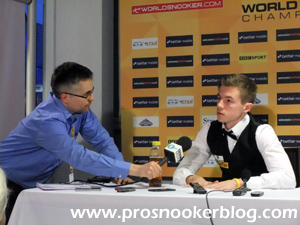 His strongest results were to come during the season's European Tour events, notably reaching the semi-finals of ET7 in Antwerp before losing 4-2 to eventual champion Mark Selby, while he also reached the quarter-finals of the Asian Tour 4, again losing to the eventual winner in Stuart Bingham.
On the whole however, the year was to prove a learning experience for Jack, who finished down seven places to 42nd in the rankings and during the campaign took the decision to relocate from Essex to closer to home in order to try and get back on track.
2014/15
Jack was to make a strong start to the 2014/15 season as he reached the last 32 of the first three full-ranking events, as well at the UK Championship in York.
Following the turn of the year however he was to struggle for results, winning just three matches during the first half of 2015 and falling to a surprise defeat to Welshman Jak Jones at the World Championship qualifiers, meaning that he was not able to make it back to the Crucible.
Happily however, away from the baize he was married to his girlfriend Jamie in February 2015.