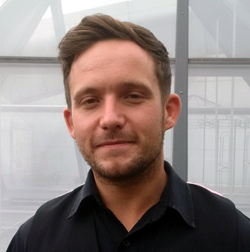 Name: Jamie Jones
DOB: February 14, 1988
Nationality: Welsh
Turned Pro: 2006
Highest Ranking: 29th (2012)
Highest Break: 143 (PTC5 2010)
Career Highlights: 2012 World Championship quarter-finalist, 2014 Australian Goldfields Open last 16, 2015 Indian Open last 16, 2015 China Open last 16, 2014 Wuxi Classic last 32, 2015 World Championship last 32, 2010 PTC5 finalist, 2014 ET6 semi-finalist
..
Early Career
With national victories at under-13, 14, 16, 18 and under-21 levels, Jamie has an impressive junior CV which set him out as one to watch from a very early stage. In the international arena it was a similar story as he helped Wales to victory in the under-14's Nations Cup in 2002, as well as the Home Nations a year later.
2004 was his real breakthrough year however as he won the Welsh under-21 title aged 17, before racing to victory in the European under-19's Championship and reaching the last 16 of the senior event before losing out to Eddie Cooper. He also reached the quarter-finals of the IBSF World under-21 Championship before he turned his attention to the Challenge Tour, soon to become the PIOS that we know today.
Main Tour
After a couple of season's in snooker's secondary tour, Jamie qualified for the big league by virtue of finishing as number one in the 2005/6 Welsh national rankings. His main tour debut was not to go too well however as a run to the last 48 of the Grand Prix was not enough to see him keep his place for a second consecutive year.
Jamie during the 2011 UK Championship qualifiers
Finishing third on the PIOS in 2007/8 however Jamie at least ensured that his absence would go on for no longer than a single season. The high point of his PIOS run was victory in the seventh event with a 6-2 win in the final over second placed Peter Lines.
2008/9
Again Jamie was to struggle for consistency on the main tour during 2008/9 and suffering four round one exits, saw his spell come to an end after a single season.
He did though perform very well over the longer frame matches as he reached the third qualifying round of both the UK and World Championship at the English Institute for Sport. In the UK he managed to defeat Robert Stephen and David Gray before losing to Alan McManus while at the season ending World Championship he managed to overcome Atthasit Mahitthi and Robert Milkins before coming unstuck against Andrew Higginson.
2009/10
Having qualified for the main tour via the PIOS in the past, Jamie began his 2009/10 season knowing what he had to do and by winning event four with a 6-0 victory over countryman and namesake Jak Jones, gave himself an excellent chance to bounce straight back once again.
Jamie at the 2011 Pink Ribbon
Though his subsequent results were to be poor, this victory coupled with a semi-final appearance at event two was enough to see him hang on to eighth place and secure a third season among the top 96.
2010/11
Jamie's 2010/11 season began in a similar fashion to his previous spells as he struggled for consistency, but strong runs in both the Shanghai Masters and World Open events helped him up to 68th position in the rankings at the time of the season's first rankings revision.
From that point on however Jamie hit a rich vein of form, particularly at the PTC5 event in Sheffield as he defeated Patrick Einsle, Liu Song, Gerard Greene, Martin Gould, Patrick Wallace and Ricky Walden to reach the final. Though he was to lose out to a returning to form Ding Junhui and be denied his first professional silverware, he was rewarded by a ten place rise up the provisional rankings an importantly was able to sustain his impressive form with last 16 appearances in each of the next two PTC events.
His season looked like it might end on a disappointing note as he trailed Simon Bedford 6-3 overnight during his opening match at the World Championship qualifiers. Winning seven successive frames during the second session however he was to ensure that despite a 10-9 defeat to Dave Harold in the next round, he would finish the campaign ranked inside the top 48 for the first time.
2011/12
As was the case during the previous season, Jamie was a consistent performer during the PTC series, quarter-final runs at PTC1, PTC3 and PTC7 representing his best results in 2011/12.
Jamie defeats Jimmy White at the 2011 UK Championship
He was however unfortunate during the initial full-ranking events, losing his opening matches in both the Australian Goldfields Open and Shanghai Masters tournaments in deciding frames to Ben Woollaston and Aditya Mehta respectively.
Better was to come at the UK Championship qualifiers as he defeated Jimmy White 6-5 on the main arena table while at the German Masters qualifiers he was able to win two matches before losing out to Andrew Higginson in the final qualifying round.
The second half of Jamie's season however was to be better still, a run to the final qualifying round of the Haikou World Open, followed by his successful qualification for the China Open in Beijing.
Though he would fall at the first fence at the venue to wildcard Lu Ning, buoyed by victory against John Higgins at the PTC Grand Finals, Jamie then went on to qualify for the World Championship for the first time with victories against Andy Hicks and Ricky Walden.
Jamie at the 2012 World Championship
Jamie however was not to be stopped there, first producing a brilliant performance to defeat 2005 world champion Shaun Murphy 10-8 in the first round, before then dispatching Andrew Higginson to reach his first Crucible quarter-final. Though his run was to end there against eventual finalist Ali Carter with a 13-11 defeat, the seven centuries that he made during the event helped him up to a career-high 29th in the rankings.
2012/13
Following his brilliant end to the previous campaign, Jamie was to struggle badly at the start of the 2012/13 season, as he lost his opening match at four of the season's first six tournaments, three of which were full-ranking events.
A last 16 run looked like being the catalyst that the Welshman needed to improve his fortunes, but he continued to struggle for results, meaning that his ranking would drop to 41st by the end of 2012.
Jamie's struggles were to continue into 2013, as he won just one more match, before his season was brought to an end by Liam Highfield, who won their match 10-9 at the World Championship qualifiers in Sheffield.
2013/14
It was to prove another difficult season for Jamie, in full-ranking events at least, as he won just nine matches, failing to progress beyond the last 64 of an event prior to the World Championship.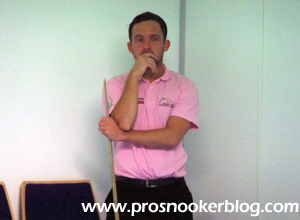 He was though to end the campaign with a promising run in Sheffield, coming back from 9-4 down to defeat Joel Walker in dramatic fashion, before seeing off Aditya Mehta 10-5 to reach the last 48 stage. He could not make it back to the Crucible as he lost out 10-6 to Michael Holt, but it did represent a positive tournament for Jones heading into the new season.
There was also to be a return to form during the European Tour events staged, 19 wins in all, with a best result of a semi-final at the ET6 event in Gloucester reminding the snooker world of his talent.
2014/15
Jamie was to continue his renaissance during the 2014/15 season as he reached the last 16 of no fewer than three full-ranking events, as well as making it to the semi-finals of the invitational Shoot Out event live on Sky Sports.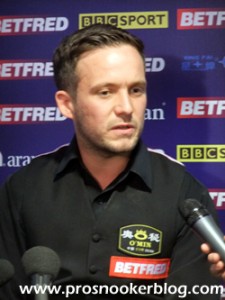 The Welshman was also able to make it back to the scene of his 2012 World Championship heroics as he defeated Ashley Carty, Tian Pengfei and Adam Duffy at Ponds Forge to qualify for the Crucible for the second time in his career.
Though he could do little about an inspired Neil Robertson at the venue, his results were enough to see him climb 17 places up to 38th in the world rankings at the end of the season.