Name: Peter Lines
DOB: December 11th, 1969
Nationality: English
Turned Pro: 1991
Highest Ranking: #42 (1999/2000)
Highest Break: 145 (2011 PTC10)
Career Highlights: 2009 UK Championship quarter-finalist, 1999 China International quarter-finalist, 2013 Wuxi Classic last 16, 2013 Shanghai Masters last 16, 1998 World Championship last 32, 2011 UK Championship last 32, 2012 World Championship last 48
Early Years
Peter's professional career started out in 1991 as he rose as high as 73rd place during his initial three year spell on the main tour. Wins were few and far between though and he found himself back in the amateur ranks, recording some good wins as he made the final of the English Amateur Championship in 1996.
Tour Return I
On his first return to the main tour however he was to show improvement, particularly during the late 1990's as he qualified for the final stages of the World Championship at the Crucible for the first and so far only time. Like many Crucible débutantes Peter struggled as he lost out against former world champion John Parrott in the last 32, but he had at least secured his place on the tour for another year as a result.
In 1999 his performances continued to improve as he achieved a quarter-final appearance at the China International, victories against John Higgins and Peter Ebdon proving to be particularly notable before he lost out 5-4 to Brian Morgan. This helped him up to a career high ranking of 42 at the end of the 1999/2000 season.
This was ultimately as high as Peter would rise at this stage of his career however as within a couple of years he had slipped down the ranking list and was having to fight hard just to remain on the tour. He managed to do so successfully for a few years but having fallen as low as 95 at the end of 2004/5, relegation was inevitable.
PIOS Success and Tour Return II
Peter did not give up though and working with the late Steve Prest found some form in 2007/8 to finish second in the PIOS, winning one event and finishing runner-up in another, comfortably qualifying for the main tour for a third time.
Overall his return to the main tour in 2008/9 was very successful too as not only was he able to maintain his place on the main tour, but he was able to perform consistently enough to finish inside the top 64, ensuring that he would have one less qualifying match to negotiate in 2009/10.
2009/10
Peter's renaissance continued at the start of the 2009/10 season as he continued to win his first-round matches, reaching the last 64 of the Shanghai Masters and the last 48 of the Grand Prix.
Nothing could have prepared him for what was to come at the UK Championship however. Not only was he able to win his first match with a thrilling 9-8 victory against Xiao Guodong that he managed to finish with a century break, but he then added wins against Ian McCulloch and Nigel Bond to qualify for the venue.
But he was not finished yet. He added the scalp of world number eight Marco Fu to qualify for the last 16 where he then edged out two-times world champion Mark Williams in a deciding frame. Although his fairytale run then came to an end following a 9-5 defeat to world number two Stephen Maguire in the quarter-finals, he had still done enough to move up to number 42 in the latest provisional rankings, tying his best ever year-end rank.
Peter's son Oliver in action at the NSC in 2009
Surprisingly however, Peter's fortunes were to dip after this defeat as he lost his opening match at the three remaining tournaments of the year. This meant that although he had done enough to climb up to 50th place in the end of season rankings, he had been unable to secure a top 48 spot for 2010/11.
2010/11
Peter began the season in reasonable form, often winning matches during the PTC events but without threatening to run deep in a tournament. His best performance came at the EPTC5 event where he reached the quarter-finals before losing out to Northern Ireland's Mark Allen 4-0.
Following the turn of the year however Peter was to suffer a dramatic loss of form as he failed to win a match during the final four ranking events of the season and dropped down to 50th place in the standings as a result.
2011/12
Beginning the 2011/12 season under pressure with the points from his UK Championship run two year previously set to come off his tally in December, Peter made a solid start to the campaign with last 32 appearances at three PTC events, while he also got important ranking points on the board at the Shanghai Masters and German Masters qualifiers.
Peter at the 2011 UK Championship qualifiers
His best run however was to come again at the UK Championship where he defeated both Robin Hull and Alan McManus in Gloucester before coming back from 5-3 down to see off former world champion Ken Doherty in the final round to book his place in York. Though he was to lose out there to Martin Gould in the last 32, he had given himself a boost heading into 2012 and secured an important haul of ranking points in the process.
The second half of Peter's season was to prove unspectacular, though he was to impress at the World Championship qualifiers with wins against Passakorn Suwannawat and Rory McLeod to reach the final round, before losing 10-4 to Andrew Higginson.
2012/13
After a strong start to the season with a run to the last 48 of the Wuxi Classic, Peter was to experience a difficult opening half of the 2012/13 season, as he lost his opening match at five of the season's next six full-ranking events, while he was to win just five matches during the PTC series before the end of the year.
The German Masters was to prove a highlight however, as Peter was able to defeat former world champions John Higgins and Ken Doherty at the Tempodrom, before losing to eventual runner-up Marco Fu at the last 16 stage.
There was though to be disappointment at the World Championship qualifiers in Sheffield, as he lost out 10-9 to Sam Baird in his opening match, cruelling suffering a miscue when in the balls with a chance to win during the decider.
2013/14
Having struggled for results during the previous season, Lines was to enjoy an improved 2013/14 campaign, winning 16 matches in all at full ranking events.
His best results were to come early on as he reached the last 16 of both the Wuxi Classic and Shanghai Masters tournaments, losing out to Matthew Stevens in the former before avenging that defeat to the Welshman in the latter.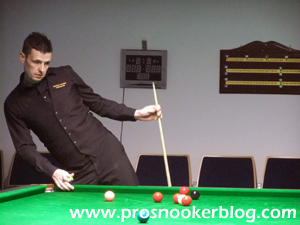 With his tour status under threat, Peter was also able to make it to the last 32 stage of the International Championship and German Masters events, although his season was to end with a disappointing defeat to Alan McManus at the World Championship qualifiers, the Scot coming back from 7-4 to win 10-8.
His results were enough to see him finish the season ranked 61st and therefore retain his place on tour for the following season, when he would be joined by his son Oliver.
2014/15
The 2014/15 season was to prove difficult for Peter as he won just five of his matches before the turn of the year, but importantly he was able to win his opening round contest in three of the four ranking events that he entered in 2015, including at the World Championship to secure the prize money needed to retain his professional status for a further season.
His strongest results at European Tour level were to be a brace of last 32 runs, losing to Robert Milkins and Mark Williams as he finished the season ranked 57th.