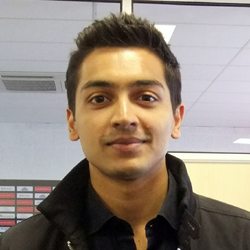 Name: Aditya Mehta
DOB: 31st October 1985
Nationality: Indian
Turned Pro: 2008
Highest Ranking: 49th (2014, 2015)
Highest Break: 147 (2014 ET1)
Career Highlights: 2013 Indian Open finalist, 2012 International Championship last 16, 2015 Welsh Open last 32 2015 Indian Open last 32, 2013 World Games champion, 2012 ACBS Asian Champion, 2008 & 2011 Asian Championship Finalist
Career Summary
Having first picked up a cue at the age of 12, Aditya Mehta first turned professional in 2008, becoming the first player from India to do so since three-time national champion Yasin Merchant. He did so by finishing as runner-up in both the Indian national championship, as well as the 2008 Asian Championship to Pankaj Advani and Jin Long respectively.
While Advani would have been given the main tour nomination for his victory, he chose not to take this up due to the UK-centric nature of the main tour and Mehta wasted no time in accepting the invitation.
2008/9
As is often the case, Aditya's début season was to prove a struggle as he lost his first round match in three of the opening four events to leave himself all but certain to lose his tour place at the end of the campaign.
He did though enjoy a strong run before Christmas at the Grand Prix, where he defeated Jamie Jones and Rod Lawler to make the third qualifying round. Once there however he ran into eventual semi-finalist Judd Trump and slipped to a 5-1 loss to the youngster from Bristol.
Aditya at the 2011 UK Championship qualifiers
During the second half of the season Aditya began to show signs that he was settling in to life on the main tour as he made the third qualifying round of both the Welsh and China Open tournaments. This proved to be too little, too late however as far as his tour card was concerned and a 10-8 loss to Lewis Roberts in the first round of the World Championship saw him relegated from the tour.
2010/11
Competing as an amateur during the new Players Tour Championship events, Aditya recorded wins against Craig Steadman, Kurt Maflin, Tian Pengfei and most impressively Stephen Maguire who he defeated 4-0 during the PTC5 event in Sheffield.
Later in the season Aditya was to reach the final of the Asian Championship in Indore, but having finished as runner-up back in 2008, was to do likewise in 2011 as he lost 6-2 to Thailand's Passakorn Suwannawat.
He had however impressed enough onlookers to be awarded the third Asian nomination for the main tour for 2011/12.
2011/12
Aditya's strongest result during the first half of the 2011/12 season came during the qualifiers for the Shanghai Masters as he defeated Stuart Carrington, Rod Lawler and Jamie Jones to make it through to the last 48 where he lost out to Ryan Day.
He also impressed at the PTC9 event in Antwerp where he defeated the likes of Matthew Stevens and Matt Selt to make it through to the quarter-finals, before his run was ended 4-1 by Martin Gould.
Aditya's best run after Christmas was to come at the China Open qualifiers where he defeated Passakorn Suwannawat and Anthony McGill, before losing to veteran Alan McManus in the penultimate qualifying round.
A combination of unfortunate draws as well as strong performances from his opponents however meant that he was not able to retain his professional status as of right at the end of the season, though he was given a reprieve as he was selected to receive the Indian nomination for the main tour in 2012/13.
Away from the professional circuit, Aditya completed an encouraging season by finally capturing the 2012 Asian Championship having reached the final for the third time, with a 7-5 success against compatriot Pankaj Advani.
Aditya told the Gulf Times:
"It was good until 6-3. I played better in the semi-finals, earlier in the day. Eventually, it was just about getting over the line. It's my first international title, so the pressure was there and I was faltering. And fortunately Pankaj gave it to me really. In the end it was so close,"
"Playing two gruelling matches in a day was really crazy but I am used to playing several games in a day. Luckily, my semifinal match was little quicker than Pankaj's. Physically, I was not tired at all but mentally yes, the pressure was there as I've lost in two finals before. This was going to be the biggest win of my career and I didn't want to miss out on it."
2012/13
Joined on the tour by countryman Pankaj Advani for the 2012/13 season, Aditya enjoyed a strong start to the season with runs to the final qualifying rounds of the Wuxi Classic and Shanghai Masters tournaments, before he finally broke his duck at the International Championship by making it to the venue.
Once there, Aditya was not to be overawed as he defeated Zhu Yinghui in a deciding frame during their wildcard encounter, before recording a brilliant win against man in form Stuart Bingham to reach the last 16.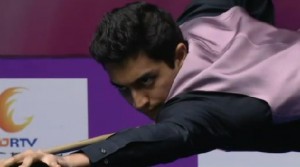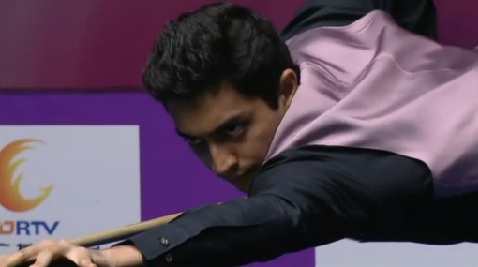 Though his run was to be brought to a premature end with a whitewash at the hands of eventual champion Judd Trump, he had done enough to show that he is more than deserving of his main tour place.
2013 was to prove less successful for Aditya, however he was able to win his opening match in each of the three ranking event qualifiers that he entered, without being able to make it any further. His performances during the course of the season were enough to see him finish at 73rd in the rankings.
2013/14
Aditya made a strong start to the 2013/14 season by claiming victory at the invitational World Games tournament, held in Cali, Colombia with victories against Joe Perry, Dechawat Poomjaeng and Liang Wenbo.
Better was to come on home soil however, as he embarked upon a fairytale run to the final of his home tournament, the 2013 Indian Open in New Delhi. Having qualified for the venue stages with victory against Xiao Guodong in Doncaster, he there defeated Peter Ebdon, Hammad Miah, Mark Williams, Pankaj Advani and Stephen Maguire to reach the first ranking event final of his career.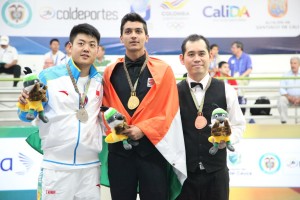 Though he could not overcome China's Ding Junhui, losing 4-0, the run was enough to see him climb several places up the rankings, well inside the all-important top 64.
A quarter-final run in Antwerp aside, Aditya's results during the second half of the season were to prove surprisingly disappointing, but his early season exploits were enough to see him finish ranked at a career-high 49th position.
2014/15
The following season was to prove more difficult for Aditya, last 32 runs at the Welsh Open and his home tournament in Mumbai proving to be the highlights.
He was also able to reach the last 16 of two European Tour events, as well as making a first career maximum break at the Paul Hunter Classic, but his season was to end with a surprising defeat to Jak Jones in the opening round of the World Championship qualifiers, meaning that his ranking would drop five places to 54th.