Name: Anthony McGill
DOB: 5th February 1991
Birthplace: Glasgow, Scotland
Turned Pro: 2010
Highest Ranking: #40 (2014)
Highest Break: 144 (2014 Haikou World Open)
Career Highlights: 2013 Indian Open quarter-finalist, 2012 ET5 finalist, 2013 AT3 semi-finalist, 2013 UK Championship last 32, 2014 Welsh Open last 32, 2011 German Masters last 32, 2010 PTC2 quarter-finalist, 2006 Junior Pot Black finalist
Junior Career
Based at the Lucky Break club in Clydebank, Anthony enjoyed a successful junior career. He made his first century break aged just 10 and has since gone on to make two 147 breaks in practice as well as a high break of 142 in competitive action. As evidenced by consecutive breaks of 125, 101, 56 & 127 in a tournament match, he is more than capable of consistent heavy scoring.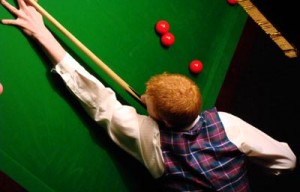 Photo courtesy of Janie Watkins
His junior achievements include having represented Scottish junior teams at both under-14 and under-16 levels as well as becoming the youngest Scotsman to represent his country at the 2002 Nation's Cup. Since then he has become national champion once at under-14 level, three times and under-16 level and twice at under-19 level, as well as being the number one ranked player at the latter for multiple seasons.
Furthermore in 2006 he reached the final of the prestigious Junior Pot Black tournament at the Crucible before also making the final of the European under-19′s Championship a couple of years later where he lot out 6-2 to Stephen Craigie. Despite this setback, he did play well throughout the event, losing just two frames from the 23 he played in the group stages and making four century breaks including an excellent 140.
Anthony did however experience disappointment at the end of the 2009/10 season as he narrowly lost out to Mark Boyle in the race for a main tour place for 2009/10, although this would later prove to be a blessing in disguise.
2009/10
Thankfully for McGill however it did not take long for him to make amends as after a run to the final of the European Under-19 Championship where he lost out to Welshman Jak Jones, he then captured the fifth event of the ongoing 2009/10 PIOS season to lift himself into the all-important top eight.
Photo courtesy of Janie Watkins
Remaining there until the end of the season, Anthony ensured that he would graduate to the main tour for the first time for the 2010/11 campaign.
2010/11
Anthony began the 2010/11 season in impressive form as he won at least one match in each of the first 13 ranking event tournaments staged including both the Shanghai Masters and World Open events. As a result the young Scot was able to move up into the top 64 at the first seedings revision of the season, a fine achievement for any new player to the tour but particularly one as young as Anthony.
His best run at a full ranking tournament was to come at the German Masters where he defeated Michael White, Jamie O'Neill and Tom Ford to qualify for his first venue before losing to eventual champion Mark Williams.
Otherwise however it was to be a poor second half to the season for Anthony which culminated in a 10-7 defeat to Paul Davison at the World Championship qualifiers. He had though done enough to remain inside the top 64 at the end of the season and crucially on the main tour for a second successive season.
2011/12
Anthony struggled to find his best form during the early stages of 2011/12, despite a semi-final run at the PTC3 event in August and this was to culminate in a disappointing 6-5 defeat to Joe Jogia during the UK Championship qualifiers in a match that he had led throughout until the final frame.
Anthony at the 2011 UK Championship qualifiers
This however seemed to mark a turning point for Anthony as he looked to be much-improved at the German Masters qualifiers, seeing off both Li Yan and Adam Duffy in close matches before losing a deciding frame to Ryan Day in the final round.
The second half of Anthony's season was to prove solid, if not spectacular, as he won his opening qualifying matches at the Haikou World Open, Welsh Open and World Championship events, without being able to progress further in any of them.
As a result, Anthony would finish the season ranked in 50th place.
2012/13
Anthony's form continued to be solid during the opening half of the 2012/13 season, highlights being last 48 runs at the Australian Goldfields Open and Shanghai Masters tournaments, as well as a last 16 run at the ET4 event.
The highlight of 2012 however was to come on home soil at the ET5 event in Ravenscraig, where he won six matches to reach his first televised final, despite having trailed Thanawat Tirapongpaiboon 3-0 in his quarter-final match, as well as having needed two snookers during the deciding frame of his semi-final with Andrew Higginson.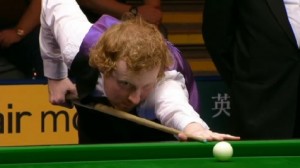 Anthony during the final of the 2012 ET5 event in Scotland
Though he could not overcome China's Ding Junhui in the final, he was able to finish 2012 ranked where he had started the campaign, in 50th place.
Moving into 2013, Anthony continued his strong form by successfully qualifying for the venue stages of the China Open, defeating David Grace, Yu Delu and Martin Gould in Sheffield, before losing to ninth seed Mark Allen in Beijing.
The Scot was also able to win his opening match at the PTC Finals against Robert Milkins, but was to lose out again to Ding Junhui in the second round, before finishing his season with a narrow 10-9 loss to Rod Lawler at the World Championship qualifiers.
2013/14
Anthony was to continue his steady climb up the world ranking list during the 2013/14 season, breaking new ground at the Indian Open as he reached the quarter-finals of a full-ranking event for the first time in his career.
Further success was to come at the Asian Tour 3 event, where he defeated five players, including friend and role model John Higgins on his way to the semi-finals, before losing out to eventual winner Liang Wenbo.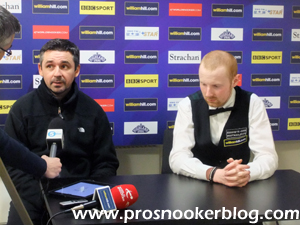 Closer to home, Anthony was also able to make it to the last 32 of the UK Championship and Welsh Open events, notably winning a dramatic match in York 6-5 on the black against Kyren Wilson.
His season was to end in disappointment as he lost to Jimmy Robertson in a deciding frame at the World Championship qualifiers, but overall it was another positive campaign for the Scot as he saw his ranking rise to a career-high 40th position.