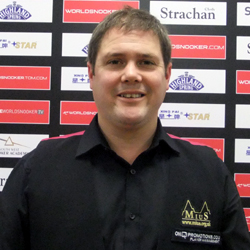 Name: Robert Milkins
DOB: 6th March 1976
Nationality: English
Turned Pro: 1995
Highest Ranking: #18 (2013)
Highest Break: 147×2 (2006 & 2012 World Championship Qualifiers)
Career Highlights: 2005 Irish Masters semi-finalist, 2012 Haikou World Open semi-finalist, 2002 UK Championship quarter-finalist. 2009 Grand Prix quarter-finalist, 2012 Wuxi Classic quarter-finalist, 2013 Welsh Open quarter-finalist, 2002 & 2103  World Championship last 16, 2012 APTC3 semi-finalist
Early Career
With a fast, exciting style reminiscent of that of Tony Drago, Robert turned professional in 1995, though it was to be a number of years before he managed to establish himself on the main tour.
In 2002 however, a run to the last 16 of the World Championship (including a Crucible win over Fergal O'Brien before losing out to Ronnie O'Sullivan), gave his points tally a significant boost and lifted him up to 33 in the rankings.
The following season was to be even better as although he only reached the last 32 at the World Championship, he made his first ranking quarter-final at the 2002 UK Championship. As well as being another milestone in his career, this went a long way to securing top 32 status for Robert as he rose to a career high position of 21st in the rankings.
His next big tournament was to come at the 2005 Irish Masters when Milkins came so close to reaching his first ranking event final, ultimately losing out 9-8 to Matthew Stevens having at one point led 8-5. His fortunes did not improve at the World Championship shortly afterwards when he was hammered 10-1 by Mark Williams in the first round, Williams making a 147 in the final frame.
A year later though it was to be Robert's turn to celebrate a 147 as he made one during his World Championship qualifier with Mark Selby at Pontin's. Unfortunately for Robert however, he lost the match 10-4 and saw his ranking drop to number 32.
Lean spell
Following this Robert began to struggle for results and following a 2006/7 season in which he won just four ranking event matches dropped down out of the top 32 for the first time since the 2002/3 season. His situation worsened further in 2007/8 as he won just two matches (excluding the round robin stage of the Grand Prix) and finished ranked down in 51st place. This meant that not only would he now have to negotiate three qualifying matches in order to reach the final stages of events, but that he would also start 2008/9 in 59th on the one-year list and in real danger of losing his main tour status.
2008/9 – Recovery
In need of a much-improved campaign to stabilise his position in the rankings, Robert's start to 2008/9 season was steady but his form was to grow stronger as the season progressed. His best result was a quarter-final run in the Bahrain Championship where he lost out to Scotland's Stephen Hendry, while he also reached the last 32 of the Shanghai Masters before again losing out to Hendry in a close match. Though he suffered a disappointing early exit at the hands of Jamie Jones in the World Championship qualifiers, he had at least done enough to secure his main tour place for 2009/10.
2009/10  – Top 48
Robert's recovery continued at the start of 2009/10 as he won his opening match of the Shanghai Masters before qualifying for the venue stage of the Grand Prix with victories over Matthew Couch, Andrew Higginson and Stephen Lee at Prestatyn. Once up in Glasgow, wearing a pink waistcoat in support of Breast Cancer Care's Pink Fridays fundraising campaign (see www.pinkfridays.org.uk), Robert recorded impressive wins over world number five Ali Carter and Mark King to reach the quarter-finals before losing out to Mark Williams.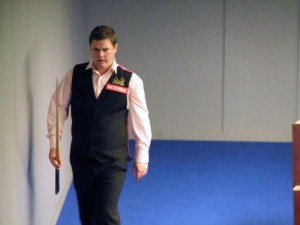 Though he could not qualify for either the UK Championship or the Welsh Open, Robert was able to win his opening match in both tournaments and maintain the steady accumulation of ranking points. At the China Open however he was in fine form, defeating Mei Xiwen, Marcus Campbell and Michael Holt to reach his second venue of the season.
Another opening match win was to follow at the season-ending World Championship as he looked to qualify for the event for the first time since 2005 but a poor display against Mike Dunn saw his campaign come to an end in the following round. Despite this however, he had enjoyed an excellent season overall and importantly had done enough to reclaim a place among the top 48.
2010/11
Having experienced such a strong previous campaign, Robert got off to a slower start in 2010/11 as he struggled to win matches during the early Players Tour Championship events. A run to the last 32 of the Shanghai Masters tournament however helped secure some much needed ranking points, particularly with the points from his previous strong run at the 2008 Bahrain Championship set to be deducted from his ranking.
Robert in action at the 2011 World Championship qualifiers
Without reaching the latter stages of a tournament, Robert's form was to improve as he reached the final qualifying round of the UK Championship before qualifying for the venue stages of both the German Masters and the China Open, reaching the last 16 of the latter with a 5-3 victory against Jamie Cope.
Although he could not qualify for the World Championship, his opening round win against Joe Jogia was enough to see him move up to 33rd position in the rankings at the season's end.
2011/12
Robert a difficult start to 2011/12 as he struggled to reach the latter stages of the PTC events, his best result being a last 32 run at PTC12 in Sheffield.
Robert following his successful qualification for the 2011 UK Championship
Results were however to be improved during the season's full-ranking events, notably the UK Championship where he was able to defeat both David Gilbert and 2006 champion Peter Ebdon to qualify, before losing to Ali Carter in York.
The best was still to come for Robert however as he qualified for the final stages of the Haikou World Open with emphatic wins against Sam Craigie and Ryan Day, before defeating Thanawat Thirapongpaiboon, Stephen Maguire, Jin Long and John Higgins to reach the semi-finals of the tournament.
Though he would lose out 6-2 to Stephen Lee, Robert continued his strong form at the World Championship qualifiers by compiling his second career maximum break during his 10-4 defeat of Xiao Guodong, before losing 10-5 to Mark Davis in the final qualifying round.
2012/13
2012/13 was to start well for Robert Milkins, as he defeated Liu Chuang, Ryan Day, Chen Feilong, Andrew Higginson and world number two Judd Trump, to reach the semi-finals of the season-opening Wuxi Classic.
Though he was to lose out there to eventual champion Ricky Walden, he followed up his run by successfully qualifying for the Shanghai Masters, before reaching the last 16 of the UKPTC2 event in Gloucester. Another quarter-final run was to follow at the UKPTC3 event, before he repeated the feat at the APTC2 event in China.
His best PTC run however was to come at the APTC3 event as he reached the last four, before losing out to former professional Li Hang 4-1.
Robert maintained his consistent form to the end of the year by successfully qualifying for the venue stages of both the 2013 German Masters and the Haikou World Open.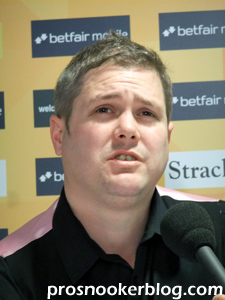 Rob at the Crucible in 2013
During the opening half of 2013 Rob remained consistent, reaching the last 16 of the World Open and China Open tournaments, as well as going one better at the Welsh Open as he defeated Mark Williams and Sam Baird to reach the quarter-finals, before losing out to Ding Junhui.
Perhaps his most satisfying run however, was to come at the World Championship as he qualified for the event for the first time since 2005 with a 10-5 victory against Jimmy White, before then defeating one of the tournament favourites in Australia's Neil Robertson, 10-8 at the Crucible to reach the last 16.
Though he lost out 13-11 to Ricky Walden, his performances had been enough to see him end the season ranked 18th
Tournament Victories:
Non-Ranking Event wins (1)
| | |
| --- | --- |
| Pro Challenge Series (3) | 2009 |