Name: Barry Pinches
DOB: 13th July 1970
Nationality: English
Turned Pro: 1989
Highest Ranking: 18th (2005/6)
Highest Break: 147 (2000 Welsh Open)
Career Highlights: 2010 PTC Event One champion, 2007 German Open champion, 2004 World Championship last 16, 2003 UK Championship quarter-final, 2012 Shoot Out quarter-finalist
Twitter: @barrypinches
Early Career
Another strong amateur to come through during the late 1980's, Barry Pinches won the British under-19 Championship and the English Amateur Championship, as well as reaching the World Amateur final before he turned professional in 1989.
Once he did so however, aside from an appearance at the final stages of the World Championship in 1991 where he lost in the first round to former champion Terry Griffiths, wins were hard to come by for Barry. Indeed during the mid-1990's he actually lost his place on the main tour, though he soon made it back on and continued to struggle down around the 100 mark.
Barry during the 2011 World Championship qualifiers
Late bloom
Entering his mid-thirties however, there were signs of improvement as between 2002-3, Barry reached the last 32 of six tournaments, as well as making the final qualifying round of the 2003 World Championship.
As a result of this form, Barry was now up to a career high of 36 coming into 2003/4 and he managed to go even further at the UK Championship when he made his first (and so far only), ranking event quarter-final. Having defeated Marco Fu, Graeme Dott and Stephen Lee though, seven times world champion Stephen Hendry brought his run to an end with a 9-3 win.
Crucible clash with Hendry
The two were to meet again that year however as Barry not only managed to qualify again for the final stages of the World Championship at the Crucible (13 years after his first visit, an record matched only by Jamie Burnett in 2009), but also defeated Jimmy White in the first round to set up the rematch with Hendry.
This time round it was to be much closer and at one stage Barry looked to be going into a 9-7 lead at the end of the second session before Hendry produced a sensational clearance to make it 8-8. Pinches could have folded at this point but instead won three of the next four frames to lead the match 11-9. Hendry though showed his class and eventually won it 13-12 in a deciding frame.
Nevertheless, Barry had at least done enough to move up into the top 32 for the first time at 21st in the rankings and another good season in 2004/5 saw him move up to 18th, his highest position to date.
Decline and Subsequent Revival
After defeat to Ken Doherty at the 2005 World Championship however, Barry's form began to dip again and in 2006/7 he won only a single match, sending him plummeting back down to 56th position. 2007/8 was a little better though and he managed to win his opening match in all but one event, lifting him up six positions to number 50. Furthermore he managed to win the 2007 German Open in Furth, beating Neil Robertson and Ken Doherty along the way.
2008/9
Having had such a consistent season previously, the 2008/9 campaign did not go to plan for Barry as he struggled to win matches consistently. He did have a terrific run in the Welsh Open where he defeated Judd Trump and Jamie Cope to qualify for the TV stages, as well as a last 16 showing in Bahrain, but otherwise it was a season littered with round one exits which ended with him dropping to 52 in the rankings.
He was unfortunate to run into an inspired performance from Matt Couch at the UK Championship and it was a similar story against Lee Spick at the season-ending World Championship as he slipped to a 10-5 defeat in his opening qualifying match.
2009/10
Barry got off to a poor start in 2009/10 as he went down 5-4 to Simon Bedford in the Shanghai Masters qualifiers and he was to suffer another narrow defeat in the UK Championship qualifiers, this time losing 9-7 to Craig Steadman.
Sandwiched in between these two events however was a crucial run at the Grand Prix which saw him qualify for the venue stage with victories over Daniel Wells, Jimmy Michie and Michael Holt. Just as in the Welsh Open earlier in the year he came up against Shaun Murphy but this time it was to be Barry who came out on top, a 5-4 winner to move into the last 16. Though his challenge was ended there by Joe Perry, the 2660 points gained were to prove important in his battle to retain his tour status for another year.
The second half of the season did not see Barry qualify for another venue, but importantly he was able to win his opening match in each of the three tournaments staged which ultimately saw him comfortably retain his place on the tour.
2010/11
Barry started the 2010/11 season in tremendous form as he came back from 3-1 down to defeat Ronnie O'Sullivan 4-3 to win the PTC4 event having already reached the quarter-finals of event one and the final of event two.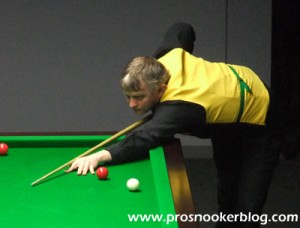 Barry during the 2011 World Championship qualifiers
Although his subsequent PTC results were to be less notable until a quarter-final appearance in Hamm later in the year, his performances were enough to lift him back into the top 48 at the season's first seedings revision and also see him qualify for the PTC finals in 2011.
From there however Barry was to suffer an alarming loss of form, winning just one match during the second half of the season against Liam Highfield at the China Open. Thanks to his early season form however he had done enough to finish the season ranked 41st.
2011/12
Whilst Barry had enjoyed considerable success during the PTC events the previous season, 2011/12 was to prove a different story as he won just three matches during the series and found himself losing his place inside the top 48 as a result.
His form in the full-ranking events was to be better, his best run coming as he qualified for the venue stages of the Australian Goldfields Open with wins against Matt Couch and Stephen Lee, but he was unfortunate to draw promising youngster Michael White at the UK Championship and eventually lost that match 6-4.
There was also to be disappointment for Barry at PTC2 as he missed the final black for against David Hogan when on for a 147 in Gloucester.
With his tour status on the line, the second half of Barry's season proved to be difficult one as he was unable to win a match in ranking event competition, but as the season drew to a close, other results were to fall his way and he was able to survive in 64th position.
He was also to enjoy a good run at the second Snooker Shoot Out, reaching the quarter-finals before losing to Leicester's Tom Ford.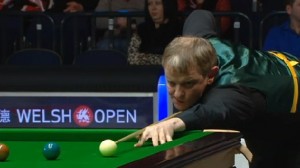 2012/13
Having retained his professional status by the narrowest of margins, Barry was to make a much-improved start to the 2012/13 campaign, reaching the final qualifying round of its first three full-ranking events.
He then went one better at the International Championship, wins against Daniel Wells, Xiao Guodong and Joe Perry booking him a place at the venue, where he would lose out to wildcard player Lu Ning.
The second half of his season was to prove uneventful for Barry, as he won further further matches, before he lost out 10-9 to Liam Highfield in his opening match at the 2013 World Championship qualifiers.
2013/14
For a third successive season, Barry was to become embroiled in a fight to retain his professional status, as he dropped outside of the world's top 64 on the main two-year ranking list.
Ultimately, his best chance would be qualification through the European Order of Merit, although having won just three matches during the first five events, his prospects looked slim towards the end of 2013.
The turning point would come at the ET6 event in Gloucester, where he defeated Ben Woollaston, Jimmy Robertson and Liang Wenbo to reach the last 16, before he repeated the feat in Gdynia at the ET8 event, to earn enough money to secure one of the all-important eight tour cards from the European Order of Merit.
His results during the season's full-ranking events were to prove disappointing, just five wins coming along the way, which made his European Tour performances all the more important.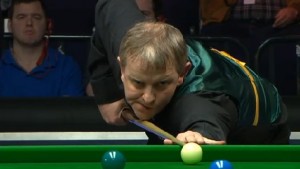 2014/15
Barry's strongest performances during the 2014/15 season were perhaps to come at the Asian Tour events, as he first reached the last 32 of the Haining Open before running into Ding Junhui, while he went one better at the Xuzhou Open with a run to last 16.
At full-ranking events he was able to qualify for the venue stages of the Wuxi Classic early in the season, also winning three qualifying matches at the Australian Goldfields Open qualifiers before losing to Peter Ebdon.
He would finish the seasoned ranked 94th following defeat to Thepchaiya Un-Nooh at the World Championship qualifiers.
Tournament Victories:
Minor Ranking Event wins (1)
| | |
| --- | --- |
| Event | Year |
| Players Tour Championship | 2010 (Event Four) |
Non-Ranking Event wins (1)
| | |
| --- | --- |
| Event | Year |
| German Open | 2007 |