Name: Dechawat Poomjaeng
DOB: 11th July 1978
Nationality: Thai
Turned Pro: 2011
Highest Ranking: #67 (2013)
Highest Break: 138 (2011 PTC1)

Career Highlights: 2013 World Championship last 16, 2013 China Open last 32, 2011 PTC8 last 16, 2010 IBSF World Champion, 2012 Haikou World Open last 64, 2011 PTC8 last 16
IBSF Champion
Dechawat Poomjaeng became the latest in a long line of Thai players to successfully take the IBSF World Championship crown in 2010 when he defeated India's Pankaj Advani 10-7 in the final. His success in Syria meant that Dechawat would be nominated for the main tour for the first time at the start of the 2011/12 season.
2011/12
Dechawat was to make a flying start to his professional career as he began at PTC1 with a win against reigning world champion John Higgins, but he was not able to reproduce this form at the season's full ranking events, losing his opening match at the Australian Goldfields Open, Shanghai Masters and UK Championship tournaments.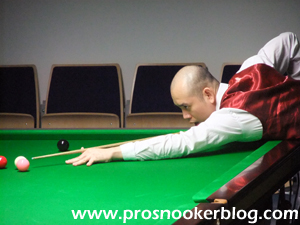 Dechawat at the UK Championship qualifiers
While after the PTC1 event he was to find victories in the competition hard to come by, he was to impress at PTC8 with victories against Stephen Maguire and Stephen Hendry to reach the last 16, before he eventually fell to Leicester's Ben Woollaston in Killarney.
His best run during the remaining months of the season was to come at the 2012 Haikou World Open, wins against Andrew Pagett and Liu Song preceding a 5-4 defeat to Michael Holt in the final qualifying round.
Though the Thai player was to lose his opening match at the World Championship qualifiers to Rod Lawler, he had done enough to retain a place on the main tour for the following two seasons by virtue of his PTC results earlier in the campaign.
2012/13
Having retained his main tour place via the PTC Order of Merit during the previous season, Dechawat was again strong during the best of seven events in 2012/13, his best results being last 16 runs at the UKPTC1 and UKPTC4 events in Gloucester.
Dechawat at the 2012 UKPTC4 event
At the full-ranking events, his best result was to come at the 2013 German Masters, where he defeated both Yu Delu and Fergal O'Brien to qualify for the venue stages in Munich. He also reached the third qualifying round of the Australian Goldfields Open, before losing out to Scotland's Anthony McGill.
In 2013 however, Dechawat was able to make a name for himself, firstly by qualifying for the final stages of the China Open by winning four matches in Sheffield, before he repeated the feat at the World Championship, to make his Crucible début at the age of 34.
Nothing could have prepared the snooker world for what was to come however, as his eccentric character divided opinions of those watching, as he defeated reigning Welsh Open champion Stephen Maguire 10-9 in the opening round, before he lost out 13-3 to Michael White at the last 16 stage.
Nevertheless, Dechawat's heroics were enough to see him finish the season ranked at a career high of 67th.