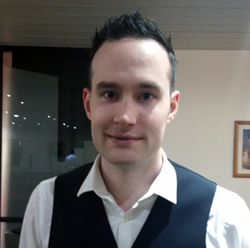 Name: Martin O'Donnell
DOB: 4th June 1986

Nationality: English

Turned Pro: 2012

Highest Ranking: 75th (2012)

Highest Break: 140 (2012 UKPTC2)

Career Highlights: 2014 China Open last 32, 2012 Australian Goldfields Open last 64, 2012 ET5 quarter-finalist, 2013 ET2 last 16, 2012 Q School qualifier, 2011 EBSA European Championship semi-finalist, 2015 EBSA play-off winner, 2012 Snookerbacker Classic champion, 2006 English Amateur finalist
Amateur Career
A practice partner of top 16 player Martin Gould, London's Martin O'Donnell had been knocking on the professional door for a few seasons prior to 2012 when he was able to successfully qualify for the main tour for the first time via the Q School.
Just 12 months previously in fact he had been able to come close to turning professional on two occasions, reaching the semi-finals of the European Championship in Sofia before losing out to Ireland's Vinnie Muldoon, while he also fell to Kurt Maflin at the final round of the third event of the 2011 Q School.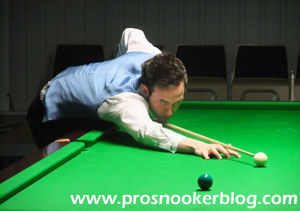 Martin in action at the South West Snooker Academy in 2011
A year on however, Martin secured his place at the Q School with a 4-0 victory against John Sutton in the inaugural Snookerbacker Classic tournament, before then seeing off Declan Brennan, Alex Taubman, Jamie Rhys Clarke, Paul Davison and Adrian Ridley to earn a two-year tour card beginning in 2012/13.
2012/13
Martin O'Donnell made an encouraging start to the 2012/13 season with a run to the third qualifying round of the Australian Goldfields Open, before a difficult run which saw him lose 12 of his next 13 professional matches.
He did however end 2012 on a high, by successfully qualifying for the final stages of the 2013 German Masters, before winning three matches to reach the quarter-finals of the ET5 event in Ravenscraig.
Martin was to be involved in just three tournaments during the first half of 2013, winning one match at the Welsh Open qualifiers against Cao Yupeng, before his season was brought to an end by Tian Pengfei at the World Championship qualifiers.
2013/14
Martin's struggles at full-ranking events were to continue during the 2013/14 season as he won just four matches in total, although he was able to reach the last 32 of the China Open having received a bye following the withdrawal of Stuart Bingham.
His best chance of staying on tour therefore came down to his results in European Tour events, as he won eight matches in all, his best result being a last 16 appearance in the early-season Rotterdam Open.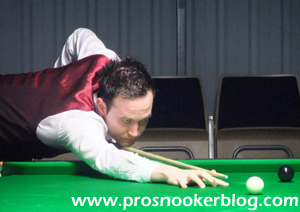 Ultimately however, Martin was to narrowly miss out on a fresh two-year tour card, as he was denied by a run from Maltese veteran Tony Drago at the crucial Gdynia Open in February.
Martin was to attempt to regain his place through the season-ending Q School, but successive third round exits were to confirm his relegation from the tour.
2014/15
Having qualified for the event thanks to his performances as an amateur at European Tour events, Martin O'Donnell was to come through tough matches against Paul Davison and Jamie Clarke at the EBSA play-offs event to regain a main tour place from the start of the 2015/16 season.
Martin told PSB shortly after defeating Clarke:
"I can't tell you how much it means to get on. I have literally had the worst year of my life as a snooker player. Dropping off the tour hurt badly, I only just missed out and the amateur game just aint there, you have only got six PTCs to go at and you are just in limbo for the season, watching everyone else on tour, playing, winning.
"It was been the worst year of my life in snooker but thankfully I have put my head down, worked hard and come out of the other side."