Name: Joe Swail
DOB: 29th August 1969
Nationality: Irish
Turned Pro: 1991
Highest Ranking: 10th (2001/2)
Highest Break: 142 (2000 China Open)
Career Highlights: 2001 & 2002 World Championship semi-finalist, 2009 Welsh Open finalist, 1993 Strachan Challenge Champion, 1992 & 2005 Irish Professional Champion, 2012 ET1 finalist
Website: http://www.joeswail.com
In short
Despite possessing arguably the most unorthodox cue action in snooker, Swail has been a professional for over twenty years now and wherever he is positioned in the rankings, has always remained a dangerous player to face.
Indeed when it comes to his ranking, Joe is something of a yo-yo player having been in and out of the top 16 and even the top 32 for much of his career.
Early career
Another strong amateur to emerge during the late 1980's, Joe's achievements at that level include victories in the British U-19 Championship and English Amateur Championship, as well as a semi-final appearance at the 1990 World Amateur Championship. Following these results he took the decision to turn professional a year later and proved to be competitive from the off.
His first season saw him reach the first of nine major semi-finals at the Asian Open, as well as the last 32 of another event, helping to move him up to 53rd in the rankings. The following campaign was to be even more impressive as he reached his second semi-final, as well as two quarter-final appearances later in the season. Victory in the Strachan Challenge as well as qualification for his first appearance at the Crucible capped things off nicely as he moved up into the top 32 at #25.
Top 16 and subsequent drop in form
Despite having a less successful season the following year, his two quarter-finals and his results from 1992/3 were enough to lift him into the top 16 for the first time. This was not to be a long-term promotion however as Joe was to hold this status for just a single season before slipping back down to 19th.
Indeed his form was to remain solid if unspectacular for the next few seasons, hovering around the top 32 mark and making the occasional quarter-final without ever really looking like going a step further.
World impact
This was to change in 1999/2000 when following a strong start to the season, with a semi-final appearance in the British Open, he was to end it with a memorable run at the World Championship in Sheffield.
Having defeated the late Paul Hunter in the opening round, Joe launched what is now a trademark comeback from 12-8 down to defeat 1991 world champion John Parrott in the second round. Although eventually losing in the semi-final, Joe's great run had been enough to see him back into the top 16 at last and become the first player to have done so having dropped out of the top 32.
Again though, he could not kick on from this performance as he made a poor start to the 2000/1 season, but a repeat performance at the Crucible in 2001 where he again made the semi-finals ensured that he would retain his place among the elite, moving up to a career high 10th position.
Another patchy run of form
Unfortunately however, 2002/3 was a to prove terrible year for Joe as he failed to produce his best form and not even a run at the Crucible would prove his saviour as he slipped down to 27th in the rankings.
Things were to go from bad to worse over the next few seasons as once again he slipped outside of the top 32, dropping as low as number 40 at one point. Again though, Swail was able to recover as he moved back up to 27th following 2005/6 and then came close to remarkably getting back into the top 16 for a second time a year later when he ended the season 17th.
Crucible heartbreak
2007/8 was to be prove his best chance though as having won his first round match at the Crucible against Stephen Lee, he left himself just one win away from a place back among the elite.
Unfortunately however he was to come up against Chinese talent Liang Wenbo at the last 16 stage and despite coming back bravely from 12-8 down to 12-12, he could not complete the comeback and ended the season 20th as a result.
2008/9 – A final at last!
The following season was to be a year of two halves as up until the UK Championship he could not win a single match and looked like dropping out of the world's top 32 at one stage. Then however came a superb victory at the EISS in December as he avenged his Crucible defeat to Liang with a 10-9 success to kick-start his season.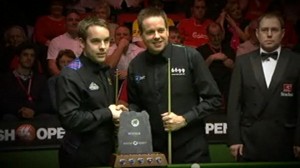 This indeed proved to be a major turning point as at the Welsh Open he was to embark upon a fairytale run to his first full ranking event following so many near-misses throughout his long career. Ultimately although he could not stop Ali Carter from lifting the title it was a brilliant achievement for Joe to make it that far following wins against Marcus Campbell, Mark Allen, Martin Gould, Stephen Maguire and Neil Robertson.
Following that result he managed to qualify for the World Championship at the Crucible with a 10-1 demolition of Matt Couch in the final qualifying round, but once there was to suffer a 10-4 defeat at the hands of Hong Kong's Marco Fu.
2009/10
Joe was able to get his 2009/10 season off to a good start with a straightforward 5-1 victory over Adrian Gunnell to earn himself a shot at Mark Williams in the last 32 of the Shanghai Masters and when the Welshman fractured his wrist shortly before the start of the tournament, it appeared as though Joe might receive a bye. Unfortunately from Joe's point of view though, Mark was fit to play and recovered from 3-1 down at the mid-session interval to come back and end Swail's tournament.
From there he Joe began to struggle, defeats to Ian McCulloch in the Grand Prix qualifiers and Mike Dunn during the UK Championship qualifiers seeing him slip to a precarious 30th in the provisional rankings.
Unfortunately for Joe he could not respond during the second half of the season and three further opening round defeats, culminating in a World Championship loss to Ken Doherty saw him drop 17 places in the rankings, outside of the top 32 and with a mountain to climb during 2010/11 if he was to avoid falling further.
2010/11
Having endured such a poor previous campaign, Joe needed to improve early in 2010/11 if he was to retain his position in the rankings but he continued to struggle and failed to qualify for either the venue stages of the Shanghai Masters or World Open.
He was however to find some form during the middle part of the season as he was able to win his opening match in four successive ranking tournaments to stave off any danger of losing his place on the main tour. His performance was to come at the German Masters where having qualified for the venue stage of the event in Berlin, he was then able to defeat Mark Allen and Shaun Murphy to qualify for the quarter-finals before losing 5-1 to Marco Fu.
Joe's season however was to end in disappointment as he lost his opening World Championship qualifier against rookie Kyren Wilson at the EIS in Sheffield. This meant that Joe would finish the season down 15 places to 54th in the world rankings.
2011/12
Joe's poor form continued into 2011/12 as he won just three matches during the first five PTC events, as well as losing his opening matches at the Australian Goldfields Open and Shanghai Masters tournaments.
Heading into PTC6, the final event before the first mid-season seedings revision, Joe needed a good run if he was to retain his place inside the top 64 and secure a place at the Shootout on January and that is exactly what he delivered as wins against Robbie Williams, Anthony McGill and Paul Davison moved him into the last 16.
That run proved to be an exception rather than the rule however as he lost his opening match at the UK Championship qualifiers 6-1 to David Gilbert, while he lost at the last 32 stage of the PTC12 event in Sheffield.
Joe's fortunes were not to improve in 2012 as he failed to win a single match and following a 10-5 defeat to Welshman Daniel Wells at the World Championship qualifiers, his relegation from the main tour was confirmed.
2012/13
Competing as an amateur during the 2012/13 season, Joe elected to enter a number of the PTC events, with main tour places up for grabs for the eight best-performing amateurs at the end of the season.
It did not take long for Joe to secure his return to the circuit either as following an impressive victory against Ryan Day at the ET2 qualifiers, he then saw off the likes of Jimmy White, Barry Hawkins and Shaun Murphy at the ET1 event in August, to reach a remarkable second televised final against Mark Selby.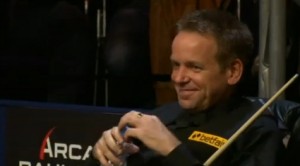 Though he could not add the world number one to his list of scalps, the money earned by his run to the final was more than enough to earn himself a main tour ticket for 2013/14.
During the second half of the season, Joe took part in the PTC Grand Finals, courtesy of his early-season exploits and was able to come back from 3-0 down to defeat Scotland's Stephen Maguire, before losing out to Mark Allen in the second round.
Joe would also enter the 2013 World Championship as an amateur, winning five matches to reach the third qualifying round, where he lost out 10-7 to Mark Joyce.
2013/14
Joe's strongest results during his return to the tour were to come during the season's European Tour events, a quarter-final run at the Paul Hunter Classic in German representing his best run overall.
Wins were to prove harder to come by at the full-ranking events however, as he won just four matches in all, including two at the World Championship qualifiers before he was denied a return to the Crucible by China's Li Yan.
Joe was to finish the season ranked 94th.
2014/15
Joe was to enjoy a strong season in 2014/15 as he looked to regain a place inside the world's top 64 and retain his main tour place at the end of the campaign.
Six wins from his opening seven matches in full ranking events saw him qualify for the venue stages of the Shanghai Masters, before he defeated Yan Bingtao, Andrew Higginson and Neil Robertson on his way to the last 16 of the International Championship in Chengdu.
He repeated that result at the subsequent Ruhr Open and although he was not able to finish the season by making it back to the Crucible for the first time in six years, was able to produce a trademark comeback from 9-5 down to Dominic Dale in the penultimate qualifying round at the 2015 World Championship to effectively regain a top 64 place and stay on tour for another season.