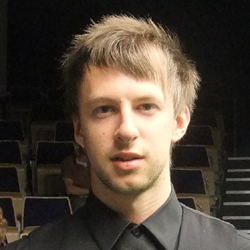 Name: Judd Trump
DOB: 20th August 1989
Nationality: English
Turned Pro: 2005
Highest Ranking: #1 (2012, 2013)
Highest Break: 147×2 (2013 ET7, 2015 German Masters)
Career Highlights: 2011 UK Championship winner, 2012 International Championship winner, 2011 China Open winner, 2014 Australian Goldfields Open winner, 2015 World Grand Prix winner, 2011 World Championship finalist, 2014 German Masters finalist, 2009 & 2014 Championship League winner
Junior career
As a junior, Judd showed his prodigious potential from an early age as he won several titles at national level, as well as producing strong performances on the European stage.
His most notable junior achievements include English titles at under-15, under-13 and under-18 levels, as well as semi-final appearances in the prestigious European under-19 and World under-21 tournaments.
In addition he became the youngest man to make a 147 in a competitive match in March 2004, aged just 14 while competing in an under-16 tournament in Leicester. Also beating Mike Hallett in the Pontin's Open in 2003, he showed early on that he could compete against players who were vastly more experienced than him.
Going pro
As a result of these considerable achievements, Judd was able to turn professional in 2005 as he was awarded the wildcard spot on the main tour by the WSA.
His début season as a pro was largely unremarkable, although he did become the youngest player to qualify for the TV stages of a ranking event tournament at the 2006 Welsh Open. Also he at least managed to retain his place on the tour by virtue of being the fourth best player on the one year rankings who finished outside of the top 64.
World début
Ranked 74th, in the main his second season was not to prove the most spectacular either, that is until he managed to win four qualifying matches to become only the third ever 17-year-old to qualify for the World Championship at the Crucible. Drawn against 2005 champion Shaun Murphy in the first round, he put in a fine performance to lead 6-5 before Murphy came back to take the next five frames and win 10-6.
Now up to 51st in the rankings, Judd did not have the best of seasons in 2007/8 as struggled to build on that World Championship run. He did move up another ten places in the rankings though, to a career high of 41st.
Grand Prix Breakthrough
Now only needing to win two qualifying matches to reach the last 32 stage of events, Judd began the 2008/9 season promisingly by qualifying for the first three events of the season.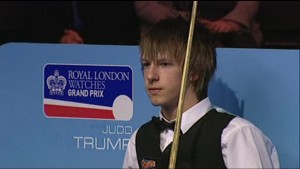 His big break was to come at the Royal London Watches Grand Prix however where having qualified for the last 32, he received a bye into the last 16 following Graeme Dott's withdrawal. Already a tournament best, he then managed to overcome the in-form Joe Perry 5-2 to set up an intriguing quarter-final tie against world number one Ronnie O'Sullivan.
In what was a match of high drama, Trump eventually managed to get over the winning line to secure a famous 5-4 win, undoubtedly the best result of his career so far to make his first ranking event semi-final. There he would face John Higgins who despite not playing at his best, just had too much experience for Judd and held off a brave fightback to win the match 6-4.
Subsequent Form
Still though it was a great achievement to make it to that stage and he took the confidence gained from that run into the following events. He defeated double world champion Mark Williams to qualify for the next event in Bahrain and followed this up with an excellent run to victory in the Masters qualifying event, culminating in a 6-1 final win over Mark Joyce.
Though he was to lose to Antrim's Mark Allen in the first round at Wembley, he had at least played some impressive snooker and gained further experience in one of the biggest tournaments in snooker.
After that however came a mixed month in March which began with a huge disappointment as he lost out to Stephen Lee in the final qualifying round for the World Championship at the English Institute for Sport in Sheffield. For a long time it looked as though he might emerge victorious but Stephen produced a terrific comeback from 6-2 down to win 10-8 with on of the finest clearances that he is ever likely to produce.
While Judd was disappointed to lose out, he responded in the best way, returning to the venue the very next day to resume practice ahead of the China Open. Not only this but he took part in the final group of the Championship League, going on to take it with victory against Ricky Walden to qualify for the winners group.
He was not to be stopped there however as he managed to claim victory in the final against world number four Mark Selby and in doing so, take the first silverware (well glass), of his professional career and guarantee a spot in the 2009 Premier League line-up.
2009/10
For Judd the start of the 2009/10 season was to prove a case of one step forward, two steps back as he shone in front of the cameras in the Premier League with victories over Stephen Hendry and Ronnie O'Sullivan, but failed to fire in the ranking events, losing to Marcus Campbell in both the Shanghai Masters and Grand Prix qualifiers.
Improvement came as he successfully qualified for both the Welsh and China Open tournaments, but a heavy 10-3 defeat to Leicester's Tom Ford during the World Championship qualifiers denied him an overdue second appearance at the Crucible Theatre. He did at least move up to a career high ranking of 27th, though this was largely due to his efforts during the 2008/9 campaign.
2010/11
Judd got his 2010/11 campaign off to an encouraging start by defeating newly crowned world champion Neil Robertson in the final of the Austrian Open in June to lift the first silverware of the season.
He took this form into the new PTC series during which he won the EPTC1 event, aka the Paul Hunter Classic with victories against Jack Lisowski, defending champion Shaun Murphy and finally Anthony Hamilton 4-3 to take the title and 2,000 ranking points.
At the season's full ranking events Judd began well by reaching the last 32 of the Shanghai Masters and World Open tournaments before defeating Xiao Guodong and Jamie Cope to reach the last 16 of the UK Championship in Telford. Facing outsider Mark Joyce in his next match, on paper it looked like Judd had a real opportunity to make a mark on the tournament but a surprise 9-7 defeat meant that the wait for a second quarter-final would go on.
Judd in qualifying for the 2011 World Championship
Another opportunity appeared to present itself in Berlin as Judd qualified for the German Masters with a victory against Jimmy Robertson but again he was to fall early at the TV stages, this time to Stephen Hendry, before losing out in qualifying for the Welsh Open to Rod Lawler 4-1.
As it would transpire however, Judd's breakthrough was to be just around the corner as he went all the way at the China Open in Beijing to lift his first ranking event title. Qualifying for the event with a 5-1 victory against Ben Woollaston, Judd then defeated Marco Fu and Mark Davis to reach his first quarter-final since that Grand Prix run three years earlier.
Drawn against Peter Ebdon, many were expecting the tactical game of the former world champion to be too much for Judd to handle but impressively, Judd more than matched Peter tactically as well as outscoring him on his way to a 5-1 win. He followed this up with a 6-1 triumph against another former world champion in the form of Shaun Murphy before completing a fabulous 10-8 victory against Mark Selby in a high quality final which saw the pair make six century breaks between them.
Moving him up to 11th in the provisional rankings, the result was the big move that his fans had been waiting for and saw him head to the World Championship full of confidence.
There he began in style by defeating the defending world champion Neil Robertson on the opening day before adding the scalps of Martin Gould and Graeme Dott to move into the semi-finals for the first time. Having told the media of how he felt almost invincible at that point, Judd then survived a scare against Ding Junhui to come back from a poor second session to win 17-15 and set up a mouth-watering final with world number one John Higgins.
Judd at the Crucible in 2011
During the opening Saturday it was to be Judd who had the better of the exchanges as he opened up a three frame overnight lead and as the score progressed to 12-9 during the third session, it looked to be edging ever-closer to what would have been a popular victory at the Crucible.
The key turning point however proved to be a missed blue as Judd attempted to clear for 13-9 and from that point it was to be Higgins who turned the screw, finishing the session 13-12 ahead before eventually winning the match 18-15.
Despite the inevitable disappointment though the tournament was a huge success for Judd and one that earned him a lot of fans, both from the snooker world as well as wider audiences and saw his ranking rise to a new high of number 9.
2011/12
Following the impact that he had made at the end of 2010/11, Judd made a slow start to the new season with last 32 exits at both the Australian Goldfields Open and the Shanghai Masters which led some experts to criticise him early on.
Judd though answered his critics in the best possible way, taking brilliant victories at PTC2 and PTC9, whilst also reaching the final of PTC8 in Killarney.
His most impressive tournament however was still to come at the 2011 UK Championship in York where he defeated Dominic Dale, Ronnie O'Sullivan, Stephen Maguire and Neil Robertson to reach the final, before seeing off Mark Allen 10-8 to capture his first major title on British soil. The win also moved him up to a career-high of number five in the rankings at the end of 2011.
Judd began 2012 by successfully qualifying for the winners group of the Championship League, before reaching the quarter-finals of the German Masters, Welsh Open and China Open tournaments in the build-up to the World Championship.
His Crucible campaign however was to be hindered by a bout of food poisoning ahead of his last 32 match against Dominic Dale and though he was able to come through that a 10-7 winner, he would then go on to lose a thriller with Ali Carter, 13-12 having at one stage led 12-9.
Judd's performances however were enough to see him finish the season ranked at a career-high of number two.
2012/13
Judd made a solid start to the early PTC events in 2012/13, which yielded a best result of a quarter-final at the UKPTC1, as well as a further two last 16 runs.
He was however to return to the big stage at the Shanghai Masters, where he reached the final with victories against Barry Hawkins, Mark Allen, Graeme Dott and Mark Williams. There against old rival John Higgins, he made a brilliant start to lead the match 7-2 after the first session, only to fall victim to another Higgins comeback as the Scot hit a 147 break on his way to a 10-9 victory.
Judd was not to have long to wait for a major trophy though as he went one better at the inaugural International Championship in Chengdu, defeating Neil Robertson 10-8 to capture the title and with it, the world number one ranking for the first time.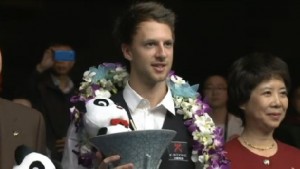 2012 International Champion
A run to the final of the UKPTC4 event in Gloucester would immediately follow, only to lose out once again to Higgins, before he was able to gain a measure of revenge to defeat the Scot and win the ET4 event in Bulgaria just days later.
Judd was also able to reach the final of the Premier League competition for the first time, losing out 7-2 to Stuart Bingham, before his year ended on a low note as he contrived to lose a 5-2 lead against Mark Joyce in the opening round of his UK Championship defence. This defeat, combined with Mark Selby's triumph in York, meant that Judd would slip back to number two in the rankings as the year drew to a close.
2013 was to prove mixed for Judd, a semi-final appearance at the Welsh Open, preceding a quarter-final run at the Haikou World Open, where he was to suffer extreme tip problems, which would disrupt his preparations heading into the PTC Grand Finals in Galway.
He was however to end the season on a stronger note, defeating Dominic Dale, Marco Fu and Shaun Murphy to reach his second World Championship final, before losing out to eventual champion Ronnie O'Sullivan 17-11.
2013/14
Judd's strongest performance at a full-ranking event during the 2013/14 season was to come at the German Masters, as the former world number one made it through to the final before losing out 9-5 to China's Ding Junhui.
Judd was also able to reach the semi-finals of the Players Championship Grand Finals, but there was to be disappointment at the season-ending World Championship, as despite having led for much of his quarter-final against world number one Neil Robertson, he was eventually to suffer a dramatic 13-11 defeat at the Cruciible.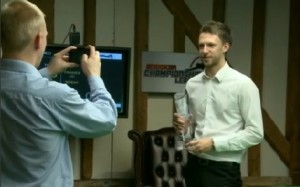 He was though to enjoy success at the invitational Championship League event at Crondon Park, defeating Martin Gould in the Winner's Group final to become the first player to win the event on more than one occasion.
Judd also made his first professional maximum break at the ET7 event in Antwerp against Mark Selby, although he could not prevent the man from Leicester claiming a 4-3 victory on his way to the title.
Judd's results meant that he would drop to number 6 in the rankings at the end of the season.
2014/15
Judd was to enjoy a much improved season in 2014/15, notably winning his fourth career ranking event title at the Australian Goldfields Open in Bendigo with a 9-5 victory against home favourite Neil Robertson.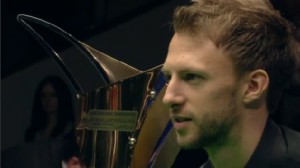 Strong performances also came on the European Tour as he reached one final, one semi-final and two quarter-finals, before he reached the semi-finals of the Players Championship in Thailand.
Perhaps though his season was to be defined by his three final contests with Ronnie O'Sullivan, as he lost out in classic matches at the Champion of Champions and UK Championship, before finally getting one over O'Sullivan at the World Grand Prix in Llandudno.
Impressively, Judd had already come back from 5-1 down against Martin Gould in the semi-finals to win 6-5 in a match where he showed just how much the tactical side of his game had improved, before recording a 10-7 win against Ronnie.
His season was though to end in bitter disappointment as he lost an all-time classic Crucible semi-final at the World Championship to Stuart Bingham in a deciding frame, 17-16.
Ranking Event wins (4)
| | |
| --- | --- |
| Event | Year |
| UK Championship | 2011 |
| International Championship | 2012 |
| Australian Goldfields Open | 2014 |
| China Open | 2011 |
Minor Ranking Event wins (4)
| | |
| --- | --- |
| Event | Year |
| European Players Tour Championship Event 1 | 2010 |
| Players Tour Championship Event 2 | 2011 |
| Players Tour Championship Event 9 | 2011 |
| European Tour Event Four | 2012 |
Non-Ranking Event wins (5)
| | |
| --- | --- |
| Event | Year |
| Masters Qualifying Tournament | 2008 |
| Championship League | 2009, 2014 |
| Austrian Open | 2010 |
| World Grand Prix | 2015 |