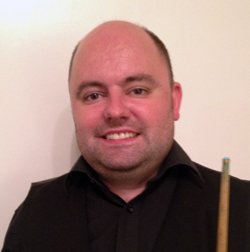 Name: Lee Spick
DOB: April 25th, 1980
Nationality: English
Turned Pro: 2000
Highest Ranking: #65 (2007/8)
Highest Break: 144 (Challenge Tour Event 4 2003/4)
Career Highlights: 2006 & 2009 World Championship and 2007 China Open last 48, 1994 English U-15 Champion, 2001 English Open Champion, 2013 Q School qualifier
Career Highlights
During his spell on the professional tour Mansfield's Lee Spick reached the last 48 stage of five ranking events. Most notably, two of these came at the World Championship, firstly in 2006 when he defeated David Roe and Ricky Walden before going down 10-9 to former champion John Parrott, as well as in 2009 when he lost to another former winner, Steve Davis.
2008/9
His start to 2008/9 was not to be spectacular as aside from a run to the third round of the Shanghai Masters qualifiers (where he lost out to eventual champion Ricky Walden), he struggled for wins and it looked as though he might might lose his tour place at the end of the season.
Crucially for Lee however, he saved his best performances for the two biggest tournaments of the season, the UK and World Championship qualifiers.
Firstly he defeated Chris McBreen and Andrew Norman during the UK qualifiers to reach the third round, before eliminating Stephen Craigie, Barry Pinches and Adrian Gunnell to go one better in the World Championship. Though he eventually lost 10-8 to six-times champion Steve Davis (having at one point led 5-0), the 2,300 ranking points he gained from the tournament were crucially enough to see him keep his place on the tour for another season by virtue of the one-year list.
2009/10
Having ended the previous campaign with such a strong result, Lee carried that form into the season-opening Shanghai Masters as he defeated Andrew Norman, Tom Ford and Michael Judge to reach the last 48 stage, before losing out to Stephen Lee.
Unfortunately for Spick, this would prove to be the start of a losing streak which would last until the end of the season and ultimately see him relegated from the tour.
2012/13
Lee was able to successfully earn a return to the main tour for 2013/14, defeating Darrell Whitworth, Sanderson Lam, Darren Cook and Duane Jones to qualify from the third event of the 2013 Q School in Sheffield.
2013/14
Unfortunately Lee was to play just two matches during his return to the main tour in 2013/14, losing 4-1 to Joe Swail at the ET3 event in Doncaster, before suffering a 6-1 defeat to Ben Woollaston in qualifying for the International Championship.
Death
Tragically, on 26th January 2015 it was announced that Lee had died due to a problem with his liver,