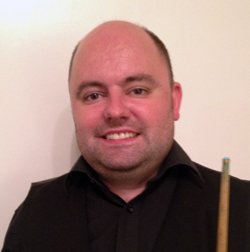 It has been a sad day in the snooker world today with the news that main tour professional Lee Spick has died at the age of just 34, reportedly due to a problem with his liver as detailed at World Snooker.
I did not know Lee personally, though I did stop him for photographs on a couple of occasions, but I did see him play, most memorably at the 2009 World Championship qualifiers at the EISS in Sheffield when he defeated Stephen Craigie, Barry Pinches (who admitted to me after the match how well Lee had played) and Adrian Gunnell to reach the final qualifying round.
There he was to meet six-time world champion Steve Davis, at a time when in truth, Steve and Jimmy White were the two main attractions at the qualifiers and there were a couple of hundred people crammed in to watch Steve in action.
To most people's surprise however, it was Spick who stormed into a 5-0 lead, before what I recall was a missed pink in the sixth proved to be a key turning point, as Davis used all of his experience to come back and turn the match around.
@droid1470 Lee Spick

— Shaun Murphy (@Magician147) November 28, 2014
Following that defeat, Lee, who had been a highly rated junior, described recently by Shaun Murphy as the best player that he had seen never to have 'made it' in the game, struggled for results and was relegated from the tour at the end of the 2009/10 season.
From what had appeared to be nowhere however, Lee was able to regain his tour place through the Q School in 2013, defeating the likes of Sanderson Lam and Duane Jones along the way. His return though was to be difficult, as he suffered from a lack of sponsorship, as well as with depression. He told chad.co.uk:
"Winning it was a bit surreal, I just didn't expect it. I was playing against people who had been playing a lot more than me and practising and competing a lot harder than me.
"I honestly didn't think I was capable of doing it any more with all the problems I have had in my life. I didn't think I had it in me anymore.
"My state of mind hasn't been good and the last couple of years have been a real slog. I have been to court five times in 18 months over access to my children. I have been suffering really badly with depression and had panic attacks.
"I finished up moving to Sheffield a couple of months ago to live nearer my girlfriend. I found a club in Chesterfield to play at – Lennon's – and I didn't even know anyone I could play, so ended up playing on my own.
"I really have to thank my dad and grandmother for their backing and Sean Lennon for doing me a favour with free practice."
Unfortunately however, he was to play just twice on his return to the baize, his last entry on a drawsheet being at the 2013 UK Championship, when he gave Shaun Murphy a bye to the last 64.
My thoughts are with his family and those close to him.