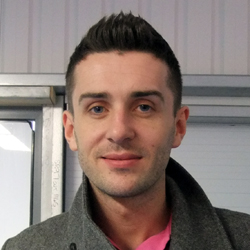 Name: Mark Selby
DOB: 19th June 1983
Nationality: English
Turned Pro: 1999
Highest Ranking: #1 (2011-2012, 2013, 2014. 2015)
Highest Break: 147×2
Career Highlights: 2014 World Champion, 2012 UK Champion, 2008, 2010 & 2013 Masters Champion, 2007 World Championship finalist, 2012 Shanghai Masters champion, 2008 Welsh Open champion, 2015 China Open champion, 2015 German Masters champion
Website: http://www.markselby.info/
In short
One of the most improved players on the circuit, Mark Selby has demonstrated by winning snooker's triple crown that he is one of the strongest players in the world and a genuine threat for every tournament that he enters at this stage of his career.
Known as the 'Jester from Leicester', Mark is capable of both devastating heavy scoring as well as possessing a safety game strong enough to compete with the very best, so has developed into one of the strongest all-round players of his generation. As an aside Mark is also a previous winner of the 2006 WEPF World Eight-ball Championship in pool.

Early career
Winner of the 1998 English U-15 Championship, it was not long before Selby turned professional in the summer of 1999 following a strong season on the Challenge Tour. His first couple of seasons were unremarkable, but he managed to maintain a place on the tour and improve his position in the world rankings to 95th by the summer of 2001.
It was at this point however where Selby's career began to take off when he made the semi-finals of the China Open. He didn't just beat anyone to do so however as he beat Joe Swail, Stephen Hendry and Ronnie O'Sullivan at the quarter-final stage. He followed this performance up by reaching the final qualifying round of the World Championships and as a result his ranking shot up to a high of 56 by the end of the season.
He was not going to stop there however as he consistently made the last 32 of events during the 2002/3 season. His best run came at the Scottish Open where he defeated Paul Hunter, Matthew Stevens, Ali Carter and Ken Doherty to reach the final. Although he lost this 9-7 to David Gray, his performances throughout the season were good enough to move him up into the top 32 for the first time in his career.
The 2003/4 season was to be a solid one for Selby, his best result being a run to the semi-finals of the Grand Prix. He once again failed to qualify for the World Championship at the Crucible though, losing in the final qualifying round for the third consecutive year, this time to Lee Walker. He did not have much longer to wait however…
The Higgins trilogy
Following another steady season overall, Selby finally qualified for the Crucible, thrashing Joe Perry 10-2 in the final qualifying round. He ran into 1998 World Champion John Higgins in the first round however and though he put up a good fight, eventually succumbed to a 10-5 defeat.
In 2006 however, Selby again qualified for the tournament, this time with a 10-4 victory against Robert Milkins who incidentally made a 147 break during the match. For the second year in a row he was paired with Higgins in the first round and this time it was to be a very different outcome as Mark took an impressive 10-4 win over the man who was many people's favourite for the title. His run was not to last however as he ran into an in-form Mark Williams in the next round who took a 13-8 victory.

2007 was to see Selby's real breakthrough however as he defeated Stephen Lee, Peter Ebdon, Ali Carter and then most impressively Shaun Murphy to reach his first world final. Here he would face none other than John Higgins who himself had played some great snooker to reach the final and was favourite to take his second world crown.
The start of the match suggested that this was exactly what would happen with Higgins racing off into a 12-4 lead by the end of play on the first Saturday. Selby fought back magnificently on Monday afternoon however to close to just 12-10 at the start of the evening session before moving just one frame behind at 12-11. The famous comeback was not to be though as Higgins recovered to secure a 18-13 victory.
Nevertheless, Selby's profile had been raised dramatically here, as had his own levels of self-confidence which carried him into the 2007/2008 season on a real high. Furthermore he was now up into the top 16 of the rankings for the first time at 11th place which ensured that he would no longer have to qualify for events.
Silverware
Despite losing to Ronnie O'Sullivan in a deciding frame at the UK Championship, Selby went on to win his first major title at the Saga Insurance Masters in 2008. He looked to be the best player throughout the tournament and so it proved as he battered Stephen Lee 10-3 in the final to take home the trophy.
He was obviously full of confidence following this victory and he carried on his winning streak at the next ranking event, the Welsh Open at Newport. Here he eased into the final and although he went 8-5 down to Ronnie O'Sullivan, recovered brilliantly to take the final four frames to take his first ranking event title.
As a result of his good results, Selby entered the 2008 World Championship as one of the favourites but surprisingly slipped to a 10-8 defeat against qualifier Mark King. Still, he did end the season at a career high ranking of number four and all the signs pointed towards another successful campaign in 2008/9.
2008/9
Ahead of his début in the 2008 Premier League, Mark spent the summer working on his cue action in order to try and speed up his play to cope with the 25 second shot clock in operation. Although he got off to a slow start against Ding Junhui in his first match, he recovered from losing the first two frames to take the last four in style and would remain unbeaten for the rest of the group phase to finish top of the table.
Having whitewashed Stephen Hendry in the semi-final with one of his best competitive performances, he looked to have a good chance against Ronnie O'Sullivan in the final, but he could not reproduce that form and it was Ronnie who ran out a 7-2 winner.
It was to be a similar story when they met again in the final of the Masters as Mark was looking to maintain his unbeaten run at the Wembley Arena. Despite having several chances to push ahead in the first session however, he could not take advantage and in the end O'Sullivan stayed in touch before a late flourish saw him take a 10-8 victory, ending Mark's brave defence of his title.
While he enjoyed success in the invitational events though, he struggled to translate his confidence into results at the ranking events, reaching just one semi-final and two quarter-finals during the season. As a result Mark was to fall three places to 7th in the end of season rankings.
2009/10 – The Master Again!
Though he exited the tournament at the group stage, Mark got his season off to a good start by making the first maximum break of his career at the invitational Jiangsu Classic tournament against Joe Perry.
From there however Mark's fortunes took a turn for the worse as he was told that he would not be among the seven players competing in the 2009 Matchroom Premier League before last 32 defeats in the Shanghai Masters and the Grand Prix left him in danger of falling out of the top 16 provisionally.
It looked like his poor form would continue into the UK Championship when he trailed Stoke's Jamie Cope 8-4 heading into the final interval of the match but what followed was a bout of scoring that reminded everyone just how dangerous he can be. Breaks of 115, 101, 73, 67, 57, 43 and 42 limited Jamie to just 22 points in the next five frames as Mark roared back to win his first ranking event match of the season.
Though his run in the tournament was brought to an end by the world number one Ronnie O'Sullivan in the quarter-finals, following victories over Ding Junhui, Mark Allen and Stephen Maguire at Wembley he was to have another crack at O'Sullivan in the Masters final.
When they met in 2009 many people including myself made Selby the favourite against a struggling O'Sullivan but this time around it was Ronnie who was very much considered to be the safe bet and he duly moved 4-1 ahead early on in the final. Though Mark stuck to his task and was able to draw level at 6-6, again it was to be Ronnie who surged ahead to a 9-6 lead, one away from what looked to be an inevitable fifth Masters title.
Once again however Mark would not surrender and rallied with one of the finest performances of his career to take the final four frames and regain the crown that he had previously captured in 2008. While his form until this point in the season had not been too strong, he had once again demonstrated that he has both the ability and crucially the temperament to compete with a player of O'Sullivan's calibre.
Following reasonable tournaments in Newport and Beijing, Mark then headed to the Crucible looking to build upon those 2007 and 2009 defeats to John Higgins to win his first world title. Paired with former champion Ken Doherty in the last 32, Mark put in a very impressive performance to come through a 10-4 winner before he recovered from a shaky start against seven-times champion Stephen Hendry to win 13-5 in the second round and move into another quarter-final.
There he would face that man Ronnie O'Sullivan again, a player who despite a strong win against Mark Williams in his second round match, was not quite at the top of his game but nevertheless remained the man to beat. Their contest proved to be predictably tense but with O'Sullivan moving 9-5 ahead towards the end of their third session it looked as though it would be the world number one who would progress to yet another semi-final.
Having already completed two stunning comebacks against O'Sullivan in the past however, perhaps we should not have been all that surprised at what was to follow as Mark again got himself back into the match and levelled at 11-11. With O'Sullivan looking disinterested and frustrated there was only going to be one winner from that point and Mark duly delivered, taking the next two frames to progress to his second World Championship semi-final.
His last four match was to prove very different however as he and 2006 world champion Graeme Dott put on a fine display of tactical, matchplay snooker that surely had most onlookers engrossed. Having fallen behind early on Selby came close to drawing level on several occasions but could not quite manage it as Graeme dug deep to end the Jester's hopes for another year.
Overall however it was a positive season for Mark who despite falling outside of the world's top eight ranked players, reinforced his status as one of the men to beat, particularly over the longer-frame matches.
2010/11
Mark began the 2010/11 in fine form as he won the second of the new Players Tour Championship events in Sheffield before gaining further ranking points with a run to the semi-finals of the Shanghai Masters. Further consistent performances during the PTC also helped him to the top of the new Order of Merit with just two tournaments still to play, ensuring that he would qualify for the Grand Finals to be staged later in the season.
His performances continued to be impressive at the major tournaments as he progressed to the quarter-final stage or better of five of the season's seven events. His first final came at the German Masters in Berlin as he defeated the likes of Scottish former world champions Stephen Hendry and Graeme Dott before coming unstuck against an inspired Mark Williams.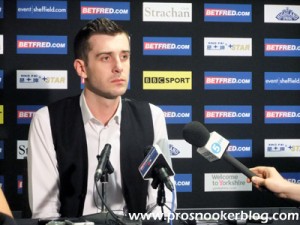 Mark during a Crucible press conference in 2011
He also managed to reach the final of the China Open in Beijing with victories against the likes of Ali Carter and Ding Junhui but again was to fail in his bid to secure a second ranking event title, this time losing out to rising star Judd Trump 10-8.
His final tournament of the season was to be the World Championship and as he demolished Stephen Hendry with a record six century breaks at the last 16 stage it appeared as though he would be hard to stop. It was not to be however as he fell to Ding Junhui at the quarter-final stage.
2011/12
Mark began the 2011/12 season in fine form by lifting the invitational Wuxi Classic trophy with victories against home favourite Ding Junhui and finally Ali Carter who he saw off 9-7 in the final.
A quarter-final was to follow at the Australian Goldfields Open, however this was to serve as only a warm-up for a two-tournament winning streak which would first see him capture the PTC4 event in Furth with a 4-0 victory against Mark Davis, having earlier defeated Ronnie O'Sullivan and Stephen Lee in previous rounds.
The real prize however was to come at the Shanghai Masters as Mark defeated Nigel Bond, Jamie Cope, Shaun Murphy, Mark King and Mark Williams, the latter in the final by taking the final three frames from 9-7 down, to capture his second full ranking event title. Not only that, but his win was enough to see him climb above Williams to the summit of the world rankings, becoming only the ninth player ever to have held the number one spot.
Following his Shanghai run Mark's best result of 2011 was to be his semi-final run at PTC8 in Killarney, while at the UK Championship he was to suffer a disappointing last 16 exit at the hands of Marco Fu.
In 2012 the world number one was to make it to the final of the Welsh Open for the second time, but this time was to lose out 9-6 to China's Ding Junhui in Newport.
A semi-final run followed at the Haikou World Open, but the end of his season was to be marred by a neck injury, thought to be a trapped nerve, which forced his withdrawal from the China Open, as well as proving an obvious hindrance during his 10-3 defeat to Barry Hawkins at the World Championship in Sheffield.
2012/13
Mark started the 2012/13 campaign with a run to the quarter-finals of the Wuxi Classic, before successive last 32 defeats at the Australian Goldfields Open and Shanghai Masters tournaments showed that he was not yet firing on all cylinders following the neck injury sustained at the end of the previous season.
Click here to read my interview with Mark Selby from November 2012
Mark was however able to successfully defend the Paul Hunter Classic title that he first won in 2011, with a 4-1 victory against Northern Ireland's Joe Swail in the final, before finishing as runner-up in the Antwerp Open to an inspired Mark Allen.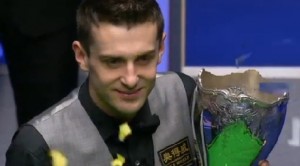 2012 UK Champion
Having lost his world number one ranking following a last 16 defeat to Ricky Walden at the International Championship, Mark would not stay down for long, as he finished the year by defeating friend Shaun Murphy 10-6, to win the UK Championship in York for the first time in his career. The successful represented Mark's biggest title to date and was enough to see him reclaim the world's top ranking from Judd Trump.
Mark maintained his form during the early weeks of 2013, as he captured the ET6 title in Germany, before he then defeated Stuart Bingham, Mark Williams, Graeme Dott and Neil Robertson to capture his third Masters title in London.
From there, Mark reached the quarter-finals of both the German Masters and Haikou World Open tournaments, before then reaching the final of the China Open in Beijing, where Robertson was able to gain a measure of revenge by claiming a 10-6 victory.
His season was however to end on a disappointing note, as his bid to complete snooker's 'triple crown' was ended by eventual finalist Barry Hawkins at the last 16 stage of the World Championship.

2013/14
Mark was to achieve his lifetime ambition at the 2014 World Championship, as he defeated Ronnie O'Sullivan 18-14 to capture snooker's biggest title for the first time in his career.
Despite coming into the tournament as its third seed, few were talking up Mark's chances of winning the tournament and this appeared to be justified as he survived a deciding frame against Welshman Michael White in his opening match.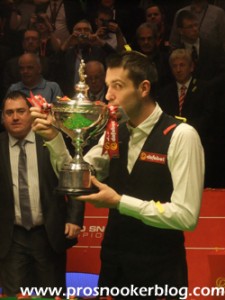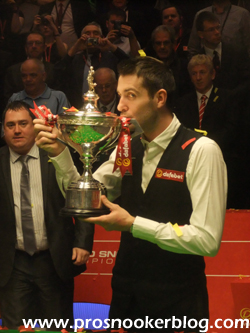 From there however Mark showed significant improvement, defeating Ali Carter, Alan McManus and then Neil Robertson in one of the all-time classic Crucible semi-finals, to reach his second world final against Ronnie O'Sullivan.
With O'Sullivan having never lost in a World Championship final before, not to mention having won the previous two, the situation appeared to be bleak for Selby, as he fell 7-3 and 10-5 behind during the second session.
In winning the final two frames of that session however, Mark kept himself in contention heading into what would prove a remarkable third session, from which he emerged with a 12-11 lead. Though O'Sullivan came out of the blocks quickly at the start of the evening session, Mark was to have an answer to every question posed of him and eventually ran out an 18-14 winner to complete snooker's triple crown and finish as world number one for a third successive season.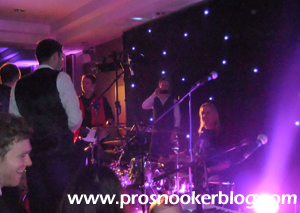 Mark's victory was to be capped off by a memorable after-party, as he shared an impromptu duet with Iron Maiden's Nicko McBrain in Sheffield (above).
Elsewhere during the season, Mark was able to reach the final of the UK Championship, Masters and Haikou World Open events, as well as the semi-finals of the Australian Goldfields Open early on.
Mark was also able to claim victory in Antwerp at the ET2 event, but in years to come it will be his victory at the Crucible that will be remembered, as he became snooker's latest world champion.
2014/15
As defending world champion, the 2014/15 season was always going to be a difficult one for Mark but by winning both the German Masters and China Open tournaments during the second half of the season, he ensured that it was to be another successful season overall as he retained the number one ranking for a fourth successive season.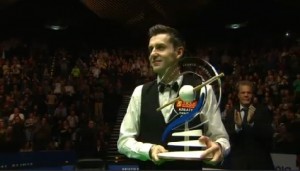 During the first half of the season, the highlight of Mark's season on the table was to be victory against Mark Allen to win the Riga Open, while away from the baize he also celebrated the birth of his daughter shortly ahead of the UK Championship.
After Christmas came a disappointing defeat to friend and eventual champion Shaun Murphy at the Masters, but he was to turn the tables on the Magician in Berlin at the German Masters with a 9-7 win to capture his fifth full-ranking title.
Having twice reached the final of the China Open previously, it was also to be third time lucky for the Jester in Beijing as he thrashed first-time finalist Gary Wilson to win title number six ahead of the defence of his world title at the Crucible.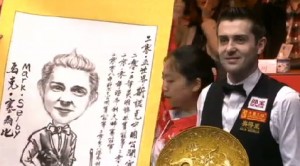 Unfortunately for Mark, having survived an opening round scare against Kurt Maflin, he was powerless to stop the run of young Scot Anthony McGill at the last 16 stage and so became the latest victim of the 'Crucible curse' in Sheffield.
Tournament Victories:
Ranking Event wins (6)
| | |
| --- | --- |
| Event | Year |
| Welsh Open | 2008 |
| Shanghai Masters | 2011 |
| UK Championship | 2012 |
| World Championship | 2014 |
| German Masters | 2015 |
| China Open | 2015 |
Non-Ranking Event wins (5)
| | |
| --- | --- |
| Event | Year |
| Masters | 2008, 2010, 2013 |
| Sangsom 6-Red World Championship | 2010 |
| Wuxi Classic | 2011 |
Minor Ranking Event wins (5)
| | |
| --- | --- |
| Event | Year |
| Players Tour Championship | 2010/11 Event 2 |
| Players Tour Championship | 2011/12 Event 4 |
| European Tour | 2012/13 Event 1 |
| European Tour | 2013/14 Event 7 |
| European Tour | 2014/15 Event 1 |