Name: Jimmy White
DOB: 2nd May 1962
Nationality: English
Turned Pro: 1980
Highest Ranking: #2 (1987-9)
Highest Break: 147 (1992 World Championship)
Career Highlights: 1992 UK Champion, Twice Grand Prix Champion, Twice Mercantile Credit Classic Champion, Twice British Open Champion, Six times World Championship finalist
Website: http://www.jimmywhirlwindwhite.com/
In short
One of, if not the most popular player ever to have picked up a cue, there can be little doubt that Jimmy is also the most talented player never to have won the world title as his otherwise sizeable trophy collection demonstrates.
Known as the Whirlwind for his quick and easy on the eye style, Jimmy is also an outstanding player when using the rest which has proved to be a great asset down the years. His game might not now be as strong as it once it was but he continues to fight hard and keep his legion of fans coming back for more.
Can he get back into the top 16 for a fourth time? Very unlikely but with a good couple of seasons, we may yet see him on our screens for a while longer…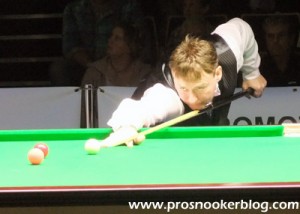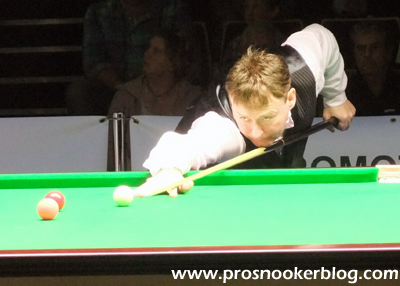 Early career
An outstanding junior player, Jimmy first caught the eye of snooker experts as a 15-year-old when he became the national champion in 1977. He followed this up with victory in the English Amateur Championship a couple of years later before going further with victory in the IBSF World Championship out in Launceston.
Going Pro
Already recognised as a superb natural talent, it was time for White to turn professional and after an impressive début season, he finished it with a ranking of 21st. His most notable achievement was becoming the youngest player ever to have qualified for the final stages of the World Championship at the Crucible, putting up a great fight in his first match before going down 10-8 to eventual champion Steve Davis.
Defeat did not hurt his progress however as during the following season he won the Scottish Masters (becoming the youngest ever winner of a ranking event in the process), Northern Ireland Classic and also reached the semi-finals of both the UK and World Championship tournaments to move into the elite top 16 after just 18 months on the circuit. Indeed that world semi-final was one of the most memorable snooker matches of all-time, Jimmy leading 15-14 and being well up in the next frame before falling to one of the great comebacks against friend Alex Higgins.
Indifferent spell and revival
The next 18 months were to be less successful however, 'only' making two finals before losing in round one of the World Championship in 1983. He then lost the first three matches of 1983/4 and questions were being asked as to whether we had already seen the best of Jimmy White.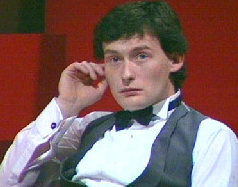 These were answered emphatically however with a run to the semi-finals of the UK Championship (eventually losing out to Davis), before a brilliant Masters victory at Wembley against Terry Griffiths in the final. He then followed this up with a run at the Crucible, defeating Rex Williams, Eddie Charlton, Cliff Thorburn and Kirk Stevens to make his first final.
Unfortunately for Jimmy however he came up against the machine that was Steve Davis and despite recovering from 12-4 down to make it 16-17, he was to lose the match 18-16. As we all know though, it would not be the last time that White was to suffer such disappointment…
1984/5 saw a few more invitational events come his way, but it was the following year which would see him finally win his first ranking event title at the Mercantile Credit Classic. Helping him to maintain his position of number seven in the rankings, this seemed to give Jimmy a lift and he soon added further important titles with victory at the Grand Prix and the British Open. Along with another World semi-final, these helped to move him up to a career-high ranking of number two in the world, right behind his great rival Steve Davis.
A new rival
The next couple of years saw just one further title come his way, but his form remained consistent and he maintained a place among the top four as the 1980's came to a close. As his great rival Steve Davis began to slow down ever so slightly, Jimmy must have thought that his opportunity to finally become the dominant force in the game had arrived.

Unfortunately for him however, just as Davis began his decline, another young superstar by the name of Stephen Hendry was beginning his emergence, indeed pushing Jimmy to a deciding frame in their 1988 World Championship meeting in the second round.
At the World Championship final in 1990 however, Hendry took his revenge, defeating White 18-12 to become the youngest ever world champion. White had played well up until the final, defeating David Taylor, John Virgo, Terry Griffiths and finally his old rival Davis to get that far, but Hendry was ultimately to prove too strong for him.
1990/1 saw success come his way at the Mercantile Classic, World Matchplay and World Masters events, but again there was to be disappointment in the final as this time his hopes were dashed by a determined John Parrott who ran out an 18-11 winner.
Hendry hat-trick
Though the British and European Open titles came his way in the following season, his successes were overshadowed by the start of a three year run of World Championship finals between White and his great rival Stephen Hendry. This time around in 1992, although White made a historic 147 break in an earlier round against Maltese star Tony Drago, further disappointment was to come in the final as Hendry got the better of him 18-14.
1992/3 was a similar story as following important victories at the Grand Prix and UK Championship tournaments, his season was marred by another loss to Hendry at Sheffield, this time by a comprehensive 18-5 scoreline with a session to spare.
A defining moment
Of all their finals though, it was to be 1994 that would go down as the most agonising for Jimmy who famously pushed Hendry all the way to a deciding frame before a missed black saw his hopes dashed once again. Having lost his sixth final and fourth in all to Hendry, he famously declared that "he is starting to annoy me" and few could blame him!
Decline
By this point Jimmy was into his mid-thirties and starting to struggle, suffering a semi-final defeat to Hendry in 1995 and falling out of the top 16 just two years later. He did gain a measure of revenge over Stephen in 1998 as he defeated his old rival 10-4 in the first round at Sheffield, but his run that year ended in the quarter-finals against Essex Exocet Ronnie O'Sullivan.
Still, he had at least moved up three places in the rankings to 18th and following a reasonable 1998/9 season, he edged his way back into the top 16 again. This was not to prove a permanent renaissance however as he slipped back a couple of places again at the end of the 2000/1 campaign.
Revival
Jimmy could not be written off however and following a series of improved results was to reach his first ranking event final in nine years at the British Open before losing to Peter Ebdon. Another good run to the semis of the Grand Prix ensured that he moved up to 11th though and he would eventually stay in the top tier for another five years, a run capped by a hugely popular 9-7 victory in the 2004 Players Championship against Paul Hunter.
Sharp decline
From this high though his career took a huge turn for the worse as just two years later he found himself dropping from 8th to 35th in the rankings, before plummeting down to 60th for 2007/8. Jimmy continued to struggle for form that season and only narrowly managed to retain his place on the tour for 2008/9 by finishing top of the one-year list for players not in the all-important top 64 that year.
2008/9
Despite this, his form during 2008/9 was much improved. Although he did not come close to winning another ranking event title, Jimmy consistently won his first round matches and reached the TV stages of both the Northern Ireland Trophy and the Shanghai Masters.
Though it took him until the Welsh Open to again reach the last 32, where he was hammered by eventual winner Ali Carter, he continued to regularly win matches and moved himself up comfortably inside the top 64. Also ranked inside the top 48 on the one-year list, he had given himself a real chance of continuing to progress back up the rankings during the following season.
2009/10
Jimmy got his 2009/10 campaign off to the perfect start by following up on a strong performance in the World Series by going all the way to victory in the Sangsom 6-Red International. While taking the title in itself was an impressive feat, even more so was the manner in which he did it, defeating players such as Shaun Murphy, Mark Williams, defending champion Ricky Walden, Mark King and Barry Hawkins en route.
He soon added the Prague leg of the World Series to his roll of honour with a 5-3 victory over Graeme Dott in the final and having made the final of the Paul Hunter Classic in Furth, his form in the invitational events at least was looking as strong as it had for a few years.

In the ranking events however it was a different story as he fell to a 5-2 defeat in the third round of the season-opening Shanghai Masters before losing 5-2 to the in-form Matt Selt in round two of the Grand Prix.
The real blow to his ranking points total however came when he opted to withdraw from the UK Championship in order to participate on UK reality TV show "I'm a Celebrity Get Me Out of Here!". Upon exiting the show, finishing third, Jimmy said:
"I feel fantastic, absolutely delighted,"
"I want to thank all the people for voted for me."
"I've never experienced anything like [this] and we are all going to stay in touch."
"I've learnt a lot about myself and had plenty of time to think – I even lost 22lb!"
While this was a lucrative experience, the UK Championship is of course only bettered in terms of ranking points by the World Championship and his withdrawal saw his provisional ranking drop as low as 61.
On his return there was a welcome trip to Wembley for White as he was awarded a wildcard for the Masters tournament, though overwhelmed by the rapturous reception he received from the crowd he played poorly and lost out to world number 16 Mark King at the first hurdle.
The pressure upon Jimmy's shoulders increased further following early exits at the hands of Ian McCulloch and Xiao Guodong in the next two tournaments, both in deciding frames. His defeat to Ian was particularly disappointing as at the interval Jimmy had led 4-0, but lost the next five frames, the decider on a re-spotted black!
Entering the World Championship needing a win to retain his professional place, White crucially delivered against Scotland's Mark Boyle, emerging as a 10-8 winner to book a tie with 1997 world champion Ken Doherty. Though he had twice defeated Ken during the previous season, Doherty was a different player this time around and ultimately cruised to a 10-3 win, ending Jimmy's season.
2010/11
Jimmy experienced a mixed start to the 2010/11 season as he reached the quarter-finals of two PTC events and qualified for the televised stages of the World Open, but otherwise struggled for consistency as his ranking hovered around the magical 64 mark.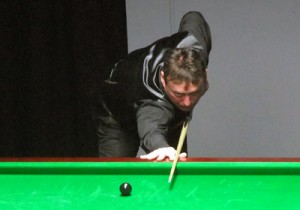 Jimmy during the 2011 World Championship qualifiers
His best performances were to come during qualifying for the UK Championship where he was able to defeat Adam Wicheard, Adrian Gunnell and Joe Perry to reach the televised stages of the event for the first time since 2005. There he would meet old foe Hendry but compared to their previous tussles it was not to prove a classic, though the outcome was to be familiar as Stephen edged the match 9-8.
The second half of Jimmy's season was to be relatively unspectacular, though he was able to qualify for the last 32 of the China Open in Beijing with wins against Liu Chuang, Peter Lines and Dominic Dale. He was not however to meet wildcard Tian Pengfei at the venue however as due to an administrative mistake he was not able to secure a visa for the event.
Liu Chuang was also to hit back against Jimmy at the World Championship qualifiers with a 10-9 win to deny Jimmy a return to the Crucible. As a result Jimmy finished the campaign ranked 55th.
2011/12
Jimmy made a solid start to the 2011/12 season as he won his opening matches at the each of the first four full ranking, without being able to qualify for the venues, the closest being his 5-4 defeat to Peter Ebdon in the last 48 of the German Masters qualifiers.
His victories combined with five last 32 runs during the PTC events were enough however to leave him in contention for a return to the world's top 48 at the season's second seedings revision.
Jimmy at the 2012 UK Championship qualifiers
Though Jimmy was to lose his opening matches at the Haikou World Open and Welsh Open qualifiers, he was able to qualify for the final stages of the China Open with victories against Liam Highfield and Andrew Higginson, before losing to Judd Trump in Beijing.
He was able to finish the seasoned up inside the top 48, however his campaign was to end on a low note as he was defeated by Liu Chuang at the World Championship qualifiers for the second year in succession.
2012/13
Jimmy's strongest result during the first half of the 2012/13 season was to be a quarter-final run at the ET2 event in Poland, however otherwise there were to be slim pickings as he failed to make it to a venue during the rest of 2012, reaching only the final qualifying round of the Shanghai Masters before losing out to Jamie Jones.
Jimmy's struggles were to continue into 2013, until the final tournament of the season where he was able to defeat Chinese duo Tian Pengfei and Xiao Guodong to reach the final qualifying round of the World Championship, before he lost 10-5 to Robert Milkins.
2013/14
The 2013/14 season saw Jimmy become involved in a nervy battle for tour survival, with his long professional career on the line as he fought for a place inside snooker's top 64.
His best runs were both to come in China, victories against Lee Page and Ricky Walden taking him to the last 32 of the Wuxi Classic, before he went one better late in the season at the China Open, with crucial victories against Joe Swail, David Morris and Alfie Burden seeing him through to the last 16, before he ran into Mark Selby.
Though his season was to end in disappointment as he lost 10-4 to Ian Burns in his opening World Championship qualifier, his run in Beijing proved to be just enough for him to finish in 64th position and crucially, retain his main tour place for another season.
2014/15
Jimmy experienced a difficult 2014/15 as he won just three matches at full-ranking events, notably losing to Matt Selt at the World Championship qualifiers despite having taken a 7-2 lead at the end of the first session.
As a result, Jimmy's ranking slipped to 70th at the end of the season, meaning that he would fall outside of the world's top 64 and therefore was not guaranteed to retain a main tour place for the following season.
He was though able to maintain his long held professional status thanks to his results at European Tour events, six victories enough to see him finish inside of the top eight players outside of the top 64 on the main list.
This meant that Jimmy would begin the 2015/16 with his ranking total reset to zero.
Tournament Victories:
Ranking Event wins (10)
| | |
| --- | --- |
| Event | Year |
| UK Championship | 1992 |
| Grand Prix | 1986, 1992 |
| British Open | 1987, 1992 |
| Canadian Masters | 1988 |
| Mercantile Credit Classic | 1986, 1991 |
| European Open | 1992 |
| Players Championship | 2004 |
Non-Ranking Event wins (23)
| | |
| --- | --- |
| Event | Year |
| Jameson International | 1981 |
| Wembley Masters | 1984 |
| Scottish Masters | 1981 |
| Hong Kong Masters | 1988 |
| Pot Black | 1986 |
| Irish Masters | 1985-6 |
| Premier League | 1993 |
| World Matchplay | 1989-90 |
| Northern Ireland Classic | 1981 |
| Carlsberg Challenge | 1984-5 |
| Thailand Masters | 1984/5 |
| Malaysian Masters | 1986/7 |
| World Masters | 1991 |
| European Challenge | 1991 |
| Sangsom 6-Red International | 2009 |
| World Series of Snooker | 2009 (Prague) |
Other wins (4)
| | |
| --- | --- |
| Event | Year |
| National Under-16 Championship | 1977 |
| World Doubles (with Alex Higgins) | 1984 |
| Mosconi Cup (pool) | 1995 |
| Nations Cup | 2000 |