Name: Ricky Walden
DOB: 11th November 1982
Nationality: England
Turned Pro: 2000
Highest Ranking: #15 (2011)
Highest Break: 147 (PTC10 2011)
Career Highlights: 2008 Shanghai Masters champion, 2012 Wuxi Classic champion, 2013 World Championship semi-finalist, 2011 UK Championship semi-finalist, 2005 China Open quarter-finalist, 2011 PTC6 finalist, 2008 Sangsom 6-Reds International & Belgian Open champion
Website: http://www.rickywalden.co.uk/
Early career
A strong amateur, Ricky Walden's most notable achievements include victory in the 1998 EASB U-17 Championship as well as the 2001 IBSF World U-21 Championship, defeating Sean O'Neill 11-5 in the final of the latter.
Following his decision to turn professional in 2000 however, Ricky found it more difficult to translate his obvious talent into strong results in the ranking events. From his first few years on the main tour, his best results were a run to the last 16 of the UK Championship and a quarter-final place in the 2005 China Open which helped move him up into the top 48 for the first time.
For the next few years this was to be as good as it got for Ricky as he maintained his position in the top 48 without being able to make a real impact in the biggest events.
Shanghai Surprise
Early in 2008/9 this was all to change as from seemingly nowhere, Ricky captured his first ranking event title at the 2008 Shanghai Masters. Following on from a fine victory in the Belgian Open pro-am event where he defeated former world-champion Graeme Dott 4-0 in the final, he advanced to the quarter-finals in Shanghai without too much trouble to book a tie with Steve Davis.
Having seen off the six-times world champion, Ricky then completed a terrific comeback from 4-1 down against Mark Selby to win their semi-final clash and move into his first ranking final.
There awaiting him was world number one Ronnie O'Sullivan who at the time was gunning for his third consecutive ranking event title having previously won the 2008 World Championship and Northern Ireland Trophy tournaments.
Despite being the underdog however it was Ricky who was to prevail, coming through a 10-8 winner with a break of 105 in the final frame.
2008/9 – Post Shanghai
Although he was not quite able to sustain this level of form Ricky continued to be a regular qualifier for the TV stages of events. Furthermore he was awarded one of the two wildcard spots for the Masters at Wembley and having comfortably dispatched Mark King early on, pushed defending champion Mark Selby all the way before going down 6-5.
Despite having suffered a couple of defeats to Stephen Hendry over in Bahrain and Beijing, he produced a couple of excellent performances in qualifying for the World Championship to defeat Rod Lawler and Anthony Hamilton to finally qualify for the Crucible for the first time. Once there though he was unfortunate to draw Mark Selby and despite putting up a strong showing, was defeated 10-6.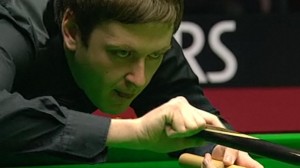 Nevertheless it was an excellent season for Walden and as he finished up in a career high position of number 20 in the rankings, he left himself well placed to progress during the following campaign.
2009/10
Entering a ranking event as the top seed for the first time, Ricky Walden put up a strong defence of his Shanghai Masters title before eventually going down 5-3 to local favourite Liang Wenbo in the quarter-finals.
Following this he lost out to Mark King at the Grand Prix having at one stage left his opponent needing three snookers in the final frame, before narrowly losing to eventual finalist John Higgins at the same stage of the UK Championship.
Ricky at the 2010 World Championship qualifiers
At this stage Ricky nevertheless looked well set to break into the top 16 for the first time in his career but he was in fact to be denied following a run of three successive opening round defeats during the second half of the season. The first came against rising star Tom Ford at the Welsh Open before surprisingly he was ousted from the China Open by world number 61 Rod Lawler.
The biggest disappointment though was his World Championship defeat to 18-year-old Chinese player Anda Zhang at the English Institute for Sport in Sheffield. At 8-8 Ricky looked to be the favourite to win but with breaks of 134 and 103 it was Zhang who powered through to end Ricky's top 16 hopes and leave him with work to do in 2010/11.
2010/11
Ricky enjoyed a solid start to the 2010/11 campaign, one semi-final, one quarter-final and several runs to the last 16 of PTC events helping to off-set the loss of 5,000 points from his Shanghai Masters triumph in 2008.
With a strong run to the quarter-finals of the World Open followed by a 9-8 win against Liu Chuang to qualify for the UK Championship, Ricky was able to finally break into the top 16 for the first time in his career at number 15.
Having broken into that bracket however, Ricky struggled to take advantage by progressing further in major tournaments and following damaging defeats in both the Welsh Open to Dave Harold and finally the World Championship to Rory McLeod, Ricky found himself back outside of the top 16 and down to 20th place in the rankings.
2011/12
2011/12 was to start slowly for Ricky as he lost his opening matches in both the Australian Goldfields Open and Shanghai Masters qualifiers, winning just one frame in the process.
He was however to build up his confidence at the PTC events, two last 64 runs being followed by two last 32 runs, before he embarked on a terrific run to the final of PTC6 in Warsaw only to lose out to 2010 world champion Neil Robertson in the final.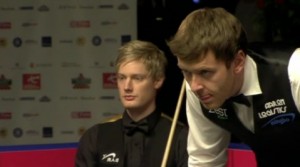 From there he continued to perform well, qualifying for the UK Championship with a 6-2 win against Jamie Jones before eventually making it through to his first major semi-final on British soil in York with further victories against Stephen Lee, Mark Williams and Shaun Murphy.
Though he was to lose out there to Northern Ireland's Mark Allen, Ricky had impressed enough to leave himself in real contention for a return to the top 16 later in the season.
Ricky could not reach the same heights during the second half of the campaign, his best result being a run to the quarter-finals of the PTC Grand Finals, where he lost 4-3 to Scotland's Stephen Maguire.
While his results were enough to see him reclaim a top 16 place at the end of the campaign, he will nevertheless have been disappointed to have lost 10-2 to Jamie Jones in the final qualifying round of the World Championship, denying him a return to the Crucible.
2012/13
Ricky was to make the perfect start to the 2012/13 season, defeating Zhu Yinghui, Joe Perry, Robert Milkins and Marcus Campbell to reach the final of the Wuxi Classic, before defeating the in-form Stuart Bingham 10-4 to lift his second full-ranking event title.
A run to the semi-finals of the 6-Red World Championship was to follow, while his form in the PTC events was to be consistent, with a couple of last 16 and last 32 appearances apiece helping secure still more ranking points.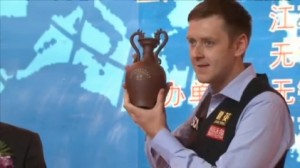 2012 Wuxi Classic champion
He was also able to reach the quarter-finals of the new International Championship in November, however his UK Championship campaign was to end in early disappointment, as he lost out early on to young Belgian prodigy Luca Brecel in the last 32.
Following a quarter-final run at the Haikou World Open, the highlight of Ricky's season was to come at the Crucible Theatre, as he defeated Michael Holt, Robert Milkins and Michael White to reach the semi-finals of the World Championship for the first time in his career.
At one stage leading 12-8 against Barry Hawkins, Ricky looked set to make it through to the final for the first time in his career, before a brilliant comeback from Hawkins saw him claim a 17-14 victory.
Tournament Victories:
Ranking Event wins (2)
| | |
| --- | --- |
| Event | Year |
| Shanghai Masters | 2008 |
| Wuxi Classic | 2012 |
Non-ranking Event wins (3)
| | |
| --- | --- |
| Event | Year |
| Belgian Open | 2008 |
| Sangson Six Reds International | 2008 |
| General Cup International | 2009 |