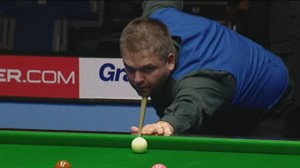 What a way to open a new ranking event, on day one of the final stages of the Bahrain Championship, veteran Scot Marcus Campbell made a maximum 147 break this afternoon…
Before today the highest break of Marcus' 17 year professional career was a 141 at the Grand Prix in 2006, but in the fourth frame of his wildcard match against Ahmed Al Khusaibi he changed that with a historic maximum over in Bahrain.
The second 147 of the tournament after that of Liang Wenbo over in Prestatyn during the qualifying rounds, I imagine that this will have been the first in professional competition in Bahrain, a remarkable feat on the very first day of snooker in the country! He actually won the frame 151-0 which is even more unusual, there must have been a foul prior to him potting the opening red.
To complete a fantastic day for him, he also went on to win the match 5-0 and earn a tie with Neil Robertson in the last 32.
Well done Marcus!