Today marked the final day of the IBSF World Amateur Championships in Austria, click below to find out where the trophies went and how things unfolded…
Mens Event
With over 100 players starting out in the group stages last week, just two remained going into today's final, Thailand's Thepchaiya Un-Nooh and Irishman Colm Gilcreest.
Early on it was former professional player Colm Gilcreest who started the better, moving into a 3-1 lead as he looked to become third Irish winner of the event after Ken Doherty and Stephen O'Connor.
The 23-year-old Un-Nooh though responded in the best way possible, hitting a magnificent 143 break, the highest of the tournament in frame five and he soon levelled things at 3-3 before taking the last two frames of the session to lead 6-4.
Colm might have been expecting the break to halt Un-Nooh's momentum but he was to be out of luck as the Thai took the first three frames and moved into what appeared to be an unassailable lead at 9-4.
Gilcreest did not get this far to go out on a wimper however and hit back in style, making breaks of 102, 59 and 58 to reduce his arrears to 9-7 and really put some pressure on his young opponent.
Un-Nooh had already overcome former main tour opposition in the form of Xiao Guodong in his semi-final seemed though and showed no signs of nerves and made a break of 139 in the next frame to really halt the Irishman's momentum. He duly wrapped up the win in the next frame and seal an 11-7 win.
As a result he became the sixth Thai winner of the event and the second in a row after the victory of Atthasit Mahitthi last year. Hopefully he will be able to take his place on the main tour next season and we will be able to see just how good he is for ourselves, though to win the event at 23 he is obviously a talented player.
Other notes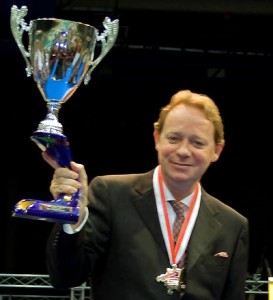 Following on from his excellent weekend in the invitational Austrian Open over in Wels, veteran Dene O'Kane completed a great couple of weeks for him with a dominant 5-1 win over Geet Sethi in the final of the Masters event. Indeed he was the best player all week as the high breaks chart shows as he was the only man to make a century in the event, as well as making four other significant scoring contributions.
Predictably the womens event went to Reanne Evans who for the third time in the last four years defeated Belgium's in the final to complete a hat-trick of World titles for her. She had to work for it this time as Jans actually went into a 3-2 lead, before Evans showed her class and won it 5-3.
Following her recent split from male professional Mark Allen, she has done well to put all that aside and focus on the task in hand so well done to Reanne for that.