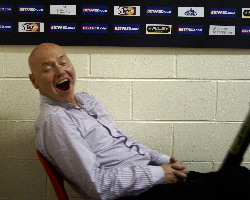 Some very sad news to report today as one of snooker's most well-known coaches Steve Prest, has died at the age of 43…
You can read more detail over here at Snooker Scene blog where David Hendon reports that Steve was found dead at his home on Friday, though the cause appears to be unknown at this stage.
Although Steve was a main tour professional during the 1990's, he is probably best known for his coaching career and in particular his involvement with Shaun Murphy during his glorious 2005 World Championship run. More recently he had been working with the likes of Ronnie O'Sullivan and Neil Robertson, as well as Peter Lines who I saw him with at the World Championship qualifiers this year.
On a personal level I did not know him too well but I had spoken to him at those qualifiers and also had a photo with him and Shaun Murphy back in 2006. On both occasions he came across as a good guy and the fact that he seemed perfectly healthy just a couple of months ago makes this even more of a shock.
Please feel free to leave any messages of condolence or any other personal memories of Steve here.