Wow. This Championship just gets better by the day doesn't it? Indeed it is certainly not often that a Crucible clash between Ronnie O'Sullivan and Mark Williams becomes almost an irrelevance as they were completely overshadowed by the performances of Steve Davis, Neil Robertson and even Graeme Dott today! Click below for my Day Eight story…
Without a ticket for the morning match I took the opportunity to have a lie in today and when I woke up and turned the TV on, John Higgins had already pulled himself back level against Steve Davis at 9-9 to set up what was inevitably going to be a tense finale. By the time I was ready to set off for the Crucible though, Steve had managed to move 12-11 ahead and we all know what happened next as the six-times champion rolled back the years to complete a truly remarkable win and book his place in the quarter-finals for the first time since 2005. The crucial frame I feel was the one before the interval as Davis managed to edge it to go into the break with his two frame advantage restored, a decisive cushion that he was ultimately to retain to the end.
When I arrived at the Crucible, there was an obvious buzz still around the place as I headed up for the final session between Neil Robertson and Martin Gould, which saw the latter looking to win the two frames he needed to complete yet another upset this week and book his last eight place. Given how confidently Martin had played the previous day, nailing long ball after long ball to leave Neil looking fairly helpless, I was not expecting this match to go too far really and was expecting to see a fair bit of the match between Ronnie O'Sullivan and Mark Williams over on table two before too long.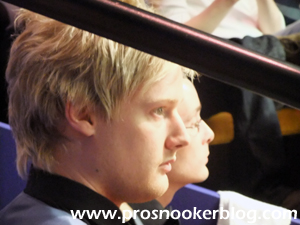 It is always interesting to see the body language of the players when they come out into the arena and looking at Neil Robertson he was very focused as he came out to Land Down Under and shook hands with referee Olivier Marteel and Martin before play began. Still, at 11-5 down it was always going to be a tough ask to turn things around, as Shaun Murphy had done against Matthew Stevens back in 2007 from a similar position.
It did not take long however for the situation to change as having got in with the first opportunity of the afternoon, Martin then missed a relatively straightforward black off the spot which allowed Neil to win the frame with 64 before he added 112 in the next to reduce his arrears to four frames in little over 12 minutes. While Martin had not had an outstanding chance to win either frame, it was already apparent that the long balls that he was making look routine the previous days were not going in this time around and that Neil Robertson was now a completely different player. With the pressure off him to some extent he looked to be as fluent as I have seen him this week and up for the task against a player who despite his brilliant form earlier in the match, was in new territory protecting such a big lead at the Crucible Theatre.
While the next two frames were more scrappy affairs, he kept the pressure on Martin and made few errors to take them both comfortable and with the scoreline at 11-9 at the mid-session interval, was right back into contention. Already from my excellent vantage point right behind the brown spot it was already apparent to me that Neil was putting in a very mature performance, going for his shots but also turning down a few risky ones to keep the pressure on Martin and ensure that he would not get an easy start to get into his rhythm. By playing that way Martin would have to earn his opportunities with his long potting but unlike during the first two sessions it wasn't quite happening for him.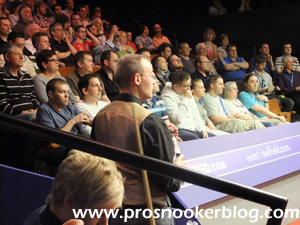 After the interval however Neil did look to be slightly more nervous and missed a couple of pots to give Martin a chance to get his cue arm going again. What followed next however was a crucial moment as having got in amongst the balls with a very good chance, Martin potted a pink only to see referee Olivier Marteel inexplicably lift the cue ball from the table, just as Michaela Tabb had done earlier in the day during the Dott/Maguire match as someone in the crowd pointed out by shouting "are you Michaela in disguise?".
While the actual error in itself should not have caused too much of a problem, it was soon to be compounded by the fact that marker Colin Humphries could not rewind the video footage on the arena scoreboard successfully, going back and forth and not being able to find the correct point. By the time that Marteel had eventually managed to replace the white by using the actual TV camera in the arena, a good five minutes had passed by which time Martin had been totally knocked out of his stride. His next shot was a red to the left-centre which in itself did not look too tricky, but with Marteel stood behind him shaking his head to himself, he missed the pot and could only watch and Neil punished him for it. It was only one frame but at the time it had the feeling of a potentially decisive moment in the match.
Still, to his credit Martin was able to win the 22nd frame to leave himself just one away at 12-10. He was by no means playing well as he needed a good three or four chances to fall over the line in the frame, but by taking the frame he had increased the pressure on Neil who now knew that his next mistake might be his last.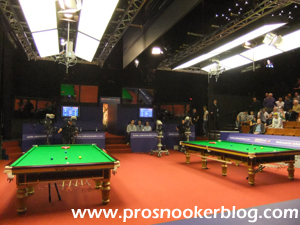 The next frame proved to be another long, tense affair as Neil put in a gutsy performance to keep himself in the match, leaving the arena afterwards for a good six or seven minutes to leave Martin Gould with a lot to think about in his arena chair.
Frame 24 was a quicker frame as Neil suddenly looked to be as strong as at any point during the match and forced what had looked for a while to be an inevitable decider. Again it was noticeable that he was out of the arena for an unusually long period of time, though with the match at such a tense stage it was not all that surprising.
Given how the session had unfolded you had to make Neil favourite to complete the comeback at this stage but following a failed attempt from distance from the Australian it was Martin who was presented with the first opportunity with the black available into both pockets. For a while it looked like the Pinner Potter might be able to seize the moment and get over the line in style but it was always going to be difficult for him to get over the line in one visit and running slightly out of position he left himself a tricky red to the green pocket.
Unfortunately for Martin he was to then miss this and with Robertson in and looking fluent, you could not help but feel that there was only going to be one winner from there and so it proved and Neil eventually potted the winning balls and raised his hands to his head in sheer relief.
For Robertson it marks an excellent comeback and who knows, this could even be the win that kickstarts his tournament as having been so close to going out he in many ways has nothing to lose now. While Davis in the next round will not be a walkover, I would make Neil a favourite going into the match and if he can look as fluent as he did today whilst also competing in the safety department, he could yet justify my pre-tournament tipping of him as a tournament winner.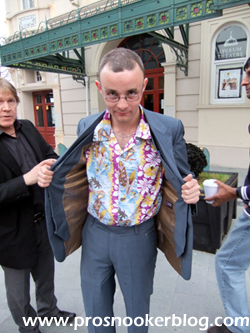 While part of me was pleased to see Neil win because as a fan I do like to see the top players progress as a rule, I was desperately disappointed for Martin as over the last 18 months or so I have got to know him to speak to at the qualifiers and he is such a normal, down to earth bloke who has deserved the success that has come his way this week. For the first two sessions in the match he played in such an exciting manner and really put on a show so it was a shame to see him play the way he did this afternoon and particularly how the incident with the pink did not help matters. It was an unfortunate one and I do feel sorry for Marteel who was making his debut at the Crucible and obviously knew what had happened as he stood shaking his head for the next couple of shots before appearing to apologise to Martin at the end of the match. It was just one of those things and as Michaela had shown earlier in the day, can happen to the best.
Following the match I hung around outside for a while and before long Martin was outside for a cigarette as he so often is. What followed though was an amusing moment as he swapped shirts with a fan who was wearing a rather garish floral effort, before posing for photos. At this point I went up to him and offered my commiserations to which he just said it was one of those things, before I said to him that I just had to have a photo of him in that shirt and he duly obliged with this cracker! Bearing in mind the disappointment that he must have been feeling so soon after losing like that, fair play to him for being able to still have a laugh and put on a brave face in difficult circumstances, fair bloody play.
After that I continued to wait around the square until unexpectedly, Stephen Hendry walked out of the Crucible and with nobody else in sight stood for a photo with me, a nice bonus from the day before I also saw Matt Couch who I know via his coach Steve Feeney and was up for the day with his partner to watch Ronnie O'Sullivan in action.
Without a ticket for the evening session I decided to head for home shortly afterwards and having just drawn some money out of a nearby cash machine, turned around and noticed Steve Davis walking up the street with a friend, but otherwise entirely alone. I toyed with asking him for a photo but as I imagined he will be getting a fair bit of attention for the next few days, decided to simply just say well played to which he smiled and gave the thumbs up.
I also caught referee Leo Scullion on the way out and spoke about his debut at the Crucible a week ago on the opening day as well as a few other memorable moments from his career to date.
Finally although I saw little or nothing of the match, well done to Graeme Dott who is looking like a real dark horse to go far in this tournament against. His clash against Mark Allen promises to be an intriguing clash of styles and one that I would certainly not like to predict…