So that's 2010, arguably the most significant year for snooker in a decade with the implementation of a new rankings system, the formation of the Players Tour Championship and a raft of other changes. What has not changed however is that there have been a series of brilliant matches, but which was best? Vote below from my selected nominations in the first of a few polls this week…
Ronnie O'Sullivan 6-5 Mark Williams
The first match on my list saw defending champion Ronnie O'Sullivan take on old foe Mark Williams at the Masters as the Welshman continued his return to form following a lean period which had previously seen him drop out of the top 16.
Bearing in mind his form during previous seasons as well as the fact that he had not beaten Ronnie in a ranking event for eight years previously, Mark was something of an underdog coming into this match. As it would turn out however, he started the match in fabulous form as he took the first frame in one visit with a break of 107 before doubling his lead with a couple of 30+ breaks.
O'Sullivan though was not to be overawed and hit back himself with breaks of 86, 99 and then 39 to turn the match on its head and lead 3-2. The breaks continued to flow as Williams levelled with a tremendous 132 before they traded runs of 60, 78, 96 and 67 as the match progressed to a decider. Both players had their chances but it was to be a missed red to the middle which was to prove decisive and Ronnie made 32 to book his place in a second consecutive Masters final where he would face Mark Selby…
Mark Selby 10-9 Ronnie O'Sullivan
Having ended Mark's previously perfect run at the Wembley Masters tournament the previous season in far from ideal circumstances, the smart money was on the world number one to triumph over the Jester from Leicester again in the 2010 final.
The first session saw the two produce snooker of the highest quality, breaks of 122, 101 and 86 from Ronnie as well as 112 and 83 from Selby as it was O'Sullivan who secured a 5-3 lead at the end of the first session. Having had opportunities to be at least level, it looked as though Selby would not be able to broach the gap as O'Sullivan extended his lead to 7-5 and 9-6, leaving him just one frame away from his fifth Masters title.
Mark though had other ideas, taking the next three frames to level, a brilliant century break in frame 17 a real highlight before he eventually sealed a memorable comeback with a doubled red in the decider. It was a fabulous match and a real marker set by Mark Selby as he showed that he has both the skill and the bottle to not only compete with, but defeat the very best in the game.
Steve Davis 13-11 John Higgins
The third match on my list needs little introduction. Through to the last 16 following a dramatic victory over Mark King in the previous round, Steve Davis was paired with the man acknowledged to be the best player in the world, Scotland's John Higgins and in truth was barely given a chance by many seasoned onlookers in the game, myself included.
What was to follow however was one of the most memorable sessions of snooker of 2010 as not only did Steve open up a 6-2 lead against John in the first session of the match, but he did so playing the best snooker that I have seen from him in many a year. Make no mistake, there was no fluke about it.
As you would expect, Higgins did not lay down and die, reducing his arrears to 9-7 following the second session to leave the match delicately poised.
The final session proved to be a roller-coaster for everyone in the arena as Higgins began in ominous fashion, levelling the match at 9-9 before errors from the Scot let Davis back in to restore his two frame cushion at 11-9. Higgins again ralled to level at 11-11 but having taken the next frame, it was to be Davis who would prevail in a thrilling final frame, eventually playing a stunning shot to double the brown and free the blue from the side-cushion to pave the way for a match-winning clearance.
To reach the quarter-finals in itself was an incredible achievement for Steve but to do so by defeating the defending champion and to play the way he did was incredible and at the time captured the public's imagination in a way that I can barely remember.
Neil Robertson 13-12 Martin Gould
But the drama that day was not limited to Steve as the very next session on the very same table saw another incredible story unfold as Neil Robertson recovered from 11-5 down overnight against qualifier Martin Gould to secure an improbable 13-12 victory on his way to his first world title.
During the first session Martin had played some of the best snooker that anyone could ever hope to play anywhere, let alone at the Crucible in a match as important at this was against Neil Robertson. Everything he touched seemed to turn to gold and having trailed 6-0, Neil did well to take the two frames that he did to keep himself in the match at 2-6.
With the deficit increasing to 11-5, Neil must have felt that his chances were gone but from the off in the final session it was apparent that Martin was not quite the same player and knowing that Steve Davis was awaiting in the next round if he could make it, he must have felt that he had a real chance of reaching the semi-finals of the tournament for the first time.
Neil on the other hand played a very sensible game early on, taking shots on that he felt confident of making but being careful not to leave Martin in amongst the balls with a chance to score and get himself over the line. As the frames ticked over and the lead began to shrink, you could sense that the comeback was very much on the cards and Gould's cause was not helped by an error from referee Olivier Marteel as he picked up the cueball by mistake when Martin was in the balls. The subsequent delay as he consulted with the TV cameras to re-position the ball only added to the tension and as Martin missed the subsequent shot, the writing was very much on the wall.
Ronnie O'Sullivan 13-10 Mark Williams
Following their Masters epic, the last 16 clash between Ronnie O'Sullivan and Mark Williams was to prove another memorable affair as the two brought out the best of each other at the Crucible Theatre in the third match on this list to be played on the 24th April this year.
It was O'Sullivan this time who made the stronger start, surging into a 4-1 lead only to see Mark take the next three to draw level at the end of the first session. Another eight frames followed and although Mark at one stage threatened to break clear, this time it was Ronnie who hit back to level at 8-8 leaving all to play for heading into the final session.
And what a final session it was, indeed the frame scores tell the story!
Mark Williams 10-13 Ronnie O'Sullivan
9-68(53), 22-104(104), 12-79(75), 121(115)-7, 0-143(111), 1-137(106)
Mark Selby 13-11 Ronnie O'Sullivan
Again in 2010 however, a high quality victory over Mark Williams was to be followed by a dramatic defeat at the hands of Mark Selby who fought back from 9-5 down in their quarter-final clash to eventually win 13-11.
Level at 4-4 following the opening session of their match, it was Ronnie who moved through the gears during the second session as breaks of 117, 92, 89 and 86 increased his lead to 9-5 with just two frames of the session left to play.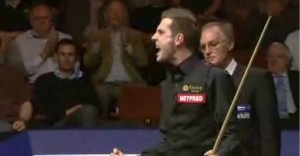 Crucially, Mark took both and as the final session proved to be a war of attrition rather than the potfest seen during the previous eight frames, it was Mark who fought the hardest and capitalised on a number of errors from an increasingly disillusioned O'Sullivan.
Graeme Dott 13-12 Mark Allen
The next match on my list was the World Championship quarter-final between 2006 champion Graeme Dott and Northern Ireland's Mark Allen. I must confess that at the time I saw very little of this match but by all accounts it was a great contest between two of the sport's real fighters.
Locked at 8-8 heading into the final session, it was Graeme who made the stronger start, runs of 65 and 54 moving him two clear at 10-8. Back though came Allen who without making a break of note, managed to take the next four frames to stand just one frame short of a second successive world semi-final at 12-10.
What followed was a tremendous response from Graeme as he won the next three frames to clinch a dramatic victory and set up a semi-final with Mark Selby…
Graeme Dott 17-14 Mark Selby
And what a semi-final it proved to be as Graeme and Mark produced 31 frames of intense matchplay snooker and some of the best safety duels that I have seen in many a year.
That's not to say that there were not big breaks as Graeme made only the second ever 146 break at the Crucible Theatre while Mark finished off the first session with 142 to keep in touch at 3-5. There were other memorable moments too, including a stunning long red from Mark when hampered by the green as well probably the best break I have ever seen live, a remarkable 47 from Graeme in which every shot you expected him to miss!
Leading 14-10 heading into the final session, Graeme needed just three more frames for victory but could do little as Mark knocked in breaks of 46, 79 and 83 to reduce his arrears to just one frame. What followed however was that fantastic break of 47 from Graeme which effectively gave him the last frame before the interval and ultimately proved to be the final turning point of the session.
John Higgins 9-6 Stephen Lee
Jumping to the UK Championship for this match we arrive at the return of John Higgins to the televised arena where he would face Stephen Lee in Telford. Many questions were asked prior to the start of the match. Would Higgins crack under the pressure? Would he be given a warm welcome by the crowd?
Those questions were all but answered after the first frame as the Scot opened with a break of 105 before remarkably he then hit a second consecutive century in frame two to double his lead. Already even at this early stage it was as though John had never been away and suddenly we were fearing for Stephen Lee.
Stephen however despite his lack of success in recent years was to then hit back in fine style with breaks of 82 and 73 to level at the interval and let John know that he was in a match. From there the high standard continued to the end of the session, further runs of 91 and 64 from John and 64 and 61 taking them level at the end of the first session.
When the players came back the following day it was like they had never been away, John opening with 99 only for Lee to reply with a total clearance of 137. At this stage the two players had respective pot success rates of 95% and 96% which after ten frames could be unprecedented.
What followed however was the turning point as having taken the next to lead 6-5, John then moved two clear for the first time and despite another break of 137 from Lee, never really looked back.
John Higgins 10-9 Mark Williams
Finally, the match that needs no introduction, the spectacular comeback of John Higgins from 9-5 down against Mark Williams to take the UK Championship in a thrilling deciding frame.
Having played well below the standard that he is capable of, Mark came into the final very much as the underdog but to the surprise of many was able to produce some of his very best snooker to open up a 6-2 first session lead against his great rival. Higgins by contrast looked to be unusually nervous and slipping 9-5 behind, did not look capable of turning the match around.
Higgins is however is no ordinary player and from there the tide began to turn as he took the next two to reduce his arrears to two frames before what would be the key turning point in the final. At 9-7 Mark looked to be on his way to the title before missing a relatively simple frame ball red to give John hope. Eventually though Mark was able to leave John needing a snooker and surely the Welshman's wait for a third UK title would be over. John had other ideas and forcing the error from Mark, cleared the table to come back to 9-8 before levelling at 9-9.
In the decider it was John who had the first big chance before he too let Mark back to the table with a chance to clear. Williams though could not get position on the brown and John eventually played an extravagant length of the table double before sinking a stunning long blue to seal a special victory.