Everyone has been throwing in their two cents worth over the Sky Shootout during the last couple of days and over here at PSB it is no different. Click below for my thoughts on the inaugural event…
While not a staunch purist, I have always leaned towards the traditional formats of the game and so was sceptical of this event from its announcement right up until its first staging this week. Talk of grim reapers and gunging did little to quell my fears and fresh from the Power Snooker debacle my expectations were not too high.
Following Friday's opening session while I was not particularly overwhelmed, I did at least stick with it until its conclusion and enjoyed the action more than I had thought that I would. Finding the voiceover and the rowdy crowds to be equally as annoying as each other though, I remained unconvinced and on the table few of the matches really inspired, most seeing one player edge ahead with a 30 break and winning the frames comfortably. Strong breaks from Ronnie O'Sullivan, Robert Milkins, Tom Ford and John Higgins did demonstrate that the shot clock does not prohibit good snooker.
Then however came Saturday, the day when this tournament came of age and captured the imagination of everybody watching. Following an entertaining, if not spectacular afternoon session, the evening match caught light with its fourth match, the incredible clash between Mike Dunn and Alfie Burden which saw the Redcar professional fight back to steal it on the black, celebrating with a clenched fist that he admitted himself wouldn't usually come at a ranking event.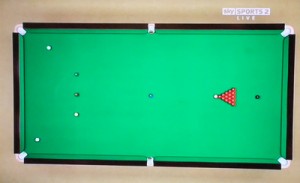 Lag!
The close matches continued to follow and a couple of matches later we had more drama as Rory McLeod recovered to defeat Tony Drago with the aid of an unlikely black with just seconds to spare. While the match did not have as much riding on it as a World Championship qualifier or feature two household names, the drama was such that it prompted commentator Clive Everton to unleash a memorable "IIIIIIIIIIIINCREDIBLE!!!!!!!" on the world as the final black dropped.
But the drama was not done yet. Step forward the world champion as Neil Robertson having looked down and out managed to recover a 37 point deficit with just 80 seconds remaining, the final black dropping after the claxon but being allowed to stand as he struck the shot with time still on the clock. It's a good job that Neil knew that rule because I didn't! In any case though it was another exciting match and something new that you would not see in any other form of the game.
While I would be careful not to go overboard (I certainly don't agree that they were the best finishes ever as some said), it was a hugely entertaining evening and one that to a large degree won me over. It proved that in close matches, this format can be interesting and does add new tactical elements that you would not see elsewhere.
The other positives? As was the case with the World Open it was nice to see some players involved who you do not see at every event and probably more so than was the case then, it was nice to see some of them show how good they are. Nigel Bond, Robert Milkins, Mike Dunn…all proved that they are very good players despite being ranked outside of the top 32 and demonstrated the depth that we have on the circuit.
I also cannot let this pass without mentioning the venue. I was not there this weekend but from the TV at least it looked to be the perfect venue for snooker, a real arena and rightly described as a bear pit by those in the commentary box. There have been suggestions that it would be well suited for the Masters and I would agree, but I cannot imagine that event being played outside London myself.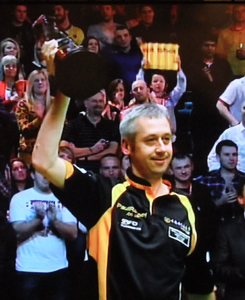 As for the downsides, while I found myself not noticing it as much by the end, I didn't feel that the American voiceover man added anything positive to the event and I would probably just rather have regular Matchroom MC John McDonald announce the start of the match.
I also didn't like the shouting from the crowds, particularly during the evening sessions after they had got a few drinks down them. I realise though that this is a subjective point and that there are others who will like this…I just think that there has to be a limit and was pleased to see Michaela Tabb give them a talking to on Sunday. Think that point is going to split opinion 50/50 though, some people will like that, some won't.
Conclusion
So how would I summarise the event? All in all I was pleasantly surprised by the event and while beforehand I wasn't sure if I would manage to stick with it for the duration but in the end found it to be a worthwhile addition to the snooker calendar.
Sure there are things I would probably change, not just the voiceover man but I would make some sort of change to the Saturday format which I felt went on too long to the extent that I had lost interest by time that the last four or five matches came along. Also I would be tempted to keep the shot clock at 20 seconds for the duration of the match and am not yet convinced by the rule that states that you have to hit a cushion on a safety shot.
As was the case following the World Open when I think a few people got carried away and suggested that a similar format could be adopted for the World Championship, the same seems to be happening here, notably with Jimmy White suggesting that a shot clock could be used at the Crucible. Personally I would be set against this, indeed I would not particularly like to see a shot clock in any ranking event. In a one-off event such as the Shootout it certainly does no harm.
Barry Hearn stated when he took over the game that he wanted each tournament to have its own unique identity and the Shootout certainly has that. I'm sure that it will be back for 2012.