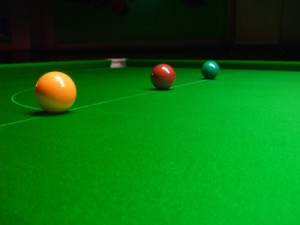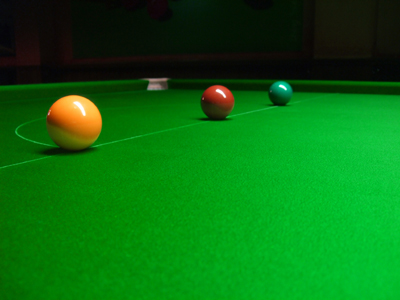 After the eye-opener that was the Sky Shootout, tomorrow sees the return of ranking event snooker to our televisions as the German Masters gets underway from Berlin. Click below for information and my late preview…
NB: I also hope to bring back the live chat tomorrow night to coincide with the Eurosport coverage of the evening session…
First up the boring stuff for you with a few links:
And onto the draw…
The Top Quarter
Turning firstly to the top half, this section could see a repeat of last year's World Championship final in the last 16 as top seed Neil Robertson and Graeme Dott both lie in wait. Assuming they come through against the invited wildcards, Anthony Hamilton, at his first venue of the season, will face Robertson while Dott will face the promising Thai youngster Thanawat Thirapongpaiboon. I would expect both of the seeded players to win here although Anthony has put in some strong performances during the PTC events and can put breaks together as well as most. On his day he could cause an upset but Neil has to be favourite.
The third seed in this section is Ricky Walden, a strong player overseas and one who has experience of playing in Germany having done so during a few exhibitions in the past. Now inside the top 16 and with in theory an easier draw, perhaps he could be a dark horse to run deep this week.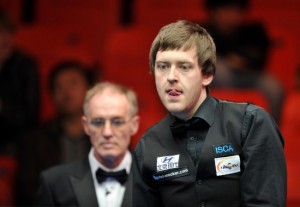 The identity of his first round opponent though will be interesting to see as youngsters Jack Lisowski and wildcard Luca Brecel face off for the right to face him. As the tour player, Jack will be favourite to progress but having won the European Championship at both senior level and U-19 level aged 13/14, Luca cannot be discounted.
The final seed here is Stephen Maguire, the Scot in reasonable shape having defeated Mark Selby at the recent UK Championship, but still short of the form that put him on the snooker map back in 2004 and that which took him to two major titles during 2007/8. He will face either China's Liu Song or Welsh amateur wildcard Daniel Wells who will meet in what is a hard to call wildcard match. Either way, I would expect Maguire to progress however.
Semi-finalist: Very much unlike me, I am going to go for a bit of an outsider here and tip Ricky Walden to shock a few people and go on a run.
The Second Quarter
Moving on, the first match of the second section suddenly looks more interesting than it might have done a week ago as Mark Selby is set to face the newly crowned Sky Shootout champion Nigel Bond, should he make it past wildcard Stefan Kasper. That being said, while Mark is prone to the odd surprise defeat and has not had too many wins recently, he will nevertheless start this match as a fairly warm favourite.
In the last 16 the winner will face the winner of the match between Stephen Hendry and Judd Trump, an interesting clash which on paper I would have to make Judd favourite for given Stephen's lack of form recently. While Hendry did look a little better during his Masters defeat to Neil Robertson last month compared to during the UK Championship, he remains low on confidence and will be sweating on his top 16 place with his appearance at the Crucible not yet guaranteed. For Judd I would suggest that the time is now for him to make an impact at a televised event and this is the sort of opportunity that he needs to make count.
The other two matches in this section are also interesting, the first seeing Peter Ebdon take on Andrew Higginson in a repeat of their UK Championship encounter which was of course won by the man from Widnes 9-7. Like many of the older players, Peter remains capable of producing some fine snooker but he does so on fewer occasions these days and was badly out of sorts during the Masters against Marco Fu. Without a long game to speak of these days, he can be very hit and miss and I would not like to predict how he is going to perform in Berlin. Higginson meanwhile has been consistent this season, but does not always produce his best form in front of the television cameras. If he can, I think he will win, if not, Peter could grind him down…
In the final match of this section meanwhile, Masters champion Ding Junhui takes on Matthew Stevens in another repeat match from the UK Championship, which Ding won 9-4. Presumably full of confidence following his recent success, it is hard to bet against Ding winning again here but Matt is this season playing as well as he has since he fell out of the top 16 and could win if he brings his best form to the table.
Semi-finalist: Ding Junhui – the man in form at the moment, I'll tip him to edge out Judd Trump in a tight quarter-final.
The Third Quarter
With Ronnie O'Sullivan ranked outside of the top eight at the time of the last seedings revision it was always going to make for an interesting draw and so it has proved as he could well face Mark Williams in the last 16 in Berlin. Anthony McGill and Dominic Dale will however have something to say about that as McGill, assuming he can defeat his wildcard opponent, will be looking to announce himself with a shock win over Williams while Dale will take on O'Sullivan.
Could either do it? Anthony is a player who I rate extremely highly and into the top 64 already, I am sure that this is not the last that we will see of him on our TV screens. Mark Williams though is not the best of draws, indeed I think he once had a record won for consecutive last 32 matches won at ranking events and I would expect him to find a way through.
Dale meanwhile is also in good form this season, but having once lost a best of 11 match in a record 52 minutes to O'Sullivan at the Northern Ireland Trophy one year, would probably rather face somebody else! Who knows though, having already skipped Shanghai this season as well as each of the EPTC events, it would not be a major shock to see another O'Sullivan withdrawal. I have not heard anything to that effect yet however.
Elsewhere, Jamie Cope takes on Joe Perry in a repeat of their 2009 World Championship clash while Ali Carter meets Stephen Lee in a very interesting match-up. From what I remember Joe has a more than decent record against Jamie but the one match that sticks in the mind is their Crucible clash from 2009 when Jamie very much trounced his opponent. Slowly adapting to a new cue, Joe is not yet at the top of his game but is getting there…
Semi-finalist: A very last minute change of mind here as I will switch from O'Sullivan to Williams, largely due to the venue in question as on paper I quite like the look of Ronnie's draw.

The Bottom Quarter
Yet another UK Championship repeat sees Shaun Murphy take on Ryan Day and if their Telford meeting is anything to go by, it could be a cracker, Murphy winning 9-8 on that occasion. Having struggled for any sort of form for a good 18 months, Ryan began to look better during the latter stages of 2010 and I think has come through the worst of it. That said, Shaun Murphy is my tip for the title this week (sorry Shaun), and so I will back him to just about progress here.
In the next round he is likely to face a Northern Irishman, either Mark Allen or Joe Swail subject to the latter overcoming a wildcard. Having come close recently with semi-finals in both the UK Championship and the Masters, Mark is surely knocking on the door and I do not foresee him slipping up against an out of form Swail. That said, you just never know with Joe!
In the next match it is probably a good thing for children watching that Mark King is the seeded player against Marco Fu…don't ask. As far as the match is concerned, both are playing well at the moment, Marco a finalist at Wembley and Mark compiling breaks as well as many have ever seen him. Tough to call.
The final match meanwhile sees John Higgins enter the fray against either Robert Milkins or one of the more well-known wildcards, Lasse Munstermann. It would take a brave man to bet against Higgins either way though and I would expect him to progress.
Semi-finalist: Shaun Murphy. Twice a Malta Cup winner, twice a Paul Hunter Classic winner, Shaun likes playing in Europe and is always a threat at the best of times.
Final Predictions:
SF: Ding to defeat Trump, Murphy to defeat O'Sullivan
F: Murphy to defeat Ding.
Apologies in advance to all the players now duly jinxed!