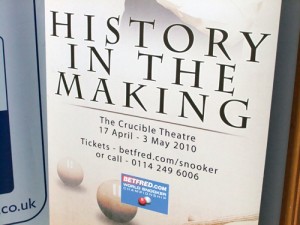 Click here for the full qualifying draw…
Last year I correctly predicted ten of the 16 qualifiers for the 2010 World Championship but can I do any better this time around? There is only one way to find out! Click below for the first part of my preview which will be posted over the next four days…
The Top Quarter
..
| | | | | | | | |
| --- | --- | --- | --- | --- | --- | --- | --- |
| Qualifying Round One | | Qualifying Round Two | | Qualifying Round Three | | Qualifying Round Four | |
| Kyren Wilson | - | Joe Swail | - | Rory McLeod | - | Mark Davis | - |
| Dermot McGlinchey | - | - | - | - | - | - | - |
So here we go, the first section in this year's Crucible qualifiers begins with a match between Dermot McGlinchey and Northern Ireland's Kyren Wilson. While he does not look like retaining his place on the tour for next season by finishing inside the top 64, it has been an impressive debut campaign for Wilson who has won matches in the majority of ranking events so far. In particular his run to the third round of the UK Championship with wins against Paul Davison and Ian McCulloch caught the eye and shows that he can perform over a longer format.
For Dermot meanwhile the season has been something of a struggle, just one win coming outside of the PTC when he defeated Patrick Einsle to reach the second round. As a result I can only see one winner here with Kyren booking his place in the second round.
There however the difficulty increases somewhat as he would meet another Northern Irishman, two-time semi-finalist Joe Swail who will be looking to make amends for a heavy defeat to Ken Doherty at the EISS last season. While Joe did endure a nightmare 2009/10 campaign while ranked inside the top 32, perhaps his fall down the list has helped him as he has had easier opening matches allowing him to build some momentum in tournaments.
On the back of a successful run recently, notably his quarter-final run to the German Masters in Berlin during which he described himself as being much happier both on and off the table right now, I would expect Joe to see off Kyren, though it could be closer than might be expected.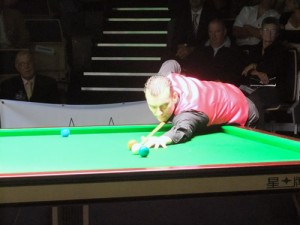 Next up would be a clash with Rory McLeod, a man who has to be scraped off the table as Gerard Greene found out last season (see my report here), as well as Marcus Campbell during a marathon China Open match yesterday. On the whole it has been a mixed season for Rory who has suffered opening round losses in three tournaments, yet reached the TV stages of a couple of others.
Put simply I think that this match could well go either way, but my gut feeling is that Joe will make it through a gruelling match at gone midnight to move into the final qualifying round.
There he would face Mark Davis, the man who qualified for the Crucible last season and inflicted a mildly surprising 10-7 victory against Welshman Ryan Day in the first round. The Six-Red World champion started the season in excellent form, regularly winning matches in the PTC before making the quarter-finals of the Shanghai Masters tournament and making a fabulous start against Jamie Burnett. Unfortunately though, Jamie came back to snatch that match en route to a maiden final and Mark never quite hit those heights again, losing to Stephen Hendry at the World Open and to Mark Williams at the UK Championship.
Potential therefore for an upset? Quite possibly, although it should also be pointed out that Mark does have an excellent record against Joe, most recently winning their clash during this season's UK Championship qualifiers by a 9-7 scoreline.
..f
| | | | | | | | |
| --- | --- | --- | --- | --- | --- | --- | --- |
| Qualifying Round One | | Qualifying Round Two | | Qualifying Round Three | | Qualifying Round Four | |
| Liu Song | - | Adrian Gunnell | - | Mark Joyce | - | Joe Perry | - |
| Michael Judge | - | - | - | - | - | - | - |
The second route sees tour returnee Liu Song take on Irishman Michael Judge in what will possibly be his tour swansong after a shocking year or so.
For Liu this is an important match as not only will he want to make it through to the Crucible, currently lying 67th he will be wanting to make a late assault on a top 64 place by the time the next cut-off comes along. His season has so far been reasonably good but having not played in all of the events, this is perhaps not reflected in his ranking. While Michael is no gimme and was unlucky to lose out to Joe Jogia and Michael White in tight matches recently, I would have to make Liu favourite to progress.
In the second round he would face Adrian Gunnell, another veteran but a man who has won just two matches away from the PTC's this term, notably losing 9-4 to Jimmy White at the UK qualifiers. If indeed it is Liu who comes through to face him, on this season's form I would make the Chinese player the favourite to come through this one and set up a match with Mark Joyce.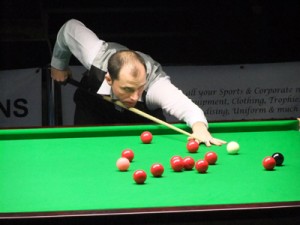 Mark's finest moment this season obviously came at the UK Championship when he advanced from the very first round all the way to the quarter-finals before losing out to Mark Williams. Since then he has not been able to reproduce that sort of run, but he has won a couple of matches and been able to consolidate his position inside the top 48 of the rankings.
Will Mark win another? He is not a certainty, but his form over a similar long format in the UK's has to be encouraging and he also won two matches during this competition last season including one against another potential opponent, Michael Judge which again bodes well.
Finally in this section comes Joe Perry, attempting to qualify for this event for the first time since 2008 en route to the semi-finals. After a poor start to the season, Joe's form has picked up in recent weeks with a quarter-final run in Berlin as well as successful qualifying campaigns for both the Welsh and China Open.
Based on his form and experience he has to be the favourite to qualify here, but Joyce could upset him if he can recapture that Telford magic…
| | | | | | | | |
| --- | --- | --- | --- | --- | --- | --- | --- |
| Qualifying Round One | | Qualifying Round Two | | Qualifying Round Three | | Qualifying Round Four | |
| James Wattana | - | Andy Hicks | - | Jamie Burnett | - | Liang Wenbo | - |
| Justin Astley | - | - | - | - | - | - | - |
A China Open re-match kicks off path three as James Wattana takes on Justin Astley in an important match for the Thaiphoon.  Not only is there a place at the Crucible at stake but up to 70th in my provisional rankings, James could yet make it into the top 64 and retain his tour status for next season. James did defeat Justin 5-2 last week en route to the final qualification round for China and having so far performed consistently well during the longer format events since returning to the tour, I would expect him to win again.
Next up would be Andy Hicks who has had a fairly unremarkable season, his best run probably coming at the season-opening Shanghai Masters when he made it to the final qualifying round before being whitewashed by Mike Dunn. He also recently made the final round of the Welsh Open but again found himself whitewashed, this time by Barry Hawkins.
While a Hicks win would not be a surprise, indeed he played some great snooker to beat Jimmy White a couple of seasons ago I seem to remember, I could see James causing an upset here.
Awaiting the winner will be Scot Jamie Burnett who following that brilliant run to the final of the Shanghai Masters has not made a major impact, qualifying for just one further venue so far. That was at the Welsh Open when he defeated Jimmy Robertson and Tom Ford without the loss of a frame before slipping up against Graeme Dott in the last 32. Another tough one to call then, whoever his opponent might be but on balance I would probably back him to progress.
And if he can make the final round he will surely fancy his chances against an out of sorts Liang Wenbo who following defeat to Nigel Bond in the China Open qualifiers heads into this match without a win all season away from the PTC. Can he bounce back this week? It is a tough ask, though he has obviously not lost the talent that took him to the top 16 overnight and could hit form at any time.
I've agonised over this one for some time as I think it is extremely tough to call, but going against my instinct somewhat I am going to back Liang. He has struggled recently against the likes of Nigel Bond and Dave Harold, but I am not convinced that anyone else in this section is playing as well as those two at present and Liang has to win again sometime. Why not here?
..
| | | | | | | | |
| --- | --- | --- | --- | --- | --- | --- | --- |
| Qualifying Round One | | Qualifying Round Two | | Qualifying Round Three | | Qualifying Round Four | |
| T.T'boon | - | Alfie Burden | - | Mike Dunn | - | Mark King | - |
| QUALIFIER 1 | - | - | - | - | - | - | - |
Finally in the top quarter, Thanawat Thirapongpaiboon with take on one of the preliminary qualifiers, my guess would be Sam Baird who was a professional last season and although not able to stay on the tour, nevertheless recorded a few impressive results. If it is to be Thirapongpaiboon against Baird I think that it could be a really close match, but would side with the impressive young Thai player given his excellent results so far on the tour.
The winner will meet Alfie Burden who will be looking to make it back to the Crucible for the first time since 1998 as well as push on up the rankings and a place inside the top 48. A winner of all bar one of his opening matches this season (which against Mark Joyce at the UK was no disgrace given his form at the time), Alfie's return to the tour has already been a successful one and I don't expect it to end in the second round here. A word of warning though, Alfie did lose 5-1 to Thirapongpaiboon in qualifying for the German Masters.
Lying in wait in the third round will be Mike Dunn who started the season as a consistent winner before finding himself on the wrong end of a 9-1 scoreline against Patrick Wallace at the UK qualifiers. Further defeats to Jack Lisowski and Dave Harold followed before he stopped the rot with a 5-2 win against James McBain last week.
I can see this match being a tight one during which Mike is possibly upset, though he has made it through to the final qualifying round in each of the past three seasons and therefore is comfortable over a longer format.
I must admit though, I think that whoever gets through will find it tough making it to the Crucible with Mark King awaiting in the final qualifying round. Despite his heavy defeat to Kurt Maflin yesterday, Mark has been playing well of late, defeating Mark Selby at the Masters as well as reaching the last 16 of the Welsh Open. Scoring as heavily as he has done for a while (leading him to make a fabulous remark on Twitter about being poltergeisted by someone who can break build), he will start as a warm favourite to qualify for me.
My Predicted Four Qualifiers: Mark Davis, Joe Perry, Liang Wenbo & Mark King – really going out on a limb today

Part Two tomorrow…