Click here for the full qualifying draw…
Following on from yesterday's opening instalment, here is part two of my World Championship qualifying preview in which I consider the likes of Jimmy White, Ryan Day, Martin Gould and others…
The Second Quarter
..
| | | | | | | | |
| --- | --- | --- | --- | --- | --- | --- | --- |
| Qualifying Round One | | Qualifying Round Two | | Qualifying Round Three | | Qualifying Round Four | |
| James McBain | - | Ian McCulloch | - | Michael Holt | - | Dominic Dale | - |
| Issara Kachaiwong | - | - | - | - | - | - | - |
We start today by looking at the round one clash between Scot James McBain and Thai player Issara Kachaiwong, both back on the tour this season having previously dropped off.
While neither is in with a realistic chance of climbing into the top 64 by the end of the season, of the two players James has had the more successful 2010/11, notably defeating Adam Wicheard, Anthony Hamilton and Mark Allen to qualify for the TV stages of the World Open. Also reaching the third qualifying rounds of the Shanghai Masters and China Open, he has certainly made a reasonable impression on the circuit this season.
Issara by contrast has struggled and aside from a few wins during the PTC, had not won a match on tour all season until recently. Indeed a week ago I would have installed James as a hot favourite. That was however until last weekend's China Open qualifiers when he defeated Thanawat Thirapongpaiboon, Andy Hicks and Tony Drago before seeing his run halted by Ireland's Ken Doherty.
The match therefore suddenly looks to be a far closer one than when the draw was first made a couple of weeks ago. On balance I would still favour McBain, but it could be tight.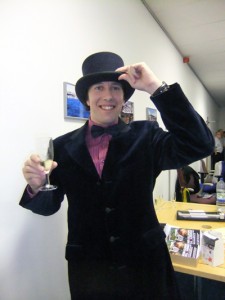 Whoever wins will then meet Ian McCulloch, a man who could really do with a win in order to make absolutely sure of his tour status next season having slipped to 60th place on my latest list, from 25th back in 2008/9. During recent seasons Ian's form has been patchy, generally either losing convincingly in his opening match or performing well and winning a couple of matches. Will this week be a good one for him? The longer format should favour him but if his opponent were to have a good day then I could see him losing out here.
Next up is Michael Holt, a man whose form is not that much better than Ian's aside from his shock EPTC win towards the end of 2010 and a run to the final stages of the Welsh Open. Losses against Rod Lawler, David Gilbert, Patrick Wallace, Liu Song and Jamie Burnett in the other tournaments do not bode well and suggest that he could be vulnerable to an upset if one of the other players can find some form.
All of which leads me to make Dominic Dale a warm favourite to progress here, the Welshman having had a fabulous season so far despite his loss to Jimmy White last week in the China Open qualifiers. As well as performing well in the PTC, winning one event, Dom has won most of his opening matches and now sits inside the top 32 for the first time in a couple of years.
A curveball for you though, despite being in and around the top 32 during recent seasons, Dominic has not actually been able to qualify for the Crucible since 2004, a startling statistic to me. I would though suggest that on paper this is as good a chance as he has had for a fair few years now.
..f
| | | | | | | | |
| --- | --- | --- | --- | --- | --- | --- | --- |
| Qualifying Round One | | Qualifying Round Two | | Qualifying Round Three | | Qualifying Round Four | |
| Igor Figueiredo | - | Joe Jogia | - | Robert Milkins | - | Martin Gould | - |
| Joe Delaney | | | | | | | |
Kicking off section two are Igor Figueiredo and Joe Delaney, again two players unlikely to make it into the top 64 although Igor is currently clinging on to one of the eight PTC places on offer and may yet retain his place on the circuit. For Igor the season started well, winning consistently during the PTC as well as winning matches during the Shanghai Masters and the World Open. Since then however he has been unable to win a single match and on paper hasn't come particularly close.
Joe Delaney meanwhile has also struggled, although as has been the case during the last few seasons, every now and again he can strike form and last week won two matches during the China Open qualifiers before coming unstuck against Mark Joyce. For that reason I would make him a slight favourite here.
He would then meet Joe Jogia, a man who without setting the world alight by qualifying for venues, is currently enjoying the best spell of his career to date and is pushing for a place inside the top 48 for the first time. While I could imagine him slipping up against Joe should the Irishman produce his best form, I would still have to favour Jogia here.
Next up comes Robert Milkins who impressed last season before coming unstuck against Mike Dunn in this competition. His form this campaign has not been quite as consistent as last term but his run to the final of the Shootout should have given him a boost and good wins against David Gilbert and Andrew Higginson in qualifying for China appear to demonstrate this.
If Robert can come through this one he will face on of the stars of last season's World Championship, Martin Gould. On paper Martin has endured a tough start to 2011 but in reality I do not see any great cause for concern. His loss against Joe Swail was in part at least attributable to the illness that he was suffering at the time and his match against Jack Lisowski was one that could have gone either way. Since then he has returned to winning with a convincing 5-2 win against Mike Dunn in the China Open qualifiers and should start favourite here.
| | | | | | | | |
| --- | --- | --- | --- | --- | --- | --- | --- |
| Qualifying Round One | | Qualifying Round Two | | Qualifying Round Three | | Qualifying Round Four | |
| Liu Chuang | - | Jimmy White | - | Tom Ford | - | Ryan Day | - |
| Qualifier 2 | - | - | - | - | - | - | - |
For me the most intriguing and high quality section of the draw is this one which will begin with a clash between Liu Chuang and the second preliminary qualifier, possibly David Gray if he is in any sort of form. On paper that clash would look to be an eye-catching one but put simply, who knows what sort of form Gray is in having not played professionally since losing his tour card last season.
On that basis I would have to back Liu to come through and set up a quick re-match with Jimmy White, the man who defeated him in last week's China Open qualifiers and will be looking to make the Crucible for the first time since 2006 when strangely enough he lost to Gray!
I must admit that I did quite fancy Chuang to cause an upset last week but Jimmy was able to do the business en route to a place at the venue. On closer inspection Liu's form has not been great recently, although as demonstrated by his run to the Crucible in 2008 and his recent run in the UK qualifiers, he is definitely one for the longer formats.
This time I would have to favour Jimmy, although on paper at least I am still not convinced that he is quite at the top of his game yet, the Whirlwind making few big breaks in booking his flight to Beijing last week. I look forward to seeing him in action myself during this tournament to see just how well he is playing.
And if he does win his first match he will have to play really well to defeat Leicester's Tom Ford in the next match, a man who generally speaking over the past couple of seasons has been in good form and impressed me hugely last season with his emphatic qualifying win against Judd Trump.
Can he do it again? Whether he faces White or Chuang it should be a close match and against White in particular will probably come down to his temperament and how he fares during the tight frames. Generally speaking I would expect Tom to score the heavier though which should give him the advantage.
As far as heavy scoring is concerned however there are few better in the game than Ryan Day who so far in 2011 has looked to be back somewhere close to his best and ready to move back up the rankings again. Can he win here? All of the recent evidence is in Ryan's favour, the Welshman having defeated White 4-0 during the Welsh Open while having since seen off Tom 5-1 last weekend to qualify for the China Open. Overall therefore despite having a tough draw, again I have to back the seed here and Ryan to make it back to the Crucible.
..
| | | | | | | | |
| --- | --- | --- | --- | --- | --- | --- | --- |
| Qualifying Round One | | Qualifying Round Two | | Qualifying Round Three | | Qualifying Round Four | |
| David Morris | - | Barry Pinches | - | Peter Lines | - | Judd Trump | - |
| David Gilbert | - | - | - | - | - | - | - |
Finally, the fourth section begins with yet another re-match from the recent China Open qualifiers as David Morris takes on David Gilbert in the first round. On paper neither player has been in particularly good form this season which has resulted in both have dropping outside of the top 64, but both have had the occasional tournament where they have reminded us of the quality that got them there in the first place.
That said, I am swayed towards Gilbert here, not just because he defeated Morris 5-4 last week, but also because of his run to the final qualifying round of the longer-format UK Championship in December.
If he can win, Gilbert would face Barry Pinches who – yep you guessed it – he defeated during that run to the last 48 of the UK Championship earlier in the season. A strange one this, looking at their rankings you would think that Barry would be a comfortable favourite but for whatever reason his results have been indifferent during recent months and I fear he could be vulnerable here against either David. That said, he had a good win against Liam Highfield in the China Open qualifiers and is not to be written off.
Whoever comes through that match will meet Leeds' Peter Lines who like Pinches is not recording the same results that he was nine months ago and again could find himself vulnerable to a strong opponent. He did though win a couple of matches during the UK qualifiers including an impressive 9-7 success against Nigel Bond, so again is not to be discounted.
Despite that, it is the next player who is clearly the man to beat for me as Judd Trump looks to qualify for the Crucible for the first time since his 2007 debut following three final qualifying round defeats since. Aside from a surprising loss to Rod Lawler in the recent Welsh Open tournament it has been a consistent season for the former Grand Prix semi-finalist who is surely overdue another run like that as he looks to pull himself up into the top 16 for the first time.
In the last three years he has lost out to Joe Swail and Stephen Lee in tight matches as well as Tom Ford but this time around I do not see anyone in his section with that combination of form and quality to cause an upset. We shall see, but I think that Judd will be very disappointed not to make it back to the Crucible from here…
My Predicted Four Qualifiers: It is not intentional but like yesterday I have to favour the four seeded players here, namely Dominic Dale, Martin Gould, Ryan Day and Judd Trump.

Part Three tomorrow…