As was the case a decade ago, the recent UK Championship final was contested between John Higgins and Mark Williams, two of the famous class of 1992 which also included the likes of Ronnie O'Sullivan and Stephen Lee.
This got me thinking as to the different generations of player currently in the game and in particular as to why there are relatively few younger players at the top of the professional game right now. Below I investigate whether this perception is indeed true and if so, the reasons as to why…
Prior to having actually researched the point it used to strike me personally that aside from the likes of Ding Junhui and Mark Allen, there have been few players under 25 in the upper echelons of the game for a few seasons.
In order to test that theory, I have bracketed the top 64 players at the last seedings cut-off into age groups such as 16-20, 21-25, 26-30 and so on as well as looked at the same brackets back in 2000 (I couldn't get the top 64 list for 2001)…
Top 64 by age as of February 2011:
16-20 (2 players)

Anthony McGill, Jack Lisowski
21-25 (8 players)

Ding Junhui, Mark Allen, Jamie Cope, Judd Trump, Liang Wenbo, Matt Selt, Jamie Jones, Jimmy Robertson
26-30 (9 players)

Neil Robertson, Mark Selby, Stephen Maguire, Shaun Murphy, Ricky Walden, Ryan Day, Martin Gould, Tom Ford, Mark Joyce
31-35 (17 players)

John Higgins, Mark Williams, Ronnie O'Sullivan, Ali Carter, Graeme Dott, Marco Fu, Stuart Bingham, Matthew Stevens, Andrew Higginson, Barry Hawkins, Robert Milkins, Jamie Burnett, Michael Holt, Alfie Burden, Joe Jogia, Stuart Pettman, Bjorn Haneveer
36-40 (19 players)

Peter Ebdon, Mark King, Stephen Lee, Mark Davis, Gerard Greene, Joe Perry, Dominic Dale, Marcus Campbell, Rory McLeod, Mike Dunn, Fergal O'Brien, Anthony Hamilton, Alan McManus, Barry Pinches, Andy Hicks, Adrian Gunnell, Rod Lawler, Ian McCulloch, Matt Couch
41-45 (7 players)

Stephen Hendry, Ken Doherty, Nigel Bond, Tony Drago, Peter Lines, Dave Harold, Joe Swail
46-50 (1 player)

Jimmy White
51-55 (1 player)

Steve Davis
Top 64 by age as of February 2000:
16-20 (0 players)
–

21-25 (13 players)
John Higgins, Mark Williams, Ronnie O'Sullivan, Matthew Stevens, Paul Hunter, Graeme Dott, Quinten Hann, Jamie Burnett, Marco Fu, Lee Walker, Matt Couch, David Gray, Alfie Burden
26-30 (21 players)
Stephen Lee, Ken Doherty, Alan McManus, Anthony Hamilton, Fergal O'Brien, Peter Ebdon, Mark King, Chris Small, Dominic Dale, James Wattana,  Joe Swail, Terry Murphy, Andy Hicks, Ian McCulloch, Gerard Greene, Marcus Campbell, Jason Ferguson, Rod Lawler, Nick Walker, Paul Wykes, Jimmy Michie
31-35 (13 players)

Stephen Hendry, Dave Harold, Tony Drago, Nigel Bond, Darren Morgan, Billy Snaddon, Brian Morgan, Joe Perry, Martin Clark, Euan Henderson, Drew Henry, Dave Finbow, David Roe
36-40 (8 players)

John Parrott, Jimmy White, Alain Robidoux, Paul Davies, Neal Foulds, Peter Lines, Steve James, Dean Reynolds
41-45 (2 players)

Steve Davis, Gary Wilkinson
46-50 (1 player)

Joe Johnson
NOTE: There were six players from this period who I could not find dates of birth for so they have been omitted.
So what does that tell us?
The initial thrust of this article was going to be on the lack of younger players on the tour at the moment so I was a little surprised to see that there are more players currently playing who are aged between 16 and 20.
That said, it is certainly interesting to look at the two 21-25 brackets and the credentials of the players within them. While the current set are by no means shabby, the fact remains that as of yet, only Ding Junhui is a ranking event winner, while only Jamie Cope and Liang Wenbo have otherwise been to finals.
Looking at the 2000 group though, while there were only five more back then, the quality was surely on another level. John Higgins was already a World, UK and Masters champion, Mark Williams and Ronnie O'Sullivan were both to complete the set, Matthew Stevens had already won the Masters and Paul Hunter had already won his first ranking title. Graeme Dott and Marco Fu are also notable names here.
A greater disparity is apparent however when turning to the 26-30 bracket when you see that there are now just nine players in that group compared to 21 back in 2000. The knock-on effect now can also be seen in the current 36-40 section which houses 19 players compared to eight previously.
Prior to having seen the statistics my instinct is that the majority of players would peak between the ages of 27-32 and with current top players such as Neil Robertson, Stephen Maguire, Shaun Murphy and Mark Selby in that group, perhaps this is still true. That said, there is less depth here than I would envisage with just seven players inside the top 32 there, compared to 13 a decade ago.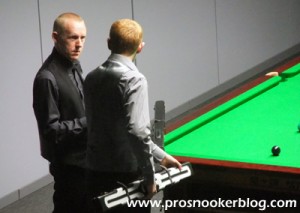 What the lists do go to show however is that there is no reason why players cannot compete in their mid to late thirties and even beyond, particularly the current crop who by and large are made up of that golden generation that turned professional in the early 1990's. Why is it that that group have had such quality and longevity? Not just at the top with the likes of Higgins and Williams, but further down with several players who have maintained a tour spot for nearly 20 years now?
The first reason is that back in the early 1990's the main tour was opened up so that anyone could pay their entry fees and attempt to qualify for the big time, unlike now with the 96 player set-up. This encouraged hundreds of players to give it a go and take their cue to the Norbreck Castle Hotel in Blackpool for the summer qualifying events and gain the experience needed to win on the tour.
The second is surely the fact being that born during the early to mid-1970's, these players would have grown up just as snooker hit the big time, watching the likes of Alex Higgins, Jimmy White and Steve Davis at their peak to name but a few. What young snooker player could have failed to be inspired by those names? Indeed watching the likes of Higgins and Davis as well as Terry Griffiths and Cliff Thorburn, perhaps that explains why so many of those players are strong in the safety department.
So what of the future? Will we see a new golden generation?
Not to the same extent would be my answer in short but there are signs that there are a few youngsters with the potential to step up and make an impact on the game. The likes of Jack Lisowski, Anthony McGill, Liam Highfield and Thanwat Thirapongpaiboon have impressed to some extent this season and are taking advantage of the new opportunities afforded to them by the new ranking structure.
In the past when there has been a dearth of ranking events, for example just six last season, this put the players under a great deal of pressure right from the off and if they lost a couple of first round matches early on then their hopes of survival were almost over before they had started.
Also because there were so few tournaments, the younger players did not have the opportunity to play the top players so often and gain the experience needed to bring their own game on. A further consequence is that the fear factor of the established players was probably greater than it is today.
Only time will tell how high these players can go but it is already clear that under the new system they will be able to get to the top quicker than in the past – if they are good enough.
So going back to the 21-25 bracket, why are there so few players who have enjoyed success in this age group?
Again, the lack of events and indeed the tour structure as a whole has not helped as described above, but logic dictates that the obvious reason is simply because of how exceptional the previous generation have been. While good players in any sport will always come and go, legends are hard to come by and over the last few years we have been lucky enough to have a few at the top of the game. It is a bit like in tennis at the moment in which very good players such as Novak Djokovic and Andy Murray have struggled to win majors due to the presence of Rafael Nadal and Roger Federer, two all-time greats.
Even looking beyond the likes of Higgins and Williams, the strength in depth on the tour and the amount of older players who are still performing to a very high standard makes it incredibly tough for those coming through to establish themselves. I have seen this for myself first-hand this week as the likes of Sam Baird, Michael White, Jack Lisowski and Kyren Wilson have all been halted by vastly more experienced opponents during the World Championship qualifiers.
As I have already indicated, I do feel that in the future it will be easier for the talented young players to progress in the game which can only be a good thing for the sport. They will still have to earn all of the success that comes their way but at least they will now be rewarded for it more immediately than in the past which in turn should help them to climb the rankings more quickly.
That said, with many of the class of 1992 set to be around for a while yet and the group below them not too shabby either, I would not expect to see a new era ushered in just yet…