After a night of incredible drama including no less than four 10-9 finishes involving the likes of Steve Davis (pictured), Nigel Bond, Matt Selt and Dave Harold. Click below for the story of my day…
Arriving at approximately 11am I hurried in to see how the match between Steve Davis and Jack Lisowski was getting on, Steve with a 2-1 lead with one to go before the interval. Both players had their chances and it looked to be Davis with the edge before Jack eventually got in with a good long ball and cleared to the pink to go in level.
Sneaking down to take a seat as the spectators left for a break, I settled myself for the next five frames which by and large continued to be tense, the first again going down to the colours and despite Davis having a number of chances, it was Jack who won the safety battle on the brown and cleared for 3-2. The next frame saw Jack in first again before an unlikely miss on 25 let Steve back to the table to make the decisive contribution to level at 3-3.
Another close frame followed during which both had their chances and it was Jack who eventually regained the lead at 4-3. Following this the first chance in frame eight fell to Steve before a surprising miss to the left-centre on just 14 paved the way for a spectacular clearance of 121 which put Jack two frames clear for the first time in the match.
With the next frame being the final frame of the session it was always going to be an important one for both players and perhaps predictably therefore it went all the way to the final black. Eventually it was to be Jack who potted it to finish the session with a 6-3 lead, leaving the match perfectly poised heading into the final session. In truth neither player really found their A-game and a 5-4 scoreline would probably have been a fairer reflection of the play given how so many frames went to the black, but Jack did do well to compete in the safety exchanges.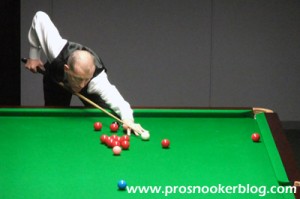 Following the conclusion of the session I headed out and caught Jack to see how he was feeling before going back in to see the conclusion of the sixth frame between Alan McManus and Stuart Pettman. Following a failed attempt to double the blue from Stuart, Alan attempted the pink to the right-centre, missing it but fluking it into the yellow pocket to lead 4-2.
At around this time I took my position for the start of the afternoon session and in particular the match involving Jimmy Robertson and Tony Drago, Jimmy leading 6-3 overnight. I also had a good view of the match between Nigel Bond and Andrew Pagett which had been an excellent watch the previous day, Andrew coming from 3-0 down to lead 5-4.
For the first hour or so there was little to report, Tony continuing to struggle badly as Jimmy opened up a 9-4 lead at the interval. That said, Tony was also unlucky on a number of occasions as he smashed into the pack from a colour on three occasions only to see a red drop in each time. The match between Bond and Pagett also proved to be a struggle with the balls seemingly running awkward during each frame leading to some hard-fought tactical exchanges.
Over on table three meanwhile, Liu Song had extended his lead over Mark Joyce to 9-2 while Rory McLeod also closed in on victory against young opponent Kyren Wilson.
On their resumption, Tony was again unlucky, potting a red from a colour before coming back to clear and keep himself in the match at 5-9. Signs of nerves followed from Robertson in the following frame as followed a missed black off the spot from Drago's last red, he then missed a sitter of a blue to allow him to reduce the gap to three at 6-9.
Without playing at his dazzling best, a solid 50 break from Tony then saw him take another frame back against an increasingly edgy Robertson before Tony took advantage of a number of devilish snookers in the next and made a fantastic green with the rest to close the gap to just one frame.
While this comeback looked very much on however, Mark Joyce eventually bowed out at the hands of Liu Song despite having taken four in a row to make the scoreline 9-6. Rory McLeod too was able to get over the line without too much difficulty, defeating Kyren Wilson 10-3.
The 18th frame between Robertson and Drago saw Tony open up the first opportunity before a missed blue gave us an opportunity to see what Jimmy had left mentally. For a while it looked good as he took the balls well until he missed a red into the corner. Cruelly for Tony however the red wobbled in the jaws and travelled back across the cushion and into the adjacent pocket to leave Drago needing a snooker. It was a shame to see the match end like that but Jimmy will have been extremely relieved to get over the line and book a tie with Ken Doherty at the weekend.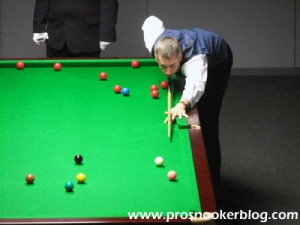 Over on the next table, Nigel Bond was able to just keep in front, going 7-5 up on the black before Pagett made a very gutsy break of 56 to keep himself close at the interval. What then followed looked to be a key turning point as Nigel got two snookers on the colours before clearing for 8-6, but as we would later find out, the tables can quickly turn in snooker…
At this stage I headed out for food in order to make sure that I was back in time for the evening session, though as it would transpire, a trip to McDonalds with Tony Drago meant that I wasn't able to make it. Not that I was complaining, Tony was on great form considering his recent defeat.
Eventually I just got back in for the conclusion of the Lisowski/Davis match to see the six-time champion clearing the table with a century break to close the gap to 4-7 after Jack had taken the first frame of the session. Incredibly, Steve then punished a miss from Jack on 24 with another century in the third frame to 7-5 and put Jack under real pressure, the 19-year-old never having been in a position like this before in his fledgling career. Incidentally, when was the last time Steve made consecutive century breaks?
The next frame on paper looked like it would be a pivotal one, the difference between 8-5 and 7-6 at the interval being huge. It had already been apparent from the previous two frames that Steve really fancied the job and that he was really up for it, unsurprisingly given the tournament and his qualifying heroics of recent years. Credit Jack though, he needed a couple of chances but a stunning red into the green pocket eventually saw him into the interval at 8-5.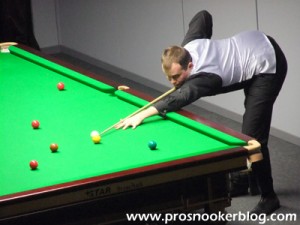 While Jack retained the three frame lead that he had started the session with, as those of you following my updates on Twitter will have noticed, already I feared for him at this stage as Davis just looked to be inspired, his long game on song and now scoring when he was in unlike in the morning.
The key ball when the players resumed proved to be a tough brown down the cushion for Jack who in and attempting to clear saw the opportunity of going four clear with a possible five to play staring him in the face. With little angle to come out for the blue, Jack had to play it with pace and missed it, Davis stepping in and dishing for 8-6. At the time I would have been tempted to play safe but it is always easier to call it from up in the crowd.
Again both players had their chance in the next frame but it was Davis who eventually took it following one of his best pots of the match, a brilliant red from close to the side cushion to the left of the yellow spot. A good two feet away from the pocket, it was far from straightforward and he deserved to make it 8-7 once that dropped.
And soon the match was level, Steve taking advantage of a failed attempt to escape from a snooker by Jack to bring himself level at 8-8 as his opponent could just sit and peel the label from his drinks bottle, anything to avoid watching what Steve was doing on the table.
At this stage there only looked like being one winner, but impressively Jack managed to hit back with what I described at the time as a 'very, very' gutsy clearance to re-take the lead at 9-8 and move just one frame away from victory.
Unfortunately for Jack however that was not to spark a return to form for the youngster as in first in frame 18, he could only make 16 points from a couple of great opportunities, allowing Steve in to level again and force a deciding frame.
In the decider both again had their chances but with another miss from Jack the writing was on the wall and Steve eventually got over the line to complete a brilliant fightback and end Lisowski's maiden World Championship run at the third round stage.
One of the minority in the audience rooting for Jack, understandably so given that most had come to watch Steve, I must admit that I was gutted for him but at the same time full of admiration for Steve who at the age of 53 produced a sensational performance in the evening session, just as he did a year ago at the Crucible during his run to the quarter-finals. While I certainly did not rule him out trailing 6-3, indeed I still made the match 50/50 given Steve's greater experience, I must admit I had not expected Davis to play as well as he did during the evening session, particularly with those consecutive century breaks.
For Jack meanwhile it will sting for a while, indeed that is a good thing because it shows what it means, but when the dust settles he can be extremely proud of his first season on the professional tour which has not yet come to a close with his upcoming appearance in the PTC finals to follow. The first time I had seen him in such a match against an opponent of Steve's class, it brought home to me how raw his game still is in places, particularly I felt when he was snookered as he played his escapes very quickly when perhaps taking some more time to think out the shot could benefit him, ala Sam Baird.
That said though, I would expect nothing else at his age, remember he is just 19 and on his maiden pro season. He will learn so much from that result and no doubt be better for it in the long run.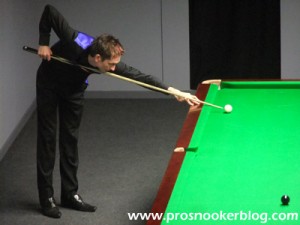 Following the conclusion of their encounter I shuffled over to the match between Nigel Bond and Andrew Pagett, the Welshman clearing the table to force an unlikely decider against his vastly more experienced opponent.
A predictably tense affair, both had their chances as frame came down to the colours and the decisive moment looked to be a snooker from which Pagett could only stick the green over a pocket with the brown waiting. A kick on the brown though kept Andrew in the match, 28 behind with just 22 on and he soon pulled one snooker back in shades of the previous evening's match involving Mike Dunn and Sam Baird.
What was to follow was an incredible finish as having got a snooker behind the black on the blue, Nigel took a couple of moments to consider his options before playing the shot and dramatically going around the back of it, meaning that Andrew could now win the match. Following a brief safety exchange Andrew then pulled out a brilliant blue and followed it with the pink, though his shot was just overhit enough to leave the black awkward. The Welshman was to make no mistake however and with a clenched fist and a shout of "GET IN!" which they probably heard back in Wales, booked his place in the final qualifying round and sent Nigel crashing out.
I must admit, prior to this week I had not seen Andrew play since back at this tournament in 2009 when he was soundly beaten by Stuart Pettman and I had not expected him to progress beyond his match with Zhang Anda, let alone defeat Nigel. He has proven me wrong though and has impressed me hugely with the improvement in all aspects of his game, particularly his resilience. Having lost the first three frames against Nigel yesterday he produced a brilliant clearance for 3-1 and as mentioned above, did brilliantly to recover from going 8-6 down in the manner that he did, let alone the way he won the decider. Andrew Higginson next is no easy opponent but with the likes of Matthew Stevens and Stephen Lee among the seeds, it could have been worse…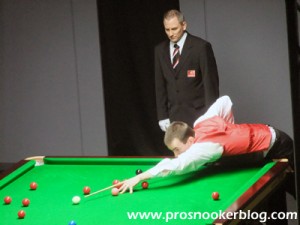 If those matches were not dramatic enough however, at this time Patrick Wallace and Matt Selt were also into a decider, Patrick having made it onto 43 before choosing to play safe. What followed was one of the best clearances to win a match that I have seen live as Matt began by dropping in a great red to the left-centre. The next few balls were straightforward until he was forced into a couple of long range pots, a blue into the yellow pocket and the next red into the green.
With the scores level at 43-43, the two remaining reds were in relatively safe positions, one on each side-cushion under the centre pockets. With a possible double facing him, Selt instead chose to play in behind one, soon potting it and finishing perfectly on the pink in order to free the other red. Playing the shot perfectly, he brought that red into open play and from there never looked like missing, a break of 80 clinching a brilliant win and in all likelihood, a place in the top 48.
A word though for Patrick Wallace who will now be relegated from the tour and as he told some of his fellow players shortly afterwards, will not be entering the Q School this summer. It was a sad moment and one that brought home to me the reality of how much these matches mean to the players and what happens when they are relegated from the tour. Patrick as he has shown this week is still a very capable player so it is strange to think that it can just end like that.
Unbelievably however, there were two matches  still in progress, Dave Harold on his way to a narrow 10-9 victory against Jamie Jones, a break of 71 in the decider seeing him through and keeping his hopes of a top 48 place alive.
The last match to finish however was that between Alan McManus and Stuart Pettman which had seen Stuart come back from 7-4 down to lead 8-7, only for Alan to take the next two and move one away from the match at 9-8. The next frame came down to the colours as Stuart looked to force yet another decider but he was not nicely on a colour. After some thought he chose to play the brown slowly into a far corner and hold for the yellow, but unfortunately the brown just stayed out and with Alan perfectly on the yellow, the match was over.
A much-needed win in terms of his ranking for Alan, he will next face Stuart Bingham for a place at the Crucible for the first time since 2006. For Stuart however the result signals the end of his professional career, for now at least after a poor season. More on Stuart soon to coincide with his upcoming book…
All in all though it was a fantastic session of snooker and one that capped an excellent six days at the qualifiers, both in terms of the matches and for me personally as I have got to know some of the players better and meet some good people.
The best however, should be still to come with the weekend's final round matches which always have an extra edge to them due to the fact that a Crucible spot is now within touching distance…