Day Two from the Crucible might have lacked the drama of yesterday but there were nevertheless a few talking points and of course, moves in the rankings with four matches coming to a conclusion today. Read on for my thoughts…
Without a ticket for the morning session I treated myself to a bit of a lie in today, knowing that I would be in Sheffield comfortably for the start of the match between Stephen Hendry and Joe Perry.
There were however two matches before that of course and it was that between Jamie Cope and Andrew Pagett that caught the eye, Jamie resuming with a 5-4 overnight lead. Perhaps understandably Pagett looked somewhat shaky early on and Jamie while not in top form himself was able to take the first two of the session to move 7-4 clear. Andrew pulled one back to keep himself in the match before a dramatic 13th frame which was ultimately settled in Jamie's favour on a re-spotted black on which both had chances.
Unfortunately I saw little else as I was driving to the venue but I understand that there was a moment that unsettled Andrew later in the match as trailing 9-7 and in with a chance to reduce the gap, the lights were turned off on the adjacent table following the conclusion of play which put him off his shot. In my experience this is something that is fairly normal at the Crucible, the lights going off shortly after the referee has left the arena while there is then a wait until a suitable break in the play before the curtain is then raised. I can understand Andrew's point though and it was noticeable that during the afternoon session following Shaun Murphy's victory that the lights remained on until the ongoing frame was completed in the other match.
In terms of the rankings, the win was a huge one for Jamie who moves up five places to 14th place, back inside the provisional top 16 at the expense of Mark Allen who must now defeat Matthew Stevens if he is to preserve his elite status. I suspect that Jamie will need another win yet to be absolutely sure but he has at least given himself a shot.
Andrew meanwhile can be proud of his efforts and will hopefully be back on our screens again sometime in the future, indeed it would be a waste of that dazzling pink suit if he were not!
In the other match this morning it was Ding Junhui who emerged with an 8-1 lead against Jamie Burnett following a fabulous display of break building. Runs of 128, 117, 84, 58 and 52 were far too much for Jamie who was at least able to avoid become the second victim of a Crucible whitewash.
Another Scot who did the same was Marcus Campbell who much to his relief took the opener of his match against Shaun Murphy before the 2005 world champion duly wrapped up a 10-1 win shortly afterwards. I did not see any of the match due to being on the other side of the curtain each time but on paper it certainly looks like Shaun is on his game and has thus far avoided my jinx (I tipped him pre-tournament).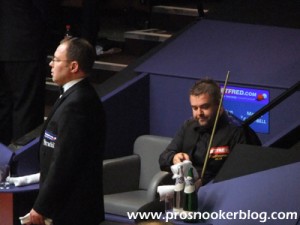 The main event for me today however was the opening session between Stephen Hendry and Joe Perry as the question on everyone's lips was which Stephen Hendry would we see today. Would the strong starting, quick to fade Hendry of late make an appearance or would we see him perform we as he did against Matthew Stevens in China recently?
Without wanting to write a match report, generally speaking I was pleasantly surprised to see Stephen actually play pretty well, particularly in the balls where at times he looked back to his very best, particularly during a majestic break of 133 after the mid-session interval. He did have a few slices of luck, particularly towards the end of the session as he finished with a century break from an outrageous fluke, but in any case his scoring was much heavier than Joe's and for me warranted an overnight lead.
What I thought was interesting from being in the arena was that Stephen appeared to play much more quickly after the mid-session interval, particularly when in amongst the reds and I thought that he looked much better like that. Still, Joe is not out of the match at 6-3 and particularly early on had the clear upper hand in the safety exchanges during which I thought Stephen looked relatively poor. As indicated above however, Joe's scoring was not nearly as heavy and this for me was the difference.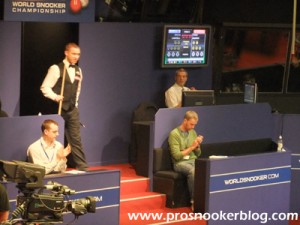 Following the conclusion of that session I headed up into the bar and met up with a few of the guys from the Snooker Island forum as well as a few other regulars from the snooker circuit. As well as discussing the merits of various snooker commentators, rumours were also abound concerning the possibility of a venue change for one of the sport's major events next season. Watch this space.
The evening session meanwhile was to prove something of a damp squib as with two matches coming to a conclusion, neither were to prove particularly tight unlike a year ago when Hendry edged out Zhang Anda during the same timeslot.
This time around I was in to see the conclusion of the match between Mark Williams and Ryan Day, the two Welshman resuming with the score at 6-3 to the double world champion. Mark soon extended his advantage to four frames before Ryan to his credit won the next two to close to 7-5 and set up a pivotal frame prior to the mid-session interval. Typically however, Mark showed his class with a break of 89 to retain his three-frame lead at 8-5 and in reality it was game over from there, Mark adding the next two to book a last 16 tie with Jamie Cope.
I am sure that Mark will admit that he was not at his very best tonight but I think that a lot of that can be attributed to the fact he was playing Ryan, a good friend of his as evidenced by the fact that they were often laughing and joking together between frames in the arena. I am sure that Mark will improve against Jamie in the next round while Ryan at least has the consolation that his top 32 place remains safe following this outing.
The other match to conclude was that between Ali Carter and Dave Harold which despite a late rally from the latter, ended in a 10-3 win for the Captain. Again I did not see this match but it is a good result for Ali who is a dark horse for me in the top half of the draw.
The best moment of the day however was still to come as following the match I headed over to the Graduate with a few of the regulars and had the pleasure of meeting Mark Williams later in the night, having a brief chat about the rankings with him as well as getting a photo with him. I have seen him at Stage Door a couple of times down the years but it was nice to have a few words in a more relaxed environment. Martin Gould was also in there tonight, relaxing ahead of his opener against Marco Fu in a couple of days.
Other observations? Earlier in the day I was also able to meet CJ de Mooi of Eggheads and Twitter fame, while it was also good to meet a few readers of the blog and say hello between sessions.
One thing that I was not too impressed with were the horrendous 'TON UP!' signs that were handed to members of the audience ahead of the afternoon session but the sponsors. I can see what they are trying to do and could understand it at the Shootout but at the Crucible? Far too gimmicky and tacky for my liking, I hope that they don't catch on…
Anyway I shall stop moaning, tomorrow I am in for the conclusion of both the Hendry match and also that between Stephen Maguire and Barry Hawkins, a tough one to call that…