One of the most colourful characters at the Crucible, tournament MC Rob Walker sat down for me on Thursday for a chat about how he got the job, his unique style, how he sees the future of the sport and who he thinks will win be your 2011 world champion…
PSB: So then Rob, am I right in thinking that you have held this position since 2007 now?
Rob Walker: My first tournament was the UK Championship in Telford in 2007 that's right. From vague memory Richard Beare (Rob's predecessor), had some kind of contractual issue so he was not available for the Grand Prix which was in Aberdeen so they had a replacement for him in that tournament. Following that, World Snooker rang the BBC and said that we need to find a new MC and we need to do it quickly. I was therefore drafted in for Telford and luckily they have asked me to stick around ever since.
PSB: How did it come about that you got involved with snooker in particular?
RW: It was partly because I have got my license as an MC from the British Boxing Board of Control and because most of the time I make my living as a reporter, a presenter or a commentator, I also have a fair amount of experience in live television as well as being an MC and I think that was what World Snooker and the BBC were looking for. Someone who could not only work with a live crowd but who knew the whole machine of how television works, how the MC'ing had to fit in around that so there was an element of that and an element of that as well.
I enjoyed it the first time I did it, I was happy to be invited back and I thought 'Yeah I like these people.' The players are hard-working, courteous, easy to work with, journalists are a nice bunch and the fans seem pretty up for it so bring it on!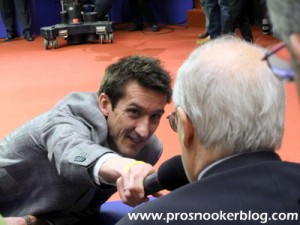 PSB: So do you enjoy snooker as a sport, did you have an interest in it before you became the MC?
RW: Well to be honest I was like a lot of people who follow snooker. In the 1980's I used to watch it loads with my dad and then once we got into the 1990's, A-Levels and University took over and I drifted away from the game although I was aware of the key figures like Ronnie, John Higgins and Paul Hunter.
It was quite interesting coming back into the sport because I had previously had a relationship with it, but had not watched it and I've got to be honest – for about ten years. But I have found it fascinating being on this side of the fence and having the opportunity to interview players. It has given me a really different kind of understanding as to how much mental pressure these guys are under when they get onto the table and the more time you spend around a group of people, the more you like them and the more you warm to them.
I'm genuinely interested in snooker now and I'm not giving you b******t, I genuinely like it and it has been really interesting to get to know players. I wouldn't say I would have a pint with players or go on the lash with them but I have got a nice job as far as they are concerned because I am not someone who would have to ask them really horrible questions.
My job is to try to make them look good and beef up their stats so that generally means I get on nicely with the players and it has been really interesting watching people and how they cope out there on the big stage when you have been sharing jokes and bantering with them here in the press room or in the Player's Lounge.
PSB: When it comes to nicknames for the players do you come up with them yourselves or do the players say anything to you…?
RW: Well what I would normally do is check with the player himself that he is happy with the nickname but to be honest with you and you have got to be crystal clear on this, most of the nicknames I inherited. Ronnie has always been 'The Rocket' and John has always been the 'Wizard of Wishaw.'
There are a few that I have changed, for instance Neil Robertson was the 'Melbourne Potting Machine' and I changed that to the 'Thunder from Down Under' which I think he prefers. Shaun Murphy told me to call him the 'Magician' which I was quite happy with and there were some players where we really couldn't come up with a nickname, like for instance I coined the phrase 'the Force' for Peter Ebdon because he's not a grinder but he is the type of player who is just this unstoppable force in the long frame formats when he is in the mood.
One or two of the nicknames I can take the credit for but the vast majority the players had before I came on the scene and they will have those long after I have gone.
PSB: Absolutely. On another note what do you think of the new opportunities and the new events that are spring up on the calendar following the arrival of Barry Hearn?
RW: Well I have only been involved for four years but it seems so obvious to me that there is just a breath of fresh air around the whole sport.
When the previous regime, the pre-Hearn guys were around, everything was the same, there were hardly any tournaments, there was not even a sense of optimism in the press room. As soon as Barry came in – and I am not saying this because he pays my wages! – there was this feeling that actually something is going to change and maybe he is the kind of guy who is in with the kind of people who can awaken a sleeping giant because the game is massive in Europe, absolutely huge. So often when I ask people before a match whether anyone has come from abroad, you get people who have come from Denmark, Finland, loads from the Czech Republic and obviously none of those countries have players of their own to support but those people have a relationship with the game which is like what ours was in the 1980's and they can't get enough of it.
I think that maybe Hearn looked at this and thought that he couldn't lose here, that he couldn't make it any worse than it already is as we had been on such a downward spiral for such a long time and if I can awaken a sleeping giant then everyone wins, the players who have more tournaments and prize money to win, the standard goes up for the fans and there is a better standard of snooker to report on for the 35-40 journalists who are here in this press room at the World Championship.
PSB: And is this your favourite venue?
RW: Oh yeah by far. I mean there is nothing worse than introducing players at a massive venue when there are a hundred people in the crowd. I am quite an upbeat person anyway but introducing players to half empty venues is awful and you almost feel embarrassed on their behalf. It would be like covering boxing and saying 'ladies and gentlemen this is the greatest show on earth' and there are like five people in the crowd, you can't do that.
So when you go out at this venue, firstly it is always banged out, whether it is 10am on a working Tuesday morning or 8pm on a Saturday night, it's banged out and everybody wants to be there. Plus it's quite small so when you have got 600-700 people, it really feels like they are almost on top of the action and that itself generates a good atmosphere. There is absolutely no doubt that the Crucible is my favourite venue, it is a special 17 days and its one I feel privileged to be a part of.
PSB: How do you cope with the trek down for the London Marathon, I know you have done that for a few years now, coming back up for the evening sessions on the same day…
RW: Well yeah, you know that weekend at the London Marathon is knackering because I do all day on the Saturday, get the train down at 7:30pm, get into London at 10:45pm, go straight to bed, get up at 6pm, commentate on the marathon and then get the afternoon train back up to do the intros for 7pm on the Sunday!
Look it goes with the turf, if you are lucky enough to do a job that you enjoy, some day you have to travel a long distance and you haven't got much spare time. I have a very early night on the Sunday, a very early night on the Monday and by Tuesday I start to feel normal again, it just goes with the job.
PSB: Over the years do you feel more comfortable in the job, do you feel the relationship with the fans?
RW: I think it's like any job, hopefully if you are willing to learn from your mistakes and I do make them like the one I made last year when Steve came out against Robertson and I introduced him as Dennis Taylor. Hopefully every year you get a little bit better, you learn from the mistakes and you have got to realise that you are never going to do the job to the perfection standard, you are always striving to get better and hopefully the more you do it, the more the fans get to recognise you and the more comfortable they get with your style.
I am the first to admit that not everybody likes the way that I am in the arena and I can't apologise for that, I am what I am. I am there to jazz it up a little bit and yeah of course sometimes it is a little bit cheesy.
But by and large the players come out with a smile on their face when I'm introducing them, I want them to feel special, I want them to feel important and as long as the players are happy with what I am doing then I am happy with that.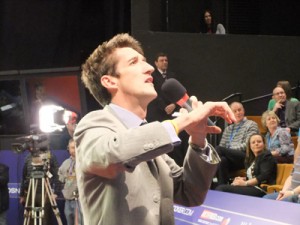 PSB: So just to wrap things up, who do you think will be the 2011 Betfred.com World Snooker Champion?
RW: Well it's really interesting actually isn't it? Judd Trump was a massive, I can't remember how far out he was before China and I am not sure how many people predicted that he would win that one but it is only his second time at the Crucible, he is currently as we do this interview 11-5 up and two away from burying Graeme Dott although Graeme has got a great record at the Crucible and you cannot tell. But you would fancy Judd to get into the semi-final wouldn't you and I think Trump gets to the final to be honest with you. He is only 21, has got no fear and had the kind of month that he has had where he has not only won the China Open but also knocked out Neil Robertson on the first day so he is going to be utterly fearless, utterly relaxed and if he does get to that final.
Then it is going to come down to one of three players, either Judd Trump against Mark Williams or John Higgins and Ronnie O'Sullivan so it is keyed up for a fantastic climax because you have got any of those three who between them have won the world title eight times and they are up against a youngster who won't be afraid of them.
It will be ever so tight, it would be a great story if Judd Trump could beat a Ronnie O'Sullivan or a John Higgins but long way to go. I've just got a funny feeling that Mark Williams might just make the final as well but equally I don't want to disrespect Higgins or O'Sullivan who have got an epic tussle to finish their match, locked together at 4-4 during this chat so I think it is going to be a very special climax but I think for the sport it would be really exciting if someone as young as Judd Trump could come here on his second year at the Crucible and go all the way and take the title.
PSB: Brilliant, thanks for your time Rob!
RW: No Drama!